Last Updated: 2019.06.28
to Japanese page
Fast Retailing Group Human Rights Policy
As a company with operations around the world, Fast Retailing has established the Fast Retailing Human Rights Policy in accordance with international standards including the United Nations Guiding Principles on Business and Human Rights (UNGP), and promotes initiatives to respect human rights. This policy applies to all employees of the Fast Retailing Group. We also continually urge our production and business partners to adopt similar policies to promote a respect for human rights in a cooperative fashion.
Our code of conduct for employees and production partners ensures compliance with the Human Rights Policy. See links below.
Human Rights Committee
In July 2018, Fast Retailing established a Human Rights Committee to promote initiatives aimed at respecting human rights. We appointed an outside expert to head the committee, and the committee members are made up of outside directors of the board and auditors, along with Fast Retailing full-time auditors and executive officers in charge of the Legal and Compliance Department, Human Resources Department, Production Department, and Sustainability Department.
Related Links
The role of the committee is to provide recommendations and supervision to ensure that we fulfill our obligations to respect human rights based on the Human Rights Policy, and that business operations are conducted appropriately.
For example, the committee provides advice and recommendations on investigations and remedial action when a human rights violation is reported by any stakeholder. Additionally, the committee provides advice and recommendations on the education and awareness-raising activities regarding the protection of human rights and on human rights due diligence activities.
The main outcomes of the committee in fiscal 2018 were as follows:

Advised on a due diligence approach and process in which 13 key departments (Logistics, Store Development, IT, Procurement, R&D, Marketing, Customer Center, Sales, Store Operations Support, HR, Legal, PR, Sustainability) will set up action plans to identify and mitigate prioritized human rights risks.
Advised on a training plan for all Fast Retailing staff.
Suggested that the Marketing department establish guidelines for respecting our customers' human rights in advertising materials.
Suggested to strengthen organizations and operations for employee hotlines non-Japan countries.
Fast Retailing has established a Risk Management Committee under the direct jurisdiction of the Board of Directors. The Risk Management Committee is responsible for the central management of group-wide risks. The Committee has recognized human rights as one of the potential risks. The executive officer in charge of Sustainability is a member of the Risk Management Committee, in charge of human rights.
Related Links
Human Rights Education
Fast Retailing promotes human rights education to deepen the understanding of the respect for and protection of human rights among its employees. The Fast Retailing Group Code of Conduct covers fundamental matters concerning human rights, and each year we utilize e-learning to widely disseminate this information so that employees can gain a deeper understanding of these issues.
Our target is to provide the human rights training to all group company employees every year. In fiscal 2018, we started to implement the training for the employees of Fast Retailing Group head offices in Japan. In fiscal 2019, we expanded the training scope to store managers in Japan.
Workshops on Human Rights
In January 2018, NGO Shift, which is endorsed by the UNGP, conducted human rights workshops for executive officers and managers in our Human Resources, Sustainability, Legal and Compliance and Production Departments. The purpose of the workshops was to provide a more in-depth understanding of the respect for human rights that global companies are expected to demonstrate and highlight specific human rights risks. From July 2018, we launched trainer development programs to cultivate specialists in this field, with plans to extend our human rights education to all Group companies. We will also implement a mandatory review of our Human Rights Policy for all group company employees in tandem with our Code of Conduct annual compliance check for all employees.
Human Rights Training for Executive Officers
In July 2018, we welcomed an external expert to host a training session for executive directors on "Business and Human Rights." The session introduced cases of human rights violation in the supply chain and issues arising out from product design and advertising creative. This was followed by discussions and a Q&A session that deepened the participants' understanding of human rights issues that could occur in the apparel industry.
Human Rights Due Diligence
To respect and protect the human rights of people affected throughout the entire business and supply chain in accordance with the UNGP, we have developed and continually implement human rights due diligence (identifying and assessing the scope of human rights violation risks in our corporate activities, and developing improvement measures and educational systems). We have formulated a human rights due diligence plan, which is executed by each operating division. The due diligence process also includes assessing new circumstances such as new business relationships and production countries through our regular workplace monitoring program, stakeholder mapping and engagement.
Human Rights Due Diligence Process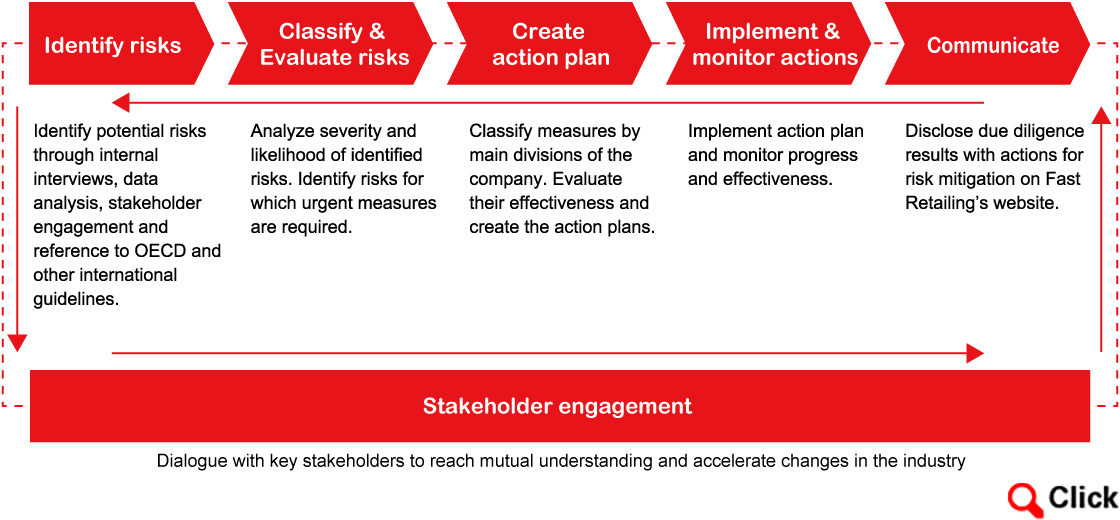 Human Rights Hotline and Remedial Measures
Fast Retailing has set up a human rights hotline not only for employees, but also for all stakeholders including customers, local communities, business partners and people working in core partner factories. The hotline is available in local languages in the countries and regions in which we operate. We protect the privacy of individuals involved, prohibit retaliation, and do not allow discriminatory treatment in any form. When a report is received, the relevant department conducts an investigation and considers remedial measures. Serious matters are brought up to the Human Rights Committee, which discusses remedial measures to be taken and provides recommendations to related departments.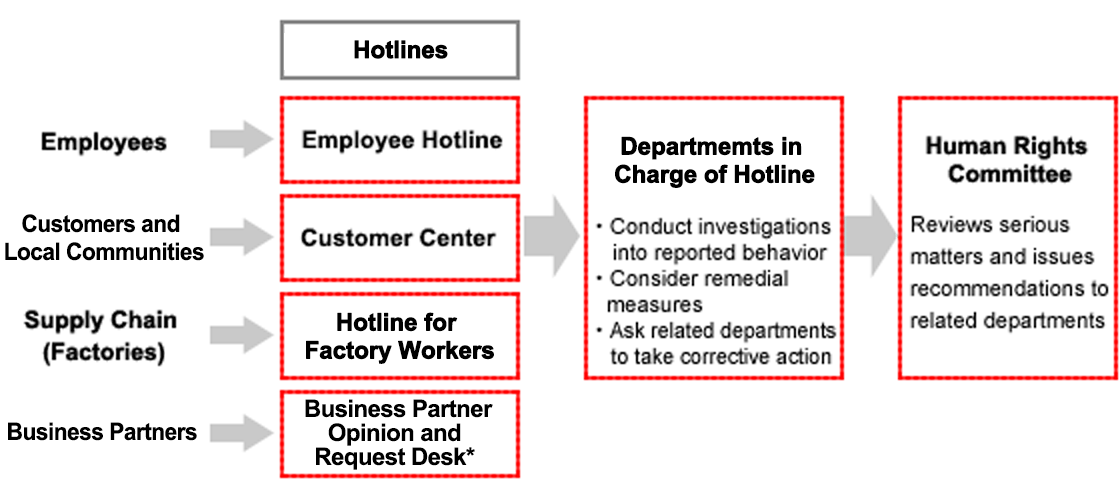 Respecting Human Rights in the Supply Chain
To realize a supply chain that thoroughly respects people's human rights, we have established a compliance protocol to be followed by production partners as part of their production activities within our Code of Conduct for Production Partners. We also conduct periodic workplace monitoring to verify the state of compliance.
Through our risk assessment and workplace monitoring, we have defined the following as salient human rights risks in the supply chain: child labor, forced labor, coercion and harassment, unsafe building, freedom of association breach, illegal or unjustified dismissal of workers on strikes, retaliation on workers who submitted grievances, non-payment of wages, transparency issues such as false records and unauthorized subcontracting. We assess the impact and likelihood of these risks to prevent them and take appropriate countermeasures in case they happen.
Stakeholder Engagement to Address Human Rights Issues
We engage with stakeholders in order to understand human rights issues in detail and take proper countermeasures.
Collaborating with relevant stakeholders, we are taking concrete initiatives on some important human rights issues in supply chain as below:
• Prevention of Child Labor
Child labor is a serious social issue that impedes the healthy growth of children and deprives them of educational opportunities. Fast Retailing is working to abolish and prevent child labor based on the international guidelines such as "Children's Rights and Business Principles".
Fast Retailing has been encouraging partner factories to have preventive measures against child labor in the supply chain. We clearly stipulate the prevention of child labor in our Code of Conduct for Production Partners. In workplace monitoring, auditors check if partner factories validate the ages of workers with proper identification in recruitment. In Myanmar, we partnered with a local organization to conduct supplier training on child labor risk and prevention, and young worker labour laws in 2018. It provided guidance on proper age verification and recruitment processes as well as remedial actions to take if an issue is found. Following the training, partner factories developed or reinforced their internal rules and procedures and they are establishing recruiting process to check workers' age carefully. We aim to develop further partnerships to support our partner factories in their recruitment practices and to respect legal requirements on young workers.
• Responsible Recruitment
Fast Retailing has clarified the policies in its Code of Conduct for Production Partners such that there is definitely no tolerance for forced labor including human trafficking. In the supply chain, migrant workers are especially vulnerable to discrimination. We confirm that workers in such circumstances are not to be treated unfairly in the recruitment process and during employment. We will strengthen initiatives and actions such as training for partner factories on the employment side to avoid this.
In February 2019, Fast Retailing signed the commitment to Responsible Recruitment as defined by the Fair Labor Association (FLA) and the American Apparel & Footwear Association (AAFA) in October 2018. This is the industry's commitment to mitigate potential forced labor risks for migrant workers in the global supply chain. We will work with our global partner factories to create conditions so that:

No workers pay for their jobs,
Workers retain control of their travel documents and have full freedom of movement,
All workers are informed of the basic terms of their employment before leaving home.
• Living Wage
In order to ensure fulfilling and stable lives of people working in the supply chain, Fast Retailing aims not only to guarantee minimum wages, but also to realize living wages. In the Fast Retailing Code of Conduct for Production Partners, we state that a living wage should be at a level which not only satisfies workers' basic needs for clothing, food and housing, but also enables workers' decent lives.
Fast Retailing is a member of the Fair Labor Association (FLA) which established a commitment to fair compensation in 2015. The FLA uses compensation data collection methodology derived from the Ankers' methodology of the Global Living Wage Coalition. The FLA's fair compensation work is unique, as it does not commit to define one living wage, but takes into account other civil society organizations' expertise in setting living wage benchmarks and understanding workers' basic needs from a local perspective. Fast Retailing's membership in the FLA means we are gathering and analyzing compensation data and beginning to understand how solutions can be implemented to address identified wage gaps.
Related Links
We have published declarations in line with the California Transparency in Supply Chains Act (SB657) and U.K. Modern Slavery Act 2015.
Related Links
Respecting Employee Diversity
Fast Retailing strives to develop a workplace in which all employees can flourish through a diverse range of work styles free from discrimination on the basis of race, ethnicity, nationality, birthplace, age, gender, religion, beliefs, sexual orientation, disability or otherwise.
Promoting the Employment of People with Disabilities
Since 2001, UNIQLO Japan has set the goal of employing the equivalent of at least one person with disabilities for every store and continues to employ people with disabilities under this guideline. At the end of August 2018, the Fast Retailing Group had 1,540 staff with disabilities in 16 countries and regions around the world. Employing people with disabilities supports a diverse and inclusive workplace and provides meaningful opportunities for people with disabilities to work in a positive team-driven environment.
Promoting the Employment of Refugees
Since 2012, Fast Retailing has sought to employee refugees, and as of the end of October 2018, we employed 82 refugees.
Promoting Initiatives That Support Various Working Styles
By adopting a diverse range of working styles including shortened working hours, telecommuting, flex-time and more, Fast Retailing has created a more supportive and pleasant working environment.
Related Links
Respecting Women Rights
Respecting women rights and promoting diversity and inclusion
Fast Retailing is committed to respecting women's rights based on the "Convention on the Elimination of all Forms of Discrimination Against Women" in our Human Rights Policy. We prohibit harassment, intimidation and violence against women.
Fast Retailing has implemented training programs for managers to prevent harassment by sharing concrete examples of verbal abuse, maternity harassment and sexual harassment.
The Diversity & Inclusion team has implemented various programs such as a networking for women's participation and advancement in the workplace in Japan to help share information on childbirth and childcare, and ensure the views of female employee are fully reflected in our human resource systems.
Related Links
Respecting women rights and promoting diversity and inclusion
In May 2019, Fast Retailing and UN Women signed a global partnership to champion women's rights and empowerment in the apparel industry. This is the first formal alliance between UN Women and a clothing company based in Asia.
Under the new partnership, Fast Retailing and UN Women will together promote safe and secure work environments, and advance empowerment for all women and girls. The scope of the partnership, which includes an investment from Fast Retailing of USD $1.6 million (around ¥170 million) over two years (2019-2021), is to jointly implement a program for female workers in garment factories in Asia, the company's main production hub. The partnership also comprises a management training program to further diversity at the company.
The joint project focuses on three areas:
-

Capacity building for mid-career female workers in support of their career progression, by providing specialized leadership training to reach leadership positions;

-

Providing opportunities for female workers to acquire new skills including those responding to trends in the area of automation;

-

Raising awareness of the importance of gender equality and women's empowerment among men in decision-making positions, to create enabling environments for career progression of female workers.
In its first year, the project will target partner factories in Bangladesh, China and Vietnam, to identify specific local gender-based challenges that female factory workers face. Responding to the findings, a support program will be developed to provide specialized training for female workers selected from 200 partner factories in the three countries.
Related Links

Top of page