Last Updated: 2019.01.10
to Japanese page
Company Introduction
Name:
G.U. CO., LTD.
Location:
Midtown Tower 7-1, Akasaka 9-chome, Minato-ku, Tokyo 107-6231 Japan
Line of Business:
The design, manufacture and retail of GU brand clothing and other goods.
First Store Opening:
October, 2006
Number of Stores :
409 stores (As of November 30, 2018)
100% consolidated subsidiary
YOUR FREEDOM
In keeping with its brand concept of 'YOUR FREEDOM' GU is working hard to improve performance by reforming its supply chain, increasing the number of products it offers, digitalizing stores to make customer service better and growing its international brand presence.
GU increased its product ranges to maximize customer enjoyment, and popular products ended up flying off the shelves. In response to strong demand, we ordered additional production and created new on-trend designs mid-season. We increased the number of mannequins and dressed them in appealing outfits to showcase the latest fashion themes.
We drew on cutting-edge technology to pilot a "digital fashion store" at GU in Yokohama Northport Mall in September 2017. The store's new smart cart shopping experience was an instant hit. Each style-smart cart is equipped with a monitor that can display images and information about 1,000 GU outfit combinations. The digital fashion store also features special beacons designed to enhance the shopping experience. When a customer approaches one, the monitor on the cart will display shopping recommendations. Additionally, the style-smart cart shows customer reviews and information on the colors and sizes in stock at the store. If an item is out of stock in-store but available online, it can be delivered to the customer's home. Customers can also use self-service cash registers for speedy payment. GU is looking into additional digital services that make in-store shopping more fun.
GU had 358 stores in Japan at the end of August 2017. We will continue expanding the GU Japan network and will increase the number of GU International stores from 14 to 50 in the near future. The GU store opened in Hong Kong in spring 2017 has performed especially well and performance is also picking up in Mainland China and Taiwan. We are determined to revolutionize operations and transform GU into a unique fast moving brand from Japan with targeted sales of 1 trillion yen.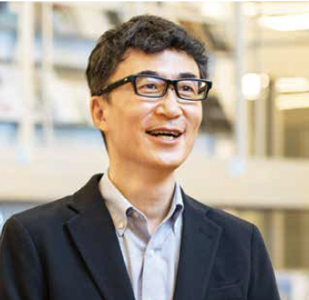 Osamu Yunoki
Chief Executive Officer
G.U. Co., Ltd.

http://www.gu-global.com/
Latest Update

GU's Next-Generation Store "GU STYLE STUDIO" Opens Friday, November 30 in Harajuku
- New, Unique Fashion Experience through Innovative GU STYLE STUDIO, Digital Signage
and App (2018.11.09)

GU to Open Next-Generation Store "GU STYLE STUDIO" Linking Online and Offline Shopping
- Opening in Harajuku, Tokyo in November 2018 (2018.09.05)

The First GU Store in Korea to Open on September 14
- Launching Online Store and Mobile App Ahead of Offline Store Opening (2018.07.19)

Top of page