Last Updated: 2018.05.11
to Japanese page
A New Industry for a New Era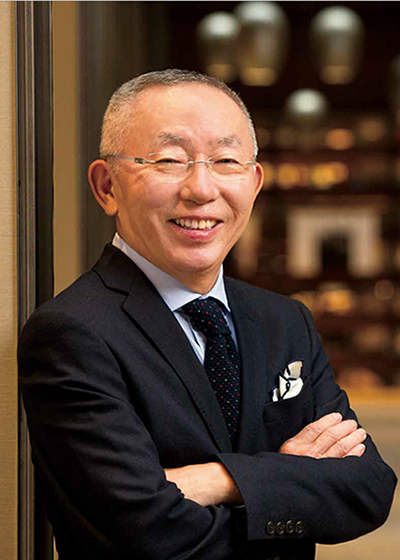 Fast Retailing's business performance is going from strength to strength. Thanks to dramatic growth from our UNIQLO International operation, the Fast Retailing Group achieved significant gains in revenue and profit in the first half of FY2018. Full-year Group revenue is expected to top two trillion yen for the first time. We also expect to achieve record operating profits in FY2018 as expansion improves the profitability of UNIQLO global operations.
This strong business performance stems from customers' high regard for the UNIQLO brand worldwide. As the driver of the unique LifeWear concept, UNIQLO offer clothes as tools for high-quality daily living, and clothing "parts" to help customers build their individuality. UNIQLO clothes are winning more and more fans around the globe, who are attracted by the brand's high quality and functionality, comfortable feel, reasonable prices, and rich range of colors and sizes. In today's world of fast-moving globalization and digitalization, people, things and information flow freely, unfettered by traditional frameworks such as nations, industries or corporations. Companies are entering a new era of information-centric operations and global competition. In these changing times, Fast Retailing has thought long and hard about what type of company we want to be, and what we must do to emerge a victor on this new competitive plane. We decided to create a new information-driven industry as a "digital consumer retail company".
We launched the Ariake Project with the express intention of creating a digital consumer retail company. One year on from the project's full launch, we are not only transforming our entire corporate processes, but are also seeking to change the very way in which our employees work. We have created an extremely successful new framework that enables our global headquarters, regional headquarters and stores to work closely together as a unified organization, and to base that work on clearly visualized information. We still have a long way to go but the Ariake Project is really starting to bear fruit.
In terms of global business contribution, we expect UNIQLO International revenue will surpass that of UNIQLO Japan, and operating profit will come close to UNIQLO Japan levels in FY2018. UNIQLO operations in Greater China, South Korea, and Southeast Asia & Oceania are witnessing spectacular business expansion, and we are seeing nascent signs of a new growth market emerging in the United States, primarily on the West Coast. I believe the continued development of Asia-Pacific economies harbors ample opportunity to expand UNIQLO business across Greater China, South Korea, Southeast Asia & Oceania, India and the West Coast of the United States.
As we expand our global operations, we are also working hard to realize a more sustainable world. In the clothes-manufacturing process, we are working proactively on factory conditions, workers' rights, environmental protection, our All-Product Recycling Initiative, the advancement of women in the workplace, and the employment of people with disabilities.
Changing clothes. Changing conventional wisdom. Change the world. This corporate statement embodies our commitment to make the world a better place, and our determination to operate a business that prioritizes our customers and enriches our society.
May 2018



Tadashi Yanai
Chairman, President and CEO

Top of page