Last Updated: 2018.11.08
to Japanese page
Go back to zero, change everything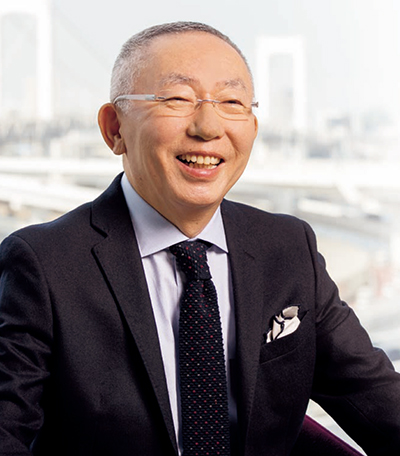 Everything is now in place to further accelerate our Ariake Project and transform Fast Retailing into a digital consumer retail company. The Ariake Project discards all former ideas and concepts, and fundamentally reforms our entire supply chain from planning through production, distribution and retail. The project transforms every aspect of the way that all of our employees work, gathering information from around the world, and working with people worldwide to create new products.
The opening of UNIQLO's first Swedish store in Stockholm in August 2018 was a busy and exciting occasion. I attended the opening ceremony myself, and was deeply struck by people's approach to life in this top-class, refined culture. The customers in this relaxed, mature country are genuinely interested in clothes, and the nation's working style is perfectly attuned to creating a high level of added value with a small population. UNIQLO's LifeWear concept, which offers the ultimate in everyday clothing, has much in common with the Swedish culture and preference for simple, practical life. We believe Europe, the cradle of western clothing culture, is an important market for future Fast Retailing Group strategy. We are proactively expanding our store network in Europe, with the opening of our first UNIQLO store in Amsterdam, the Netherlands in September 2018, and our first UNIQLO store in Copenhagen, Denmark in spring 2019.
In terms of the world's economic growth centers, I believe the Asian region spanning Greater China, South Korea, Southeast Asia & Oceania, and India will prove a crucial region for future UNIQLO and GU growth. We intend to open our first UNIQLO store in Delhi, India in fall 2019. India is a huge nation with a unique culture. To be successful in that market, we must form strong partnerships with superior Indian companies, go right back to the beginning, and build entirely new methods of doing business. UNIQLO can't become the world's No.1 brand without successful operations in India.
Fast Retailing achieved another record of business performance in FY2018. We intend to continue reforming our business going forward to ensure continued strong growth. Our quest to create a new digital consumer retailing industry and become the world's No.1 brand focuses not only on expanding our business, but also continuing our strong commitment and contribution to sustainable society. Within the clothes-manufacturing process, we work ardently to address issues relating to factory working conditions, upholding human rights and improving the environment. We remain determined to help transform society and make the world a better place through clothes.
November 2018



Tadashi Yanai
Chairman, President and CEO

Top of page