Last Updated: 2020.03.10
to Japanese page
LifeWear = Sustainability
Reflecting Our Values
LifeWear to Achieve a Sustainable Society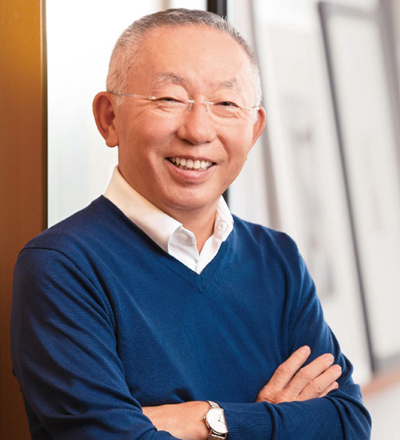 I want to build a new digital consumer retailing industry to enable us to continue creating LifeWear clothing. Ideal LifeWear clothing helps people shed unnecessary items and create their own unique, highquality lifestyle.

UNIQLO continues its strong growth all over the world because global customers relate keenly to this LifeWear philosophy. LifeWear clothing is reasonably priced, but it is designed for long-term wear. It is not clothing you only wear once or twice. LifeWear offers simple, highly finished designs, high-quality materials, and carefully detailed items.

Our customers are not only interested in the quality of our clothing itself, but also in whether our materials procurement and manufacturing processes are responsible. As a result, our LifeWear concept, which epitomizes our corporate commitment to achieving a sustainable society, has received acclaim across the globe.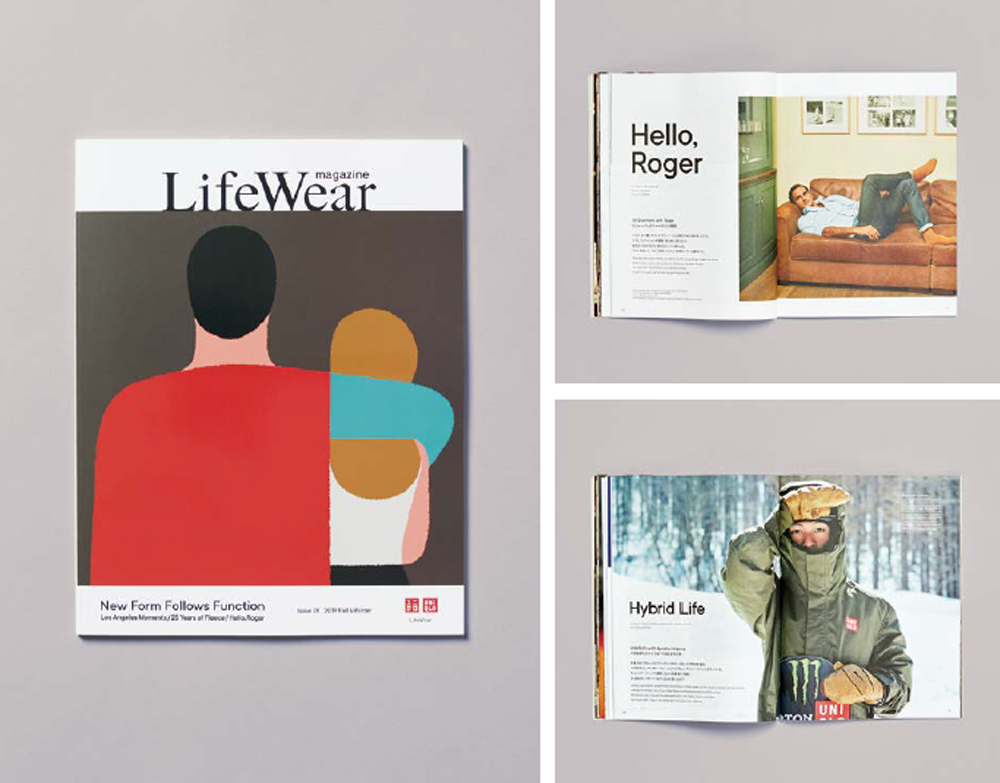 UNIQLO's LifeWear magazine, first published in August 2019, is a free publication outlining our LifeWear concept. We intend to publish twice a year and place it in UNIQLO stores worldwide.
Ariake Project Producing Clear Results
The Ariake Project epitomizes our group-wide commitment to corporate reform that will enable us to consistently create better LifeWear. In February 2017, we moved UNIQLO headquarters to our Ariake Office and we began to overhaul our working styles.
In September 2019, we then also moved our GU and PLST teams to Ariake. I have no doubt the Ariake Project will spur flexible, group-wide reform efforts.

I want us to become the first company to create a business platform that enables us to always have exactly what the customer desires. To do that, we have to reform all our operational processes starting from product design through to volume planning, production, distribution, and retail. We use leading digital technologies to collect and analyze pertinent information that helps us to develop products that customers truly desire. All our reforms stem from this huge treasure trove of global customer insights.

For companies like us that manufacture products in lots of several million units, accurate volume planning and the ability to increase production of strong-selling items are increasingly important. The Ariake Project is improving the accuracy and sophistication of our demand forecasting.
Timely inventory control is also very important. We have significantly reduced our costs over the past year by achieving more appropriate global inventory levels and are now working to control our inventories at the SKU level (different product colors and sizes).

Building on the successful automation of our Ariake warehouse, we have recently started investing in warehouse automation on a global scale.
We now plan to build automated warehouses in Western Japan, followed by the U.S., China, and Europe to ensure we can get products to customers more quickly. We already affix radio-frequency identification (RFID) tags to all UNIQLO and GU, and other Group brand products worldwide. This has greatly boosted the efficiency of store operations, and we are further improving efficiency by introducing self-checkout machines.

Fast Retailing seeks to attract various leading companies, extremely talented designers, and ambitious personnel to help us further accelerate Ariake Project initiatives. I believe the key requisites for business are a clear sense of purpose and strong will. We want people who look for meaning in their work--people who strive to work for the benefit of society, for the community, and for customers. Always committing to high, challenging goals is the way to better ourselves, and I believe it is also the most effective way to grow in tandem with customers and society. The Ariake Project's real test begins now.
E-commerce as the Core of Our Business
Growing E-commerce to Create a New Business Format
Today, people increasingly expect to be able to buy whatever they want, whenever they want, without visiting a physical store. Building a global e-commerce platform will enable us to expand operations not only for UNIQLO, but for GU and other Group brands as well. This isn't simply a question of building e-commerce systems. It involves reforming entire business processes and transforming various frameworks to fit today's digital society. For that reason, in fall 2019 we transformed our e-commerce approach into one that would enable us to operate as a single united global group.

Looking ahead, we aim to increase Group e-commerce sales to 30% of total revenue. In FY2019, Group e-commerce sales rose to ¥258.3 billion, or 11.6% of total sales. We are also establishing an operational platform that will enable us to target consistent growth in e-commerce profitability, at a similar level to our physical stores. Within UNIQLO, e-commerce operations currently constitute approximately 10% of total sales in Japan compared to approximately 25% in the geographically large market of the U.S., and approximately 20% in both China and Europe.
Giving Customers a Better E-commerce Experience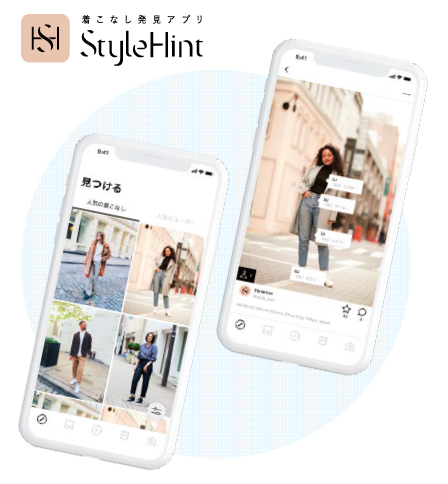 We have already started fusing our e-commerce and physical store operations. One of the achievements of our Ariake Project is our new ability to use AI to analyze customer product search and purchase history, and offer product information that is a perfect fit for each and every customer.

UNIQLO and GU recently introduced the highly popular StyleHint app, which enables customers to check out different looks from around the world and collect new style ideas through image searching. We then use image analysis technology to select and suggest UNIQLO or GU products of similar design to what customers liked on StyleHint. We intend to use the information acquired through StyleHint to drive sales online and in our stores.
Harnessing E-commerce and Store Synergies to Advance
Many people think e-commerce and physical stores compete against each other, but we see more potential synergies than competition. We have noticed that the more our e-commerce services expand, the more often customers tend to purchase items from our physical stores. For example, rather than go to stores to search, our Chinese customers tend to select products they think sound most attractive based on information they found online. When we launch a new UNIQLO product, customers actively share information about the product on social media, spurring sales both online and in our stores.

The importance of e-commerce will increase going forward, but we also definitely need stores, because checking the fit and feeling the material with your own hands are important when buying clothes. You can't run a thriving business with either physical stores or e-commerce alone, and I don't believe the retail industry has a future unless we generate clear synergies between both.

Our Ariake Project is pursuing cross-department reforms to maximize e-commerce and store synergies.
To do this, we are building a new platform to improve e-commerce efficiency and transforming our distribution system to ensure swift delivery of online purchases. We are also working to avoid product shortages by unifying e-commerce and store inventories, and enabling additional production of strong-selling items with a shorter lead time.

I encourage our whole team to view e-commerce as a core part of our business, because I want to create the world's most advanced retail industry format that intelligently fuses online and physical store operations.
Major Advances for UNIQLO International
Greater China and Southeast Asia Drive UNIQLO International Growth
In FY2019, UNIQLO International revenue topped ¥1 trillion for the first time, reaching ¥1.026 trillion (+14.5% year on year) on the back of rapidly advancing operations. UNIQLO International continues to expand and consistently generates a stable level of high profitability with a 13.5% operating margin and operating profit reaching ¥138.9 billion (+16.8%) in FY2019. The reason for this success is the strong support among customers worldwide of our LifeWear concept and the essential role of ultimate everyday clothes in our lives.

Greater China (Mainland China, Hong Kong, and Taiwan) and Southeast Asia & Oceania are the two clear drivers of UNIQLO International's strong growth. In FY2019, UNIQLO Greater China achieved revenue of ¥502.5 billion (+14.3%) and operating profit of ¥89 billion (+20.8%). Thanks to persistent brand building efforts from the outset, consumers in Mainland China consistently rank UNIQLO as their No.1 apparel brand. Mainland Chinese customers value the UNIQLO brand for its high-quality everyday wear. UT graphic T-shirts, fleece, cashmere, HEATTECH, Ultra Light Down, jeans, and Kando pants are especially popular.
China, Southeast Asia, India: The World's Global Economic Growth Centers
Greater China and Southeast Asia will likely continue to drive UNIQLO International growth. I expect these regions will exhibit continued economic development and an explosion in middle-income populations. Each operation within UNIQLO Southeast Asia currently generates annual sales of ¥20 to ¥40 billion, but I believe sales at individual operations will top ¥100 billion in the near future. In Mainland China, young consumers in what are known in China as "second-tier" and "third-tier" cities have the power to fuel further consumption growth, and we intend to focus new store openings in the most popular regional shopping malls.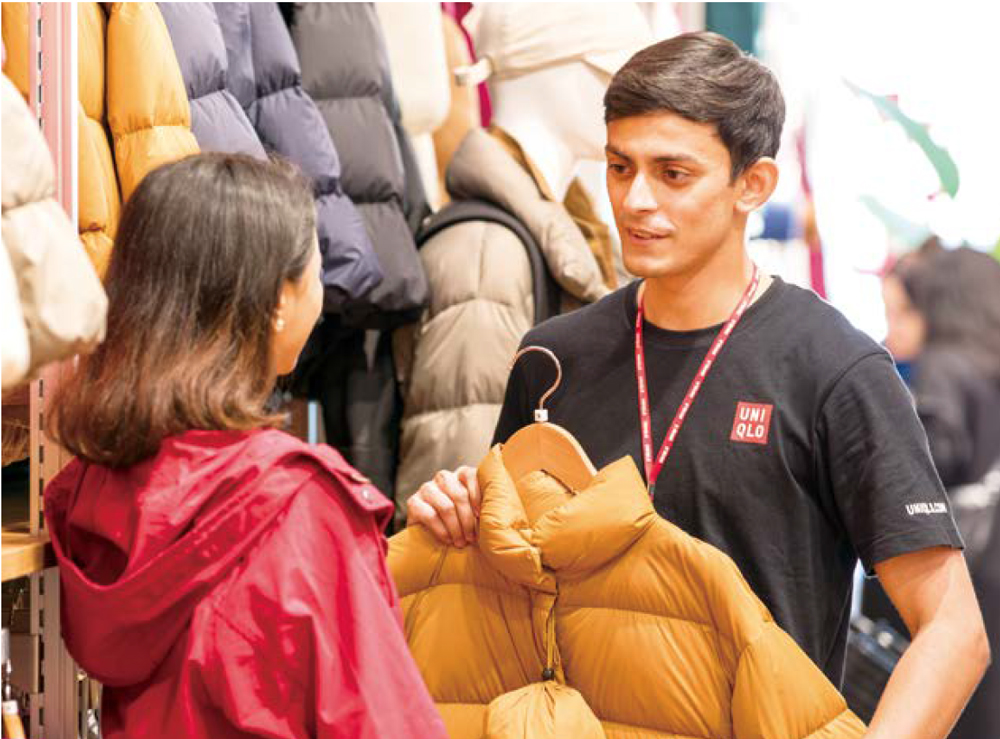 Greeting customers at the UNIQLO Ambience Mall Vasant Kunj Store (India).
UNIQLO successfully launched in India in October and Vietnam in December 2019. These new markets have different cultures, and, consequently, different clothing needs. Traditional loose kurta shirts are popular in India, so we sought to meet local needs by developing a joint kurta collection with Indian designer Rina Singh. Thanks to UNIQLO's strong reputation, thousands of excited customers greeted the opening of our first store in Ho Chi Minh City, Vietnam.

We intend to open multiple new stores in China, Southeast Asia, and India, which we consider the world's global economic growth centers. With our well-established business platform in Asia, we are much better positioned than our competitors to generate strong future growth here. Japan's overall population totals 120 million, while the middle-income population totals several hundred million in Greater China, and over one billion in Asia as a whole. I want to consolidate our growth in this region, which is more than 10 times the size of Japan.
Brand Loyalty Rising in Europe, E-commerce the Key to U.S. Growth
We cannot advance to the next level without successfully building the UNIQLO brand in Europe, the birthplace of Western-style clothing. Over the past two years, we have focused on building a more solid brand presence by opening large-format stores in prime urban locations. As a result, our first store in Italy (Milan) and our first store in Madrid, Spain (both opened in September 2019) generated extremely strong sales. We have significantly increased UNIQLO visibility across Europe by opening stores in new areas in quick succession, including first stores in Sweden (Stockholm) in August 2018, the Netherlands (Amsterdam), in September 2018, and Denmark (Copenhagen) in April 2019.

European consumers don't buy products simply because they are good. They are also extremely sensitive to sustainability issues. Therefore, it is up to us to conduct brand marketing that helps consumers understand our LifeWear concept, and convey our corporate aim to create a sustainable society.

In North America, UNIQLO is enjoying stable operational management, and sales in excess of ¥100 billion. In a geographically large market such as the U.S., it is important not just to open new stores, but to expand e-commerce and physical store networks in tandem. With the popularity of malls waning rapidly, we can't build a successful operation by opening more stores in malls where apparel brands compete fiercely on price alone. UNIQLO USA's e-commerce operation currently constitutes over 30% of total sales, and continues to increase favorably. E-commerce is the key to future growth in the U.S.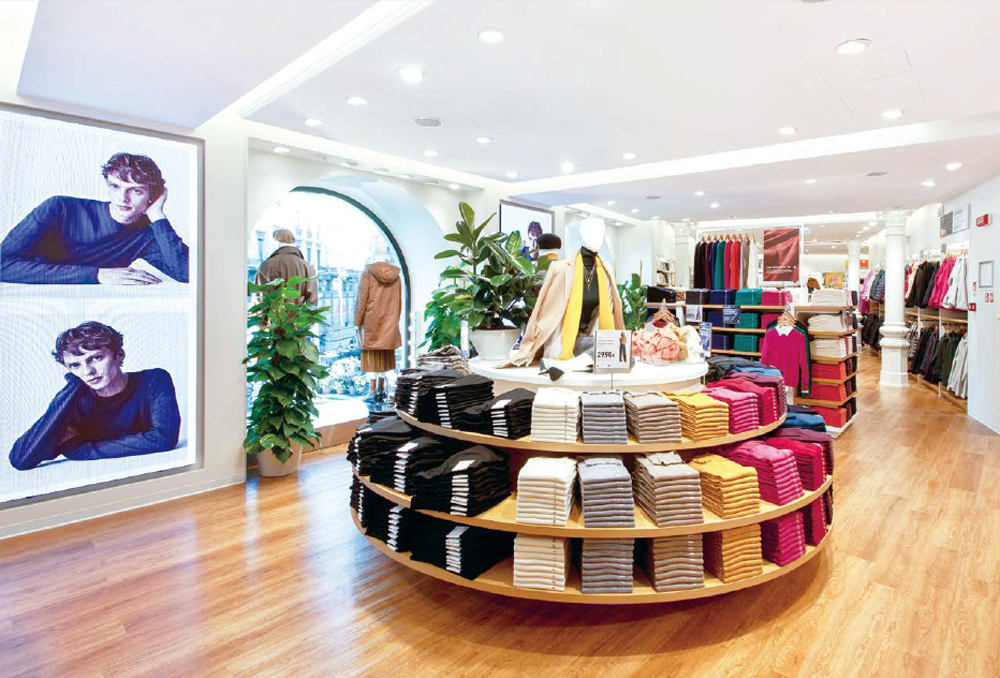 UNIQLO Piazza Cordusio Store (Italy)
UNIQLO Japan Delivers Stable Profitability
Realizing True Koten Keiei: More Efficient Store Operations
The Japanese apparel market remains tough as demand shrinks due to the country's declining and aging population, and linked to this, more discerning consumer purchase behavior. UNIQLO stores are working hard to optimize operations through "Koten Keiei" (local store management) and compiling product mixes that better suit local customer needs.

UNIQLO Japan suffered a decline in profit in the first half of FY2019 due to a warm winter, but profits recovered markedly in the second half of FY2019 after a determined reduction in inventories from spring 2019 helped slice distribution and personnel costs.
We are optimizing store operations with the introduction of radio-frequency identification (RFID) tags. These RFID tags enable us to instantly grasp which product SKUs (color, size, etc.) are in short supply by running an RFID reader over the store shelves, greatly simplifying stocktaking procedures.
Additionally, the introduction of self-checkout machines in all UNIQLO Japan stores in fall 2019 has enabled customers to purchase products without waiting. Introducing self-checkout machines solves problems facing Japan's retail industry, including a chronic labor shortage and rising personnel costs.
A New Retail Industry that Fuses Physical Stores and E-commerce
The scale of UNIQLO Japan's e-commerce operation is expanding every year as part of our global drive to strengthen online sales. Approximately 40% of online purchasers select UNIQLO's store pick-up service, which enables them to collect online orders from a local UNIQLO store. Consumers often make additional in-store purchases when they come to pick up their order.

Customers also enjoy ordering online because of a wider variety of items, a complete range of our product sizes, and collaborative collections that are generally only available in large-format stores. Basically, we are seeking to create a new retail industry format that affords customers a more convenient, fun shopping experience, regardless of whether they shop in-store or online. The demands on large-format stores will increase as this fusion of physical and e-commerce operations progresses, and so we are opening bigger, better-positioned stores through our policy of replacing smaller, less profitable stores with larger ones.
GU Harbors Even Greater Growth Potential than UNIQLO
A Record Performance and a Virtuous Business Cycle
GU achieved record results in FY2019 with revenue reaching ¥238.7 billion and operating profit doubling year on year to ¥28.1 billion. I believe GU will continue to generate strong and consistent growth going forward.

In the past, I think GU's product concept was blurred by the chasing of fashion trends and the creation of too many different fashion items. Having corrected that error, we were subsequently able to achieve record results by focusing on popular fashion items appropriate for the GU core price point. We have also nurtured a diverse team, led by CEO Osamu Yunoki to manage the GU operation.

There are many things we must do, however, to ensure this strong business growth continues. The GU brand concept is based on fun fashion at amazingly low prices and for this reason, GU appeals to people of all ages. To fully maximize customer enjoyment, we are aiming to create even more on-trend products that we can offer at even lower prices. To do that, it is important to pursue Ariake Project ideals at GU. I believe GU can achieve an even more advantageous brand position by effectively utilizing advanced digital systems to collect and analyze global fashion information.

You won't find another apparel company in the world that strives to improve and evolve as earnestly as we do, and the Ariake Project exemplifies that. I think we can build GU into a leading global fashion brand by capitalizing on successful Ariake Projectdriven reforms. There is greater demand for on-trend fashion items (as opposed to basic items) in the apparel industry, which suggests that GU could ultimately develop into an even greater brand than UNIQLO in the future.

I am really excited about GU's future prospects. It is a Fast Retailing Group brand with great growth potential.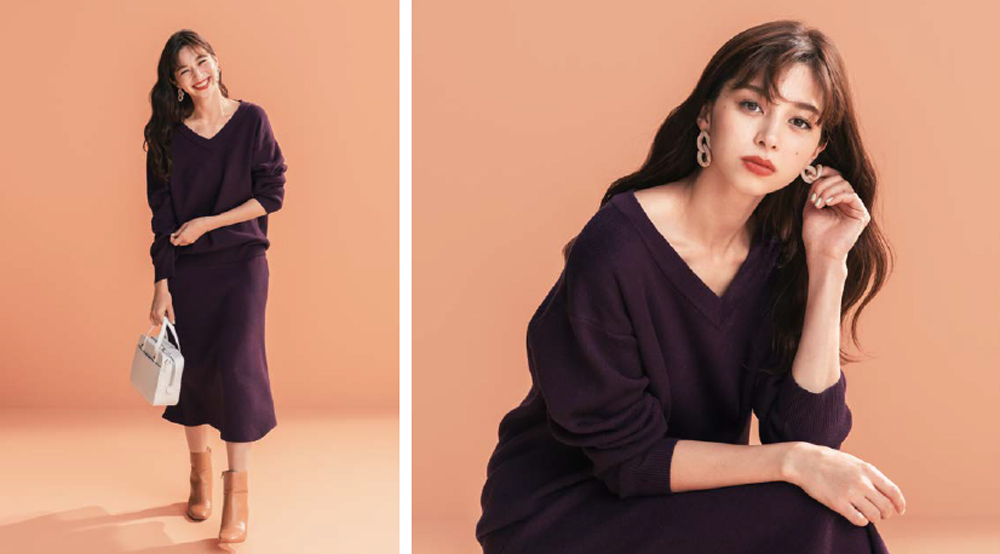 Making the World a Better Place for Everybody
What It Really Means to Become the World's No.1
Fast Retailing is currently the world's third-largest apparel manufacturer and retailer, after Inditex (the owner of Zara) and H&M. Zara and H&M are primarily fashion brands, while we offer perfected basic clothing based on our LifeWear (ultimate everyday wear) concept. LifeWear continues to receive a great response from our growing base of fans and customers all over the world.

Our business seeks to enrich the lives of our customers and to improve our society. Ensuring sustainability is the most important thing for any business to do because ultimately companies cannot succeed if societies can't develop sustainably. We strive each day to expand stable business operations and become the global leader in terms of both sales and profit, but there is no point to any of that if our efforts do not also contribute to a more sustainable society.

I want to continue creating simple, high-quality everyday clothing that people everywhere can wear for many years. LifeWear was born out of traditional Japanese artisanship, and Japan's long history of superior-quality manufacturing and careful attention to detail. Manufacturing and selling 1.3 billion items each year, the Fast Retailing Group exerts a considerable impact on our planet's environmental resources and on people's lives. Accordingly, we need to consider ways of maintaining sustainable social frameworks to ensure our product-manufacturing processes do not, for example, adversely impact the environment, or infringe upon the working environments or human rights of the people who work in our partner factories. I want us to be a genuine corporate leader in the apparel industry, and to strive effectively to make the world a better place.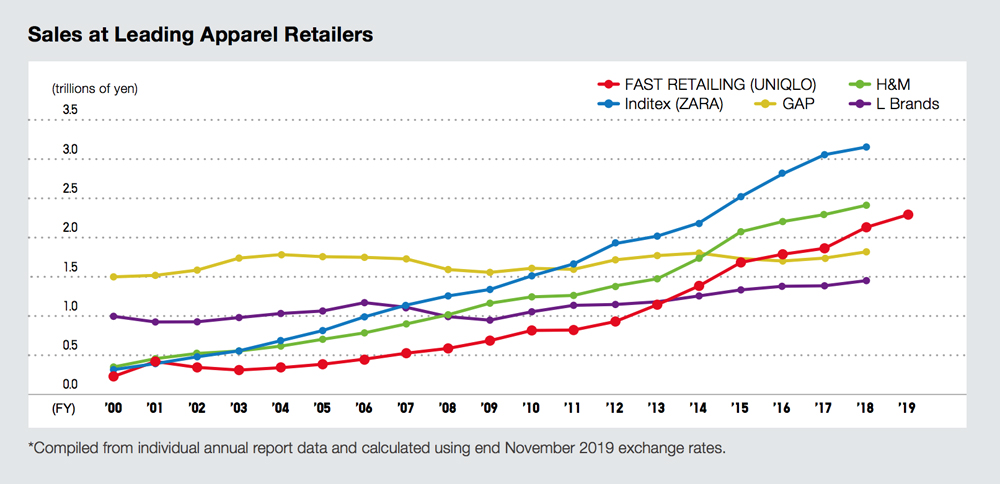 Making the World a Better Place Through Leadership and ESG
I turn 71 this year. I believe that the founder of a company never truly retires, and my passion for business remains as strong as ever. Having said that, my most important job is to nurture the next generation of leaders. I want to cultivate executives and management team members who can ensure continued stable expansion of Fast Retailing operations.

People who can work proactively with communities to expand business locally will be ideal managers on the global stage. They embrace new challenges with a flexible approach, analyze past mistakes, and improve outcomes. We can't enjoy lasting success by chasing industry trends. I want to ensure a solid operational platform by nurturing management teams who can anticipate global change and evolve our business.

Today, investors scrutinize companies strictly on their environmental, social, and governance (ESG) record. At Fast Retailing, we strive to fulfill the expectations of all stakeholders, including our customers, business partners, shareholders, and employees by pursuing proactive ESG activities. We have managed to significantly improve the assessments issued by global ESG evaluators in all categories.

In the environmental field, we are working to reduce the environmental impact of our fabric suppliers. We also stopped issuing single-use plastic bags to customers in our stores.

In terms of social measures, we aim to ensure safe working environments at partner factories, uphold human rights, and interact harmoniously with local communities. We install hotlines at partner factories so that workers can contact Fast Retailing directly, and encourage improvements based on the feedback we receive.

On the governance front, Fast Retailing has adopted a method in which the majority of Fast Retailing Board members are independent external directors. We have also introduced a system that clearly separates daily business activities from the Board's supervisory functions, as well as expedites our decision-making. In recent years, we have strengthened our governance framework by establishing a Nomination and Remuneration Advisory Committee, and formulating policies on anti-corruption and tax practices.

We have formed partnerships with outstanding global athletes who help convey Fast Retailing's LifeWear concept and corporate philosophy worldwide. Together with these global brand ambassadors, who are always pushing themselves to new heights, we commit to continue our challenge to make the world a better place through clothes.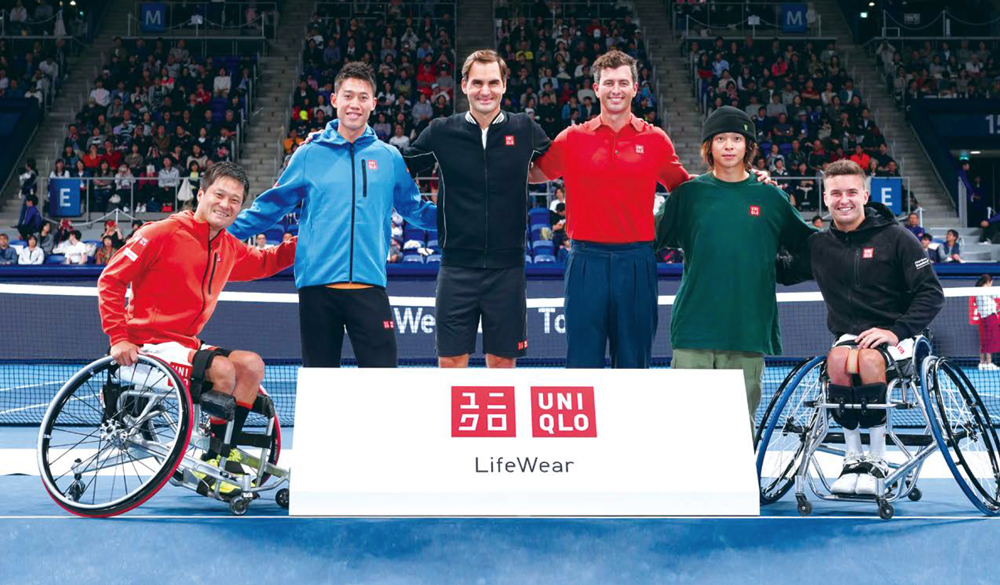 UNIQLO global brand ambassadors attending a charity match at the Ariake Tennis Park. L to R: Professional tennis players Shingo Kunieda, Kei Nishikori, and Roger Federer, professional golfer Adam Scott, professional snowboarder Ayumu Hirano, and professional tennis player Gordon Reid.

Top of page