Last Updated: 2022.05.09
to Japanese page
Create a Better World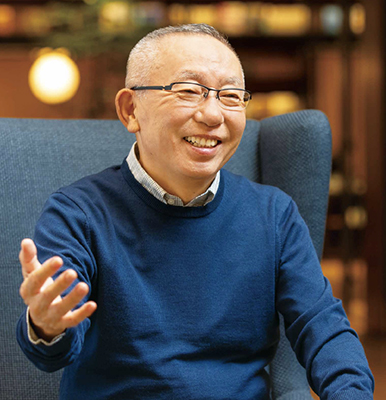 The world is currently experiencing a variety of difficult challenges and many people are facing great difficulties. I truly hope that those people will once again experience peace and stability in their lives at the earliest possible opportunity.
Our clothing business is a peaceful one that seeks to enrich people's lives and make daily living more comfortable. Our mission is to consistently deliver comfortable everyday clothing to people worldwide. The reason why I chose "Win Globally, Without Borders" as the annual Guiding Principle for the Fast Retailing Group at the beginning of 2022 was because I wanted to pursue even more thoroughly our quest to make and sell together with local teams high-quality LifeWear everyday clothing that offers ultimate comfort and enriches people's lives.
Fast Retailing currently operates a network of over 3,500 stores in 27 markets around the world. While we managed to achieve higher-than-expected revenue and profit gains in the first half of fiscal 2022, the COVID-19 pandemic greatly dampened new store opening plans for our UNIQLO brand, so we want to accelerate those openings from this fiscal year and successfully fuse our physical store and e-commerce network around the world. I also want to press ahead with progress on initiatives designed to help solve social issues, such as protecting human rights and working environments in our supply chain, addressing climate change and other environmental problems, employing people with disabilities, and supporting refugees.
I believe true corporate governance involves pursuing a style of management that focuses on what would be required 10, 20, 30 years from now, and even beyond. The most significant requisite for any company is continuity, and the most important purpose of a listed company is to grow and generate profits. To achieve that, a company must serve as a worthwhile entity that benefits the world we all live in.
Fast Retailing conducts stable operations, promotes growth, and creates employment in different locations around the world. In March, we donated 10 million US dollars and 200,000 items of clothing through the United Nation's High Commissioner for Refugees (UNHCR) to Ukraine. We all need to strive to achieve a peaceful world and an environment in which global companies can grow and provide global benefits. We have to draw on our own sources of power to create a better future by cooperating with different people around the world. I stand by that firm belief and intend to continue to act on it going forward.
LifeWear that is Made for All embodies our strong commitment to "Changing clothes. Changing conventional wisdom. Change the world." Whatever happens, I intend to honor this spirit and do everything in my power to create a more peaceful world and a better society.
May 2022



Tadashi Yanai
Chairman, President and CEO

Top of page