Last Updated: 2018.11.30
to Japanese page
Environmental Policy
Please see link for information about ast Retailing Group Environmental Policy .
Introduction
Minimizing environmental impacts across the entire supply chain
Fast Retailing recognizes that the production of clothing has a substantial impact on the natural environment. Therefore, it places great importance on operating its businesses in harmony with nature while striving for sustainable growth. Fast Retailing works to ensure compliance with environmental standards across its entire supply chain, including partner factories, while strictly managing the use of chemical and toxic substances. At the same time, Fast Retailing closely monitors the Group's greenhouse gas emissions, water consumption and discharge, and other key indicators with the aim of minimizing environmental impacts at each stage of its operations.
In an effort to ensure that its environmental initiatives are systematically put into practice, Fast Retailing has set sustainability targets under each of its designated priority areas of the supply chain, products, stores and communities, and employees. When carrying out these initiatives, Fast Retailing will work to demonstrate leadership beyond the scope of a single company by working in partnership with industry associations, NGOs and other relevant groups.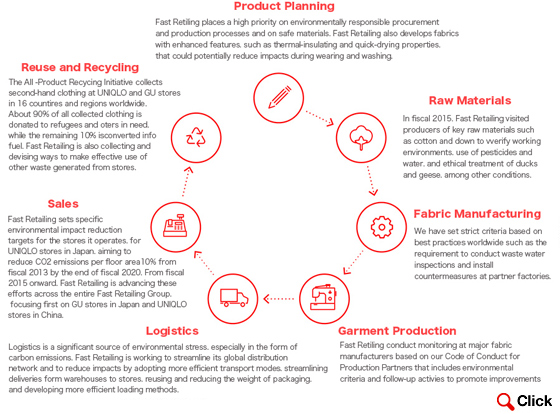 Initiatives at Each Stage of Operations
Determining environmental impacts while engaging with stakeholders
Fast Retailing aims to reduce environmental impacts at every stage of its operations as a specialty-store retailer of private-label apparel (SPA), from product planning, production and logistics through to sales and product disposal. Toward that end, it strives to determine environmental impacts across the entire supply chain, set priorities based on the quantity and type of impacts, and reduce the impacts together with partner factories and other stakeholders.
Stage of Operations
Related Links

1. Product Planning

Fast Retailing places a high priority on environmentally responsible procurement and production processes and on safe materials. It also collects used clothing for recycling, reuse, and upcycling. Fast Retailing develops fabrics with enhanced features, such as thermal-insulating and quick-drying properties, that could potentially reduce impacts during wearing and washing. In addition, it maintains a continuous process of reusing waste matter as well as recycled and collected products.

2. Raw Materials Procurement

When procuring raw materials, Fast Retailing gives full consideration to animal welfare and the impact of its procurement on communities and the natural environment.

3. Fabric Production, Dyeing and Processing

The production of fabrics and materials accounts for a significant share of the entire supply chain's environmental impact due to the large quantities of water and chemicals used and industrial waste produced. To minimize impacts during this process Fast Retailing conduct monitoring at major fabric manufacturers based on our Code of Conduct (CoC) for Production Partners that includes environmental criteria and follow-up activities to promote improvements. Fast Retailing joined the Sustainable Apparel Coalition in 2014 with the goal of improving its environmental performance. It then adopted an environmental assessment tool developed by the coalition called the Higg Index in 2015, and launched the UNIQLO Responsible Mill Program, which uses the index to reduce water and energy consumption.

4. Sewing

Environmental guidelines are a key category in the Fast Retailing Code of Conduct (CoC) for Production Partners, and its partner factories carry out work environment monitoring that includes items for environmental protection.

5. Logistics

Logistics is a significant source of environmental stress, especially in the form of carbon emissions. Fast Retailing is working to streamline its global distribution network and to reduce impacts by adopting more efficient transport modes, streamlining deliveries from warehouses to stores, reusing and reducing cardboard and other packaging materials, and developing more efficient loading methods.

6. Sales

Fast Retailing has established the Store Design & Operations Policy for its stores, which are directly responsible for carrying out business activities, and is promoting activities under the three primary objectives of the policy: improving energy efficiency at stores, managing and recycling waste at stores, and switching to more sustainable store materials.
Fast Retailing discloses data on CO2 emissions by UNIQLO stores in the Tokyo metropolitan area as required under the Tokyo Bureau of Environment's global warming countermeasures reporting system.

7. All-Product Recycling Initiative

The All-Product Recycling Initiative collects second-hand clothing at UNIQLO and GU stores in 16 countries and regions worldwide. About 80% of all collected clothing is donated to refugee camps and others in need, while the remaining 20% is converted into fuel.
UNIQLO Responsible Mill Program
Reducing water and energy consumption at fabric manufactures
Fast Retailing is working to reduce the Group's environmental impact across its supply chain. Water and energy consumption, especially, comprise a large part of the environmental impact during the fabric manufacturing processes. Fast Retailing monitors how fabric manufacturers address environmental impacts in addition to labor conditions.
In 2014, Fast Retailing joined the Sustainable Apparel Coalition with the goal of improving environmental performance. From 2015, it introduced the Higg Index, an environmental assessment tool developed by the coalition, at core fabric manufacturers which make up about 70% of UNIQLO's business. It also launched the UNIQLO Responsible Mill Program, through which factory personnel and external experts use the tool to conduct environmental assessments and make improvements. The assessments cover seven areas, including environmental management systems, energy consumption, greenhouse gas emissions, water consumption, and chemical substance usage amounts. At these core fabric manufacturers, goals have been set to reduce water and energy consumption by 15% and 10%, respectively, of the 2016 levels by 2020 - the effort spanning three years from 2018 to 2020.
Training Seminars for core fabric manufacturers
In 2018 SAC updated the HIGG Index and the levels of its questions and evaluation have been enhanced particularly around chemical management. In response to the situation, in April 2018 UNIQLO provided core fabric manufacturers with training on the new HIGG Index. Fast Retailing plans to expand the scope for HIGG adoption and aims to strengthen environmental management systems at our suppliers through continued HIGG Index training.
The Environmental Impact of Fast Retailing's Business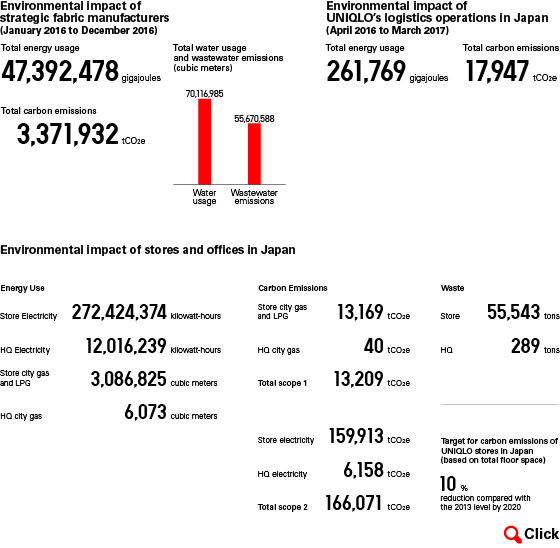 Eliminating the Release of Hazardous Chemicals
Fast Retailing's Commitment to eliminating hazardous chemicals
Since 2013, Fast Retailing has been implementing a project aimed at completely eliminating the release of hazardous chemicals from production processes by January 2020.

Fast Retailing Commits to Greenpeace Detox Solution
On January 9, 2013, Fast Retailing announced a set of commitments toward removing hazardous chemicals from its production process and the whole product lifecycle, in conjunction with Greenpeace.

Restricted Substances List
As part of its initiatives for eliminating the release of hazardous chemicals, Fast Retailing updates its Restricted Substances List every year, and requires its business partners to comply with the list.
Fast Retailing adheres to the following important principles for updating our Restricted Substances List in order to better align our efforts with preventive approaches and the precautionary principle.
First, in order to manage hazardous chemicals other than just the 11 priority hazardous chemical groups, we have, in consultation with industrial experts, added the following items to our criteria for filtering and assessing chemical hazards and specified restricted substances based on these criteria:
- CPA Green Screen Database/Approach and other information sources regarding chemical safety and toxicity;
- Legal regulations and industry guidelines;
- Chemical substances commonly used in the industry.
Additionally, to enable Fast Retailing and our business partners to conduct more comprehensive chemical management, the updated Restricted Substances List includes those chemical substances for which monitoring is conducted in order to eliminate these substances from our production processes and waste water, as well as finished products.

Hazardous Chemical Screening Method
Fast Retailing disclosed the details of its hazardous chemical screening methodology on October 1, 2013.

Fast Retailing Announces Further Steps Following January Greenpeace Detox Solution Agreement
On March 5, 2013, Fast Retailing announced steps towards developing substitution case studies and intrinsic hazards screening methodology.

Supplier chemical management
We require partner factories to comply with our chemical management guidelines and to perform regular product and wastewater testing. Our Takumi, in-house experts on dyeing and fabric production, take prompt actions whenever a hazardous chemical is detected. This involves meeting with the factory and chemical manufacturers that produced those detected chemicals, visiting the site to identify the cause, and leading improvements around those findings.
At its core fabric manufacturers, Fast Retailing verifies the status of environmental protection measures, including the management of such chemicals, while monitoring factory conditions.
Progress

Progress regarding PFC elimination
In the apparel and outdoor industries, PFCs are widely used chemicals for adding water and dirt repellency to products. According to Greenpeace, PFCs are highly stable compounds and are difficult to break down in the environment once disposed. As pledged in the "Fast Retailing Greenpeace Detox Solution Commitment" in 2013, we have been striving to develop safer alternative substances and technologies with our suppliers in order to eliminate all PFC use by no later than 1st July 2016. As a result of that commitment, the portion of products containing PFCs was reduced to approximately 2% of all products in 2016, and the use of PFCs was eliminated from all products in the autumn of 2017.
PFC-free products:
| PFC-free product categories | Functionality categories tested | Functions to be re-evaluated for alternatives |
| --- | --- | --- |
| Several product lines of coats, jackets and parkas. | Water repellency, Durability of water repellency, Oil repellency, Anti-fouling, Stitching defects, Product texture, Discoloration, Leak protection, Stability on process | Oil repellency, Product texture |

APEO Investigation Results
Fast Retailing disclosed its investigation results on alkylphenol ethoxylates (APEOs) on June 28, 2013.

Fast Retailing Progress of Initiatives to Eliminate the Release of Hazardous Chemicals

Top of page