Last Updated: 2020.03.23
to Japanese page
Fast Retailing believes that respect for human rights and labor laws and improving labor environments are among our most important responsibilities. We created our Code of Conduct for Production Partners to serve as a guide in monitoring labor conditions.
Workplace Monitoring
Partner Factory Monitoring Program
Fast Retailing evaluates all partner sewing factories and key fabric mills for human rights abuses, poor labor conditions, environmental preservation practices, and more as per our Code of Conduct for Production Partners. We disclose the results of our audits to the public. We contract with third-party entities to perform regular audits which are mainly unannounced. When improvements are required, at times we send Fast Retailing personnel to visit the site in person, helping our partners to implement measures for improvement. We perform due diligence of potential new partners to identify and improve any labor and environmental issues as early in the process as possible.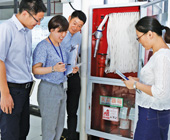 In 2015, we began performing audits under the Better Work system, a program managed jointly by the International Labor Organization and the International Finance Corporation. Adopted widely in the apparel industry, Better Work monitoring eliminates duplications in factory audits, letting companies focus mainly on improving labor conditions.
In 2015, Fast Retailing joined the Fair Labor Association (FLA) which has provided support in adopting FLA labor environment standards throughout the entire supply chain, evaluated our monitoring activities related to labor conditions, provided guidance for improvement, and encouraged us to dialogue and engage with stakeholders, including member brands, factories, and Civil Society Organiztions to tackle issues related to labor conditions.
In February 2019, the FLA accredited the Fast Retailing labor factory monitoring program. Participating companies with accredited monitoring programs have demonstrated that they have the systems and procedures in place needed to successfully uphold fair labor standards throughout their supply chains.
Related Links
Workplace Monitoring System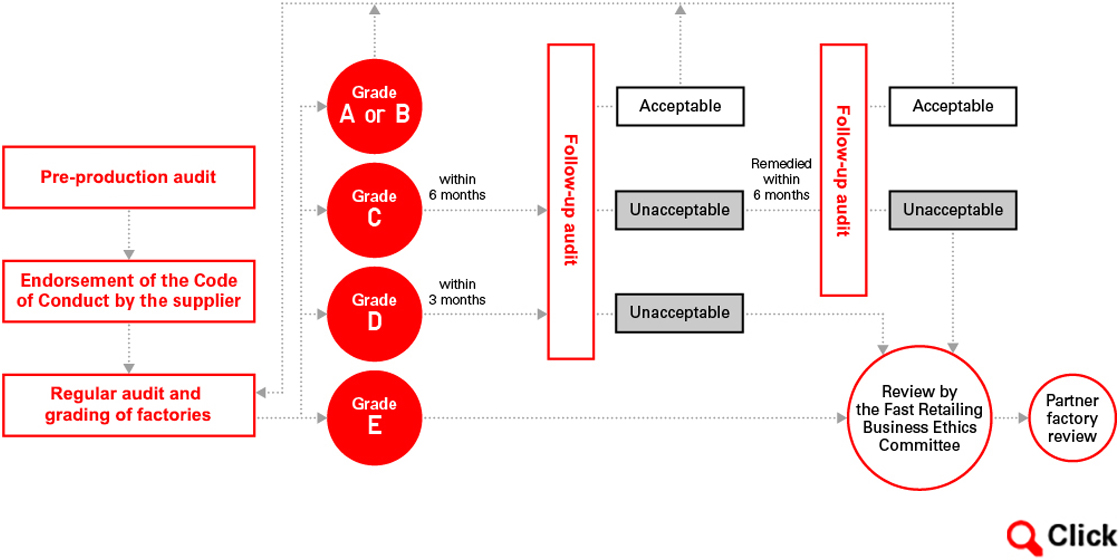 Fast Retailing conducts regular workplace audits, assigning partner factories a letter grade from A to E. The Fast Retailing audit tool and Monitoring Program Manual include processes to conduct worker interviews, consult with unions and worker representatives, review collective bargaining agreement terms, conduct management interviews, review documents, conduct visual inspections, and review occupational health and safety.
We assign a grade of A to partner factories that comply with our Code of Conduct for Production Partners and commit zero notable violations. A partner factory with a B grade is one that has committed relatively low-risk violations. When we believe a partner factory may have committed a violation of human rights or local occupational health and safety laws (e.g. masks, gloves, or other protective equipment not provided to workers as needed), we assign that partner a grade of C. Partner factories assigned a grade of D are those that have committed major violations of human rights, occupational health and safety, or wage and benefit matters (e.g. locked emergency exits, errors in wage calculations). We conduct follow-up audits for partners that have committed C or D grade violations. If violations are not remedied to our satisfaction, we may reduce our business volume with the partner, or even terminate business relations altogether. We assign a grade of E to those partner factories that are found committing major violations, including child labor, forced labor, or other human rights violations. Significant violations of occupational health and safety also merit a grade of E. When C or D grade violations are not resolved in follow-up audits or E grade violations are found in an annual audit, we escalate these matters to the Fast Retailing Business Ethics Committee, which discusses the potential impact on the financial situation of the partner in question and the risk of workers' dismissal. The committee then determines whether to terminate or modify our business relationship and makes recommendation to the Production department.
To identify risks in the supply chain, we evaluate production partners and send Fast Retailing personnel to visit factories in person, clarifying the degree of risk present. We define factories as high-risk when we find issues related to lack of transparency (falsified reports, etc.), disputes between labor and management, human rights violations, or other concerns. For such factories, we will engage a third-party entity to conduct an audit and send Fast Retailing personnel more frequently to assess our understanding of the causes of these issues and address them.
Also, we place a particular importance on engaging unions and worker representatives for addressing potential risks in factories' working environments. Fast Retailing's monitoring program therefore includes various protocols to gain the understanding of union structures, including inviting union and/or worker representatives to the opening and closing meetings of the audit, including representatives in the interview process, and requiring a follow-up process to verify remediation and preventive measures after a critical issue in which the union was affected.
Fast Retailing's Monitoring Program Manual and Supplier Guidebook include the remediation process, timelines following the completion of audits at the facilities and root cause analysis. Additionally, we provide guidance and resources for facilities to understand various root cause analysis methodologies, including the FLA's guidance on root cause analysis, so preventive measures are set.
We analyze labor violation trends by country and individual brands, including how many facilities are passing or failing the Fast Retailing audit. We have developed specific country strategies for Bangladesh, Cambodia, China, Indonesia, Myanmar, and Vietnam. Countries priorities have been defined through stakeholder engagement and aligned with business strategies.
Subcontracted Factories Audits
Fast Retailing strictly prohibits production at unauthorized subcontractors in our Code of Conduct for Production Partners. Our core sewing factories are required to audit subcontractors to which they have outsourced a part of their production processes and receive approval from Fast Retailing. Subcontractors undergo the same audit as partner factories every year. If a major violation against the Code of Conduct for Production Partners is found in the audit, the subcontractor must remediate the issue within three months and pass the follow-up audit.
We also check if a partner factory uses only authorized subcontractors as part of the annual audit process.
Workplace Monitoring Results
Results of Workplace Monitoring (Evaluations of Partner Factories)
Compared to fiscal 2018, the number of factories evaluated as C slightly increased due to a stricter monitoring of Chinese authority on fire safety and workers' health and increased audit findings on these issues. We closely followed up improvement and conducted training on corrective actions, and we have seen the number of D grade factories decreased in some countries, such as China. On the other hand, the number increased in some others like Vietnam due to the law changes on wages and benefits. Regarding the factory evaluated as E, we reviewed the contract with them considering the impact on factory financial situation and employment.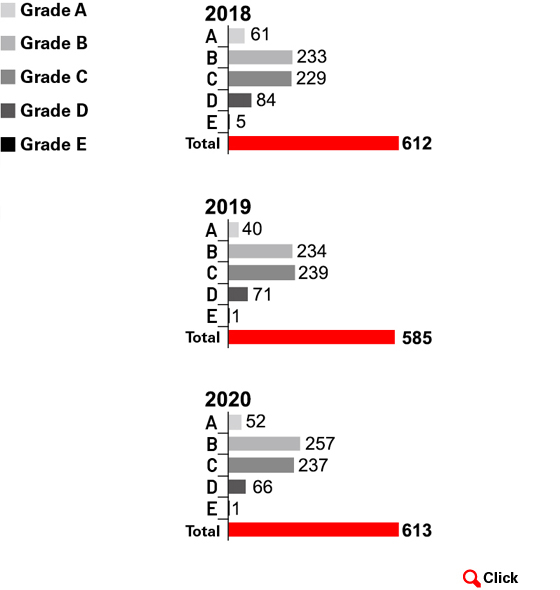 | Grade | Description |
| --- | --- |
| A | Zero notable violations |
| B | Relatively low-risk violations |
| C | Potential violations of human rights or local occupational health and safety laws (e.g. masks, gloves, or other protective equipment not provided to workers as needed) |
| D | Major violations of human rights, occupational health and safety, or wage and benefit matters (e.g. locked emergency exits, errors in wage calculations) |
| E | Major violations, including child labor, forced labor, or other human rights violations; significant violations of occupational health and safety |
Frequent Violations in Fiscal 2019
The most frequent violations of the Code of Conduct for Production Partners found in audits during fiscal 2019 are categorized in the areas of health and safety and working hours. Fast Retailing has strengthened efforts to resolve violations and take preventive measures in those areas.
Breakdown of Violations Found During Fiscal 2019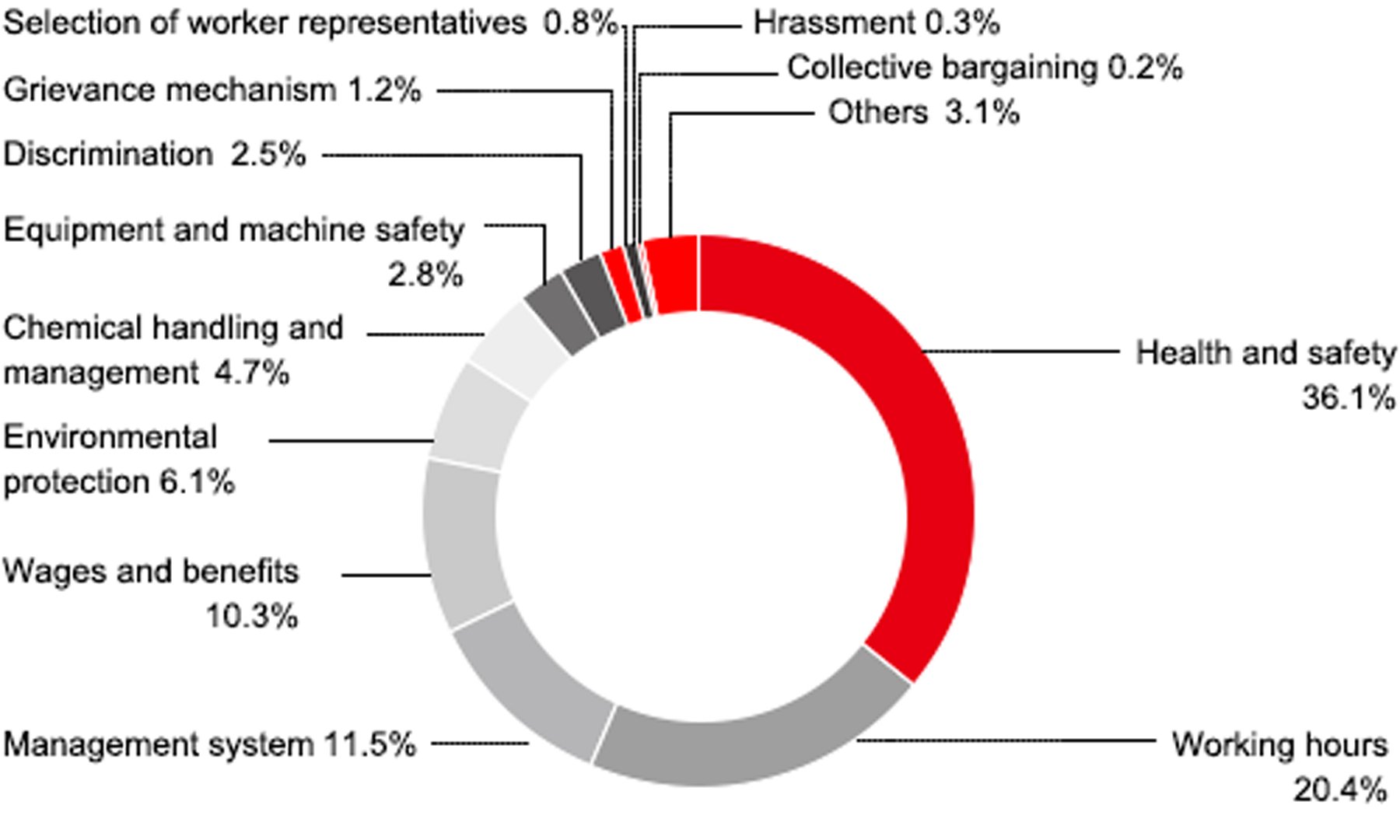 Health and Safety
In order to secure health and safety in partner factories, Fast Retailing conducts regular training for suppliers on local fire safety standards, new local law requirements, and good practices of health and safety management etc. When the Sustainability department visits a factory, we always check onsite if proper fire protection is in place and require immediate improvement when an issue is found. Fast Retailing has signed the Accord on Fire and Building Safety in Bangladesh, aimed at protecting workers in garment factories from building collapse and fire.
Related Links
Working Hours
Fast Retailing addresses improvement of transparency in the supply chain and strictly prohibits partner factories from submitting falsified documents. We not only monitor working hours during audits and follow-up audits, but also have strengthened internal, cross-department collaboration among the Sustainability and Production departments to address the working hours issue at our core sewing factories under our clear policy to prevent excessive working hours. The Production department follows up with our partner factories to identify the root causes and creates an improvement plan. The Production department then collects the actual weekly working hours of all employees in those partner factories every month so as to monitor the situation.
In order to reduce working hours, we noticed that our partner factories took various actions to increase productivity: investing in factory automation, optimizing production planning, training workers so they can be more skilled and adapting the compensation scheme to worker efficiency. The Production department also requests partner factories to forecast excessive working hours and inform us so that our production planning can be adjusted when possible. The Sustainability department monitors the factories' implementation of their improvement plans and at times will verify working hours' data on site. Regular internal meetings are held to follow-up on the progress of our core partner factories. Even though we have noticed improvement at the majority of our core sewing factories, we will continue to monitor and support our core sewing factories.
Due Diligence for New Production Partners
Monitoring Potential New Production Partners Prior to Commencing Business
We conduct a due diligence at any potential new partner prior to commencing business with them. This process ensures potential partners comply with our Code of Conduct for Production Partners. We only do business with those partners confirmed to meet standards for commencing new business relationships. Partner factories that receive a grade of D during the audit are asked to make corrections within three months and we start our business only once corrections are confirmed in a follow-up audit. Partner factories who had serious violations are not eligible to do business with Fast Retailing. During fiscal 2019, we initiated business relationships with 86.6 percent of potential partners.
Approval Process for New Factories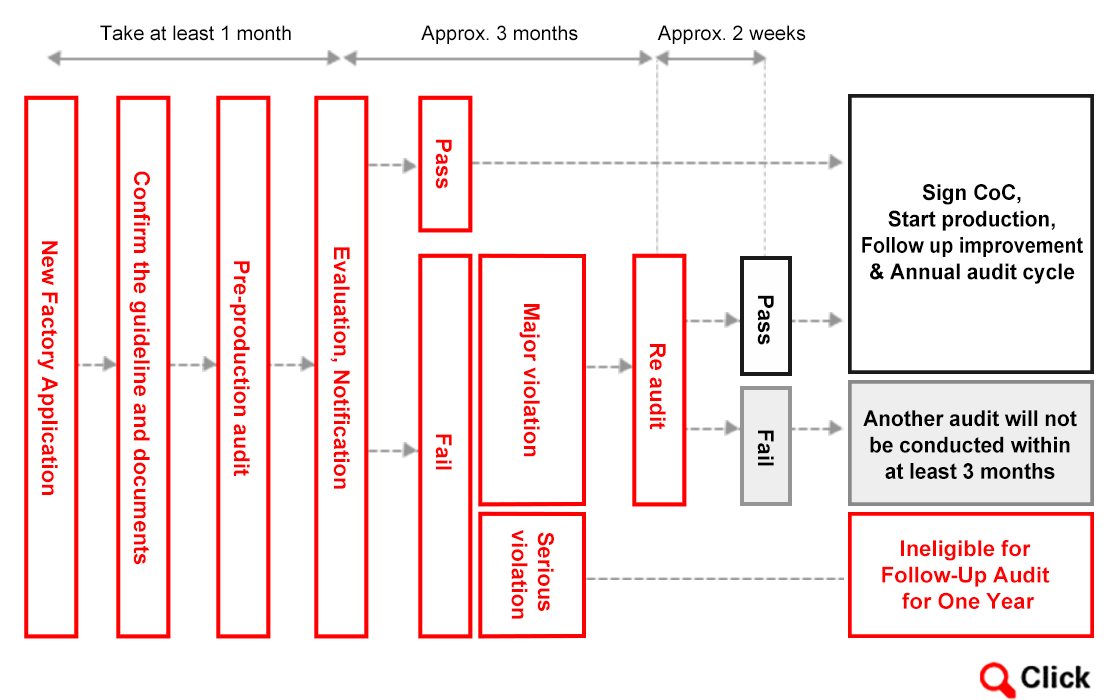 Factory and Fast Retailing Hotlines
Hotlines for Factory Employees
Fast Retailing asks partner factories to establish their own mechanism to address employees' grievances as part of proper business management following FLA's standards.
The requirements for grievance mechanisms stipulated in Fast Retailing's Supplier Guidebook include:
at least one confidential, anonymous grievance channel;
written procedures and processes to address grievances aligned with local laws, including a non-retaliation policy;
a tracking system to ensure grievances are addressed; and
training for workers, supervisors and managers including orientation for new workers and subsequent annual training for all workers on grievance policies and procedures.
Compliance with the above requirements is confirmed through our workplace monitoring system.
We have improved our audit process to assess functionality of factories' grievance mechanisms. For example, in 2018, our audit checklist was expanded to include additional questions on penalties and retaliation and how management logs and tracks grievances and resolutions.
We established the Fast Retailing Hotline that provides a channel for employees and organizations representing a group of individuals at key sewing factories and fabric manufacturers to contact us directly in their local languages. These programs exist in Shanghai, Ho Chi Minh City, Dhaka, Jakarta, Tokyo, and other locations. Upon our request, Fast Retailing partner factories shall display Fast Retailing Hotline posters that are provided by us, in a location visible to workers inside their factories. We request our partner factories to communicate to workers of each factory so that they are aware of the Fast Retailing Hotline to voice their concerns, without fear of retaliation and prejudicial treatment should they raise a grievance. Workers are provided the contact details to access the Fast Retailing Hotline in their local languages and contact cards are given to workers who are interviewed during annual audits conducted by third party auditors.
Once we receive a worker's grievance from the Fast Retailing Hotline, we will review and determine how to further proceed with investigations and resolutions. Fast Retailing is aiming to investigate the grievance to identify the underlying issue and take appropriate remedial action. Fast Retailing will ensure that grievances are dealt with confidentiality. The Factory Hotline is handled by Fast Retailing employees and all employees are required to strictly follow the Fast Retailing Group Code of Conduct which covers the handling of confidential information and data handling. Grievances are also reported to the Human Rights Committee. For cases involving egregious grievances, the Human Rights Committee would give advice or suggestion on countermeasures.
When we identify human rights violation stemming from the investigation, our Sustainability and Production departments ask partner factories to make improvements and corrections in line with International Labor Organization Fundamental Conventions, local labor laws and our Code of Conduct for Production Partners.
We protect the privacy of people who raise grievances and strictly prohibit retaliation and disadvantageous treatment against them. We commit to engage with any impacted people and reply to them in a prompt and consistent manner. We closely monitor that our hotline functions efficiently. For example, responsible persons in the Sustainability department track that Fast Retailing contacts all workers promptly once they raise a concern and that grievances are closed within an acceptable time frame for the workers.
Factory Hotline Operational Process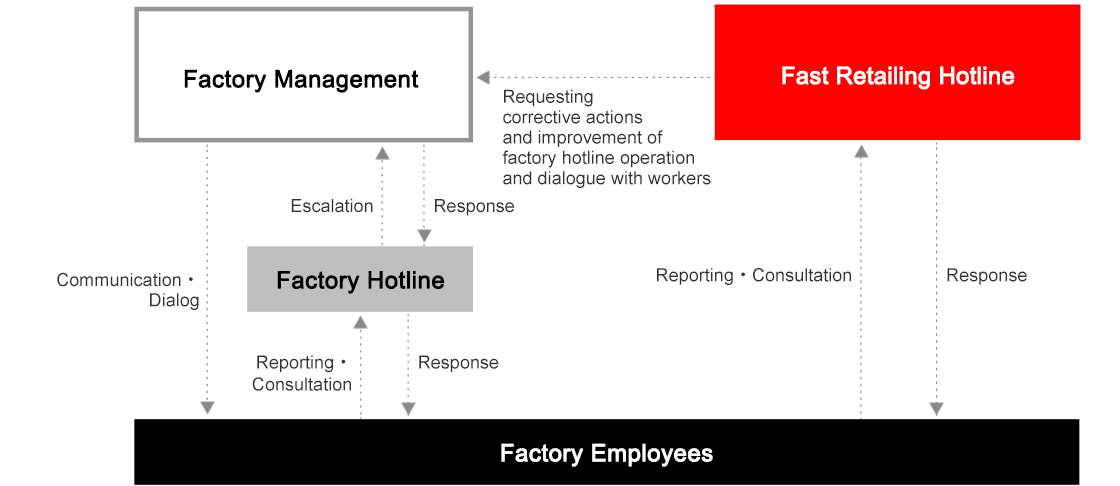 Grievances Related to Human Rights Violations
Among grievances raised to the Fast Retailing Hotline in fiscal 2019, 63 cases were assessed as violations of ILO core conventions, local labor laws or the Code of Conduct for Production Partners. Out of 63 cases, 53 cases were related to human rights violations such as wages and working hours' issues, harassment etc. 43 of 63 cases were closed during fiscal 2019. Fast Retailing has also analyzed the received grievances in order to put in place preventive measures. For example, as a result of grievances and country risk analysis, we found that remedies and preventive measures on harassment issues were required in partner factories in Bangladesh, and have formulated and executed preventive measures in collaboration with experts.
Breakdown of Grievances* Received During Fiscal 2019
*Cases reported as violations of ILO core conventions, local labor laws or the Code of Conduct for Production Partners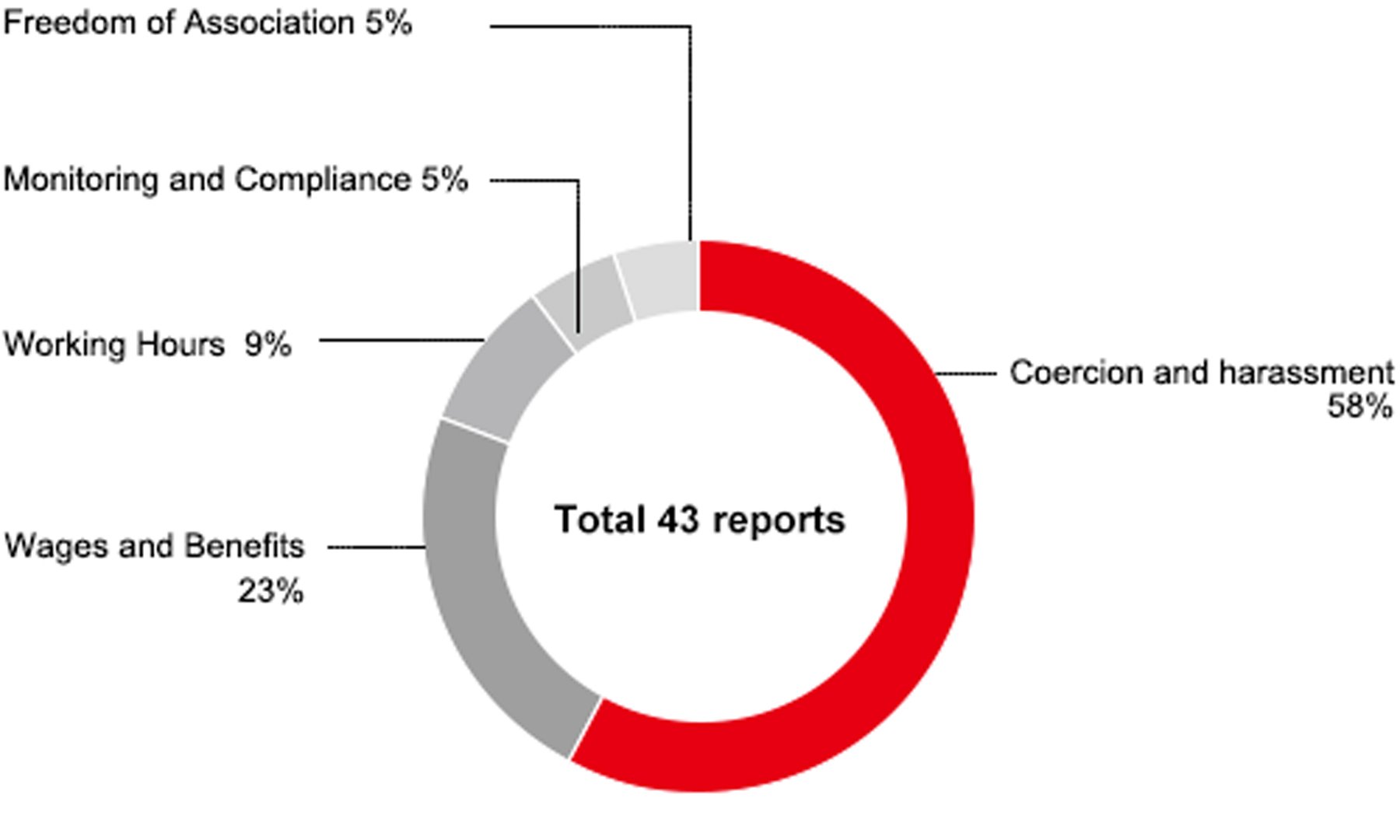 Hotline Remediation Cases
Case 1
We received a report from a factory employee that a factory organization change may result in lower wages. Fast Retailing worked with our partner factory, who clarified to their employees that the redeployment was in conformity with law. The factory management also launched training programs for employees to address any low performance. They respected the intention of employees who wished to stay in their current positions. The factory has also facilitated the process for workers to apply for new positions.
Case 2
Fast Retailing received a report from a factory worker that other workers continued working after clocking out to receive greater productivity bonuses. Fast Retailing worked with our partner, who addressed the matter. The partner monitored and compared working hours to off-the-clock work and took measures to prevent similar issues from arising in the future such as cutting off electricity to production lines and conducting remedial training for line workers.
Case 3
In Myanmar, workers went on strike in one of Fast Retailing's partner factories in fall 2017. We were contacted by the trade union after seven trade unions members were dismissed. Fast Retailing worked with factory management and the trade union to re-establish a dialogue and together built resolutions such as the reinstatement of dismissed workers and payment of allowances. Since then, other workers' concerns were negotiated successfully especially around wages and benefits. The factory management has been enrolled in a social dialogue program.
Salient Human Rights Violations
Through our risk assessment and workplace monitoring, we have defined the following as salient human rights risks in the supply chain: child labor, forced labor, coercion and harassment, discrimination, unsafe workplace, freedom of association breach, illegal or unjustified dismissal of workers on strikes, retaliation on workers who submitted grievances, non-payment of wages, transparency issues such as false records and unauthorized subcontracting. When we find issues in these areas, we have intensively taken appropriate actions.
In fiscal 2019, as salient human rights violations, coercion and harassment and discrimination cases were reported through our direct hotline or audit. 10 harassment cases and a discrimination case were confirmed through investigation and resolved in fiscal 2019. For harassment cases, factories strengthened their internal rules and conducted training to prevent such a case in future, the offenders were warned accordingly. Fast Retailing communicated the actions taken to the affected workers. In a discrimination case, a female worker was asked not to return to work after the factory management found out she was pregnant. Fast Retailing took action in the case by engaging with the factory management requesting for this female worker to be re-instated from her work. As a follow up action, the factory's maternity policy was revised and training was given to the factory managers.
Preventive Measures and Actions Taken for Addressing Industry-wide Human Rights Issues
Fast Retailing takes preventive measures and variety of actions for solving human rights issues identified through our due diligence processes and stakeholder engagement, involving local and global experts.
Prevention of Child Labor
Child labor is a serious social issue that impedes the healthy growth of children and deprives them of educational opportunities. Fast Retailing is working to abolish and prevent child labor based on the international guidelines such as "Children's Rights and Business Principles".
Fast Retailing has been encouraging partner factories to have preventive measures against child labor in the supply chain, this is clearly stipulated in our Code of Conduct for Production Partners. In workplace monitoring, auditors check if partner factories validate the ages of workers with proper identification in recruitment.
In Myanmar, we partnered with SMART Myanmar to conduct supplier training on child labor risk and prevention, and young worker labour laws in 2018. It provided guidance on proper age verification and recruitment processes as well as on remedial actions to take if an issue is found. Following the training, partner factories developed or reinforced their internal rules and procedures and they are establishing recruiting process to check workers' age carefully.
In 2019, Fast Retailing and CCR CSR launched a program for the main factories used for Fast Retailing production located in Myanmar. CCR CSR is a social enterprise and has been a pioneer in consulting businesses on child rights since 2009. CCR CSR has extensive experience and expertise in helping companies improve, develop and implement child-rights related CSR strategies, programs and projects.
Following activities were performed.
Assessment of risks including juvenile and young worker non-compliance
Development of toolkit for the factory management including legal fact sheet, checklists, list of suitable workstations and young worker management guideline
Development of action plan with suggested activities to ensure proper and sustainable management of juvenile and young workers
Tailor made training for senior management on child labor prevention and remediation and young worker management including final confirmation of action plan and related activities
Responsible Recruitment
Fast Retailing has clarified in its Code of Conduct for Production Partners that there is no tolerance for forced labor including human trafficking. In the supply chain, migrant workers are especially vulnerable to discrimination in the recruitment process. We monitor that workers are not to be treated unfairly in the recruitment process and during employment.
In February 2019, Fast Retailing signed the commitment to Responsible Recruitment as defined by the Fair Labor Association (FLA) and the American Apparel & Footwear Association (AAFA) in October 2018. This is the industry's commitment to mitigate potential forced labor risks for migrant workers in the global supply chain. We will work with our global partner factories to create conditions so that:
No workers pay for their jobs,
Workers retain control of their travel documents and have full freedom of movement,
All workers are informed of the basic terms of their employment before leaving home.
Driven by its participation in the above commitment to Responsible Recruitment, in September 2019 Fast Retailing launched a new partnership project with the International Organization for Migration (IOM) to study the recruitment and employment conditions of migrant workers in the company's supply chains. The IOM is the leading inter-governmental organization in the field of migration. The partnership project aims to increase visibility into company's supply chains, as well as to develop our capacity to respond to identified challenges related to the human and labor rights of migrant workers. The collaboration includes an assessment of recruitment practices carried out by our suppliers that employ migrant workers in Japan, Thailand and Malaysia. The project also includes training to Fast Retailing management, sourcing teams, and country officers to embed principles and measures protecting migrant workers in company policies and guidelines.
Coercion and Harassment
Coercion and harassment is an issue that can lead to adverse effects on the working environment and workers' physical and mental health. For a healthy working environment, it is crucial that workers can work without fear of coercion and harassment. Fast Retailing does not accept any forms of coercion and harassment and stipulates clearly that all workers shall be treated with respect and dignity in our Code of Conduct for Production Partners.
As a result of grievances and country risk analysis, we found that remedies and preventive measures on harassment issues were required in partner factories in Bangladesh. Subsequently in 2019, we launched a pilot project to put in place a complaints committee in some of our partner factories partnering with two local NGOs in Bangladesh, Awaj Foundation and Change Associates Ltd. The committee is to establish anti-harassment policies and guidelines, investigate issues and conciliate harassment cases.
Management, workers and committee members were trained by the NGOs. Participants could gain basic knowledge on harassment through open discussion on concrete cases of inappropriate languages and behaviors. We aim to establish complaints committees to prevent and remedy harassment in all our partner factories in Bangladesh.
Living Wage
In order to ensure fulfilling and stable lives of people working in the supply chain, Fast Retailing aims not only to guarantee minimum wages, but also to realize living wages. In the Fast Retailing Code of Conduct for Production Partners, we state that a living wage should be at a level which not only satisfies workers' basic needs for clothing, food and housing, but also enables workers' decent lives.
Fast Retailing is a member of the Fair Labor Association (FLA) which established a commitment to fair compensation in 2015. The FLA uses compensation data collection methodology derived from the Ankers' methodology of the Global Living Wage Coalition and various civil society organizations' expertise in setting living wage benchmarks and understanding workers' basic needs from a local perspective. Fast Retailing will analyze compensation data and how it is paid in our partner factories in collaboration with FLA to understand how solutions can be implemented to address identified wage gaps.
Partner Factory Training
We conduct regular training to ensure partner factories understand the Fast Retailing Code of Conduct for Production Partners and the latest in labor standards, etc. For example, we offer programs that cover revisions to the code of conduct, fire prevention safety standards, correct pay calculations for overtime work, and other matters. During fiscal 2019, we conducted training for a total of 371 factories across 11 different countries.

Top of page