Last Updated: 2018.04.25
to Japanese page
A Diverse Workforce of over 110,000 Employees in 25 Countries and Regions
The Fast Retailing Group employs 114,830 people in 25 countries and regions.
Fast Retailing Group Employees Worldwide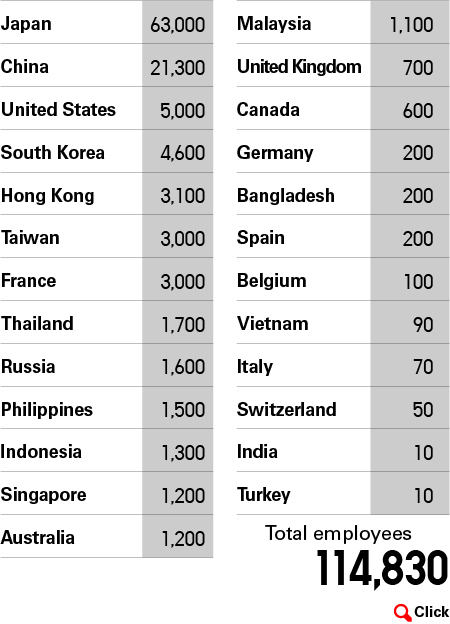 Advancing the careers of female employees
Given that the majority of products it sells are for women, the Fast Retailing Group recognizes that advancing the careers of female employees is vital for the growth of its business. Accordingly, Fast Retailing created its Diversity and Inclusion Office in March 2015 with the goal of having women in at least 30% of all management positions group-wide by 2020. To that end, various initiatives are being carried out, including Women's Direct Meetings, which bring female store and administrative managers together with outside experts for discussions, as well as conferences for female store managers with children, which allows working mothers to share their experience and advice. There is also a program for female store managers to be mentored by women in senior management positions. Fast Retailing encourages women who are taking maternity and childcare leave to participate in these programs, helping alleviate their concerns about returning to work.
As a result of these initiatives, Fast Retailing's goal was achieved in 2017, when the ratio of women in all management positions reached 31.3%. Looking ahead, Fast Retailing will work to continue increasing the ratio of women who serve as managers as well as general managers and executive officers. To that end, it plans to enhance all relevant support mechanisms, select a broader range of employees as management candidates, and systematically support career development.
Ratio of women in management positions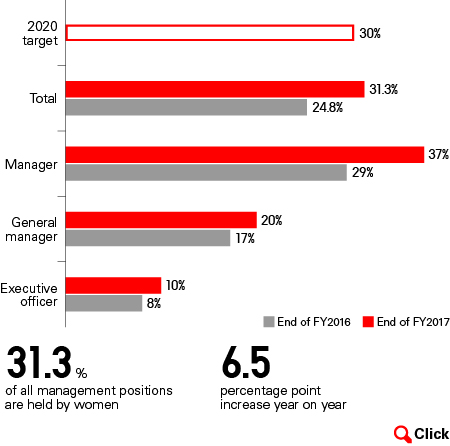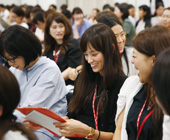 Promoting greater work-life balance
For the Fast Retailing Group to grow in the future, it is essential that workplaces allow employees to thrive over the long term. Fast Retailing has introduced various systems for supporting work-life balance and encourages all employees - both women and men - to make use of them. These systems enable employees experiencing significant life events and responsibilities, such as the birth of a child, childcare, or nursing care, to shorten their working hours and take maternity or caregiving leave. In addition, Fast Retailing in Japan adopted a work-at-home system for head office employees in 2017.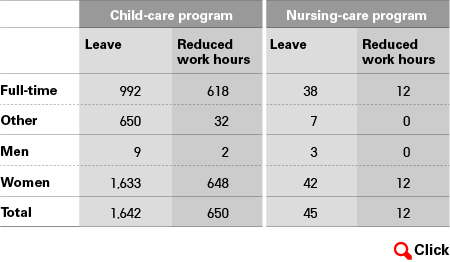 Employing people with disabilities
With a vision of having employees learn and grow together as members of a team that transcends physical and intellectual differences, UNIQLO stores in Japan began hiring people with disabilities in 2001, and set a target of employing one such person per store. That target has almost been attained since 2012, and as of end of fiscal 2017, the percentage of people with disabilities employed by group companies in Japan reached 5.35%, far exceeding the statutory requirement of 2.0% set by the national government.
As of August 31, 2017, a total of 1,613 people with disabilities were employed by Fast Retailing in 16 countries and regions.
Number of employees with disabilities

Spotlight
Supporting people with disabilities in Singapore
UNIQLO Singapore has been actively hiring people with disabilities since 2009, and has continued to hold a series of related events at its stores, including a T-shirt design event that made use of an UNIQLO store app. In 2017, UNIQLO Singapore launched a new job training program to help people with disabilities secure employment. Through the program, trainees gain experience as store salespeople at a mock UNIQLO store set up in a vocational training facility in Singapore, enabling them to acquire the skills they need for working in the retail industry.
Related link

Top of page