Last Updated: 2020.01.31
to Japanese page
Fast Retailing employs people across the world. We respect diversity and do not tolerate discrimination in any form, including discrimination based on race, gender, religion, nationality, social standing, sexual orientation, or age. We engage in fair hiring practices and performance evaluations to ensure all employees have the opportunity to express their talents and skills.
Employee Diversity
As of August 2019, Fast Retailing employs 137,281 people around the world. We encourage employees from various different backgrounds to respect each other's differences by offering opportunities for employees from Japan to work in other global locations, and overseas employees to come and work in Japan as part of our multicultural communication training program.
Empowering Women in the Workplace
Promoting diversity and inclusion
The Diversity and Inclusion Team has introduced various improvements to our human resource systems and training to support female employees who want to better balance both career and family life. The office has hosted sessions such as the Women's Direct Meeting, which encourages discussion between female store managers, management, and outside experts, as well as discussion venues for female store managers who are raising children, and a training program for female management candidates.
In fiscal 2019, women made up 38.4 percent*1 of total management positions' within the Fast Retailing Group*2, already well ahead of the 2020 30% target. We will continue to extend individual systems, broaden the selection of management candidates, and provide career advancement opportunities through assignments to new positions and departments.
*1 Data on the ratio of female managers has been verified by SGS Japan Co., Ltd. to ensure reliability.
*2 Management positions includes block leaders, area managers, and store managers above a certain grade and (sales), and corporate officers, general managers, and leaders (head office).The total number of employees in the denominator includes directors.
Related Links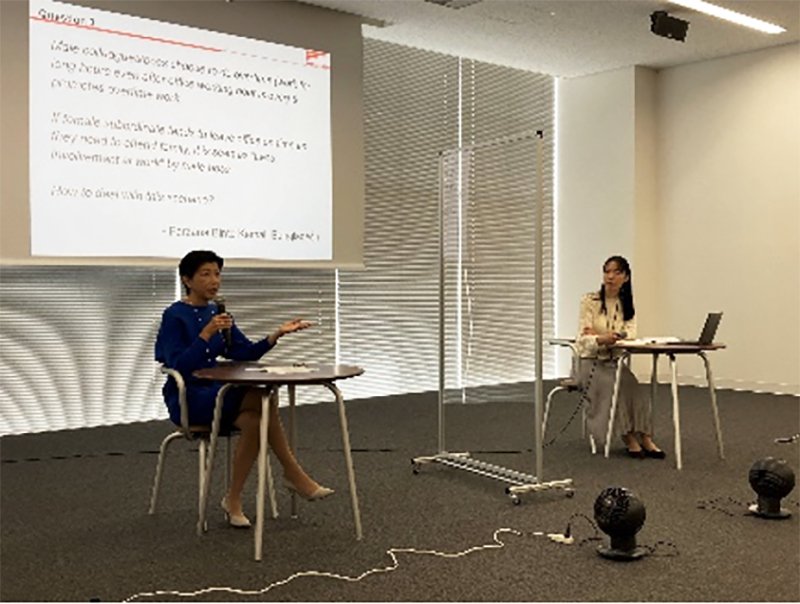 Employees Participating in the Women's Direct Meeting
Global Partnership to champion women's rights and empowerment
In June 2019, Fast Retailing and UN Women signed a global partnership to champion women's rights and empowerment in the apparel industry. This is the first formal alliance between UN Women and a clothing company based in Asia.
Under the new partnership, Fast Retailing and UN Women will together promote safe and secure work environments, and advance empowerment for all women and girls. The scope of the partnership, which includes an investment from Fast Retailing of USD $1.6 million (around ¥170 million) over two years (2019-2021), is to jointly implement a program for female workers in garment factories in Asia, the company's main production hub. The partnership also comprises a management training program to further diversity at the company.
Related Links
Work-Life Balance Support Systems
Child Care/Nursing Care Leave, Reduced Working Hours
Fast Retailing offers a number of different work arrangements allowing employees a choice in balancing work and life events (maternity, child care, nursing care). These arrangements include child care/nursing care leave, reduced work hours, flextime, and other systems supporting the work-life balance of all employees. We then introduced a new work-from-home arrangement from fiscal 2017, and a baby-sitter subsidy program in fiscal 2018 for eligible Fast Retailing Group head office employees in Japan.
Women's Participation and Advancement Network Organization
We have formed a networking organization for women's participation and advancement in the workplace in Japan to help share information on childbirth and childcare, and ensure the views of female employee are fully reflected in our human resource systems. The organizations main activities include holding guidance sessions on maternity and childcare leave, and on returning to work after childcare leave for employees who have opted to take maternity or childcare leave. We also seek to encourage networking among employees currently raising children through our Papa Mama Lunch Group.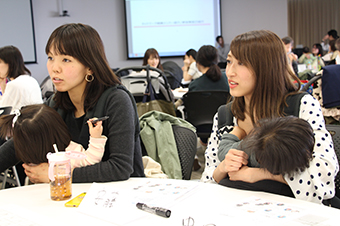 A Return-to-Work Information Session for Employees on Childcare Leave
Setting Up an Inhouse Childcare Center
In April 2018, Fast Retailing opened an inhouse childcare center for employees at its Tokyo and Ariake head offices in Japan.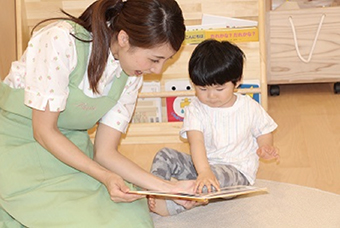 Inhouse Childcare Center
Regional Regular Employees
UNIQLO in Japan introduced the concept of regional regular employees to encourage more diversity in work styles. The regional regular employee system provides a way for outstanding personnel to work toward careers as store managers and area managers, even though their responsibilities for child care or nursing care may constrain work time or limit the ability to transfer. In addition to three days off per week, regional regular employees may also take advantage of shorter working hours, home care/nursing care leave, and other arrangements available to full-time employees. At present, one-third of store employees at UNIQLO in Japan (approximately 10,000 people) work under the regional regular employee system.
Flextime System
Fast Retailing in Japan introduced a flextime work system in March 2018. Under this system, a standard work day consists of eight hours (with a one-hour break); however, employees may arrive at or leave work at a time matching the nature of their duties.
LGBT Support Initiatives
Fast Retailing strives to eradicate all discrimination in its work place as part of the company's commitment to respect diversity and create a comfortable working environment for everyone regardless of sexual orientation and gender identity.
New Partnership Registration System
In January 2019 the Fast Retailing Group in Japan introduced a Partnership Registration System that enables same-sex partners to access welfare benefits such as congratulatory and condolence leave and payments, by registering their partnership with the company.
LGBT Network Activities
In December 2018 the Fast Retailing Group in Japan formed the Symphony Network for interested employees across all of its brands and operations who wish to learn about LGBT-related topics, as well as to better reflect employees' views regarding products and human resources programs.
Hiring People with Disabilities
Fast Retailing champions the hiring of people with disabilities. We began hiring people with disabilities in 2001 through UNIQLO in Japan. Our goal has been to hire the equivalent of at least one person with a disability in every store, and we are proud to say that we have almost met this goal since fiscal 2012 (excluding new stores). Working with staff with disabilities teaches employees the importance of teamwork, enhances the spirit of customer service, and offers numerous other incidental benefits. As of fiscal 2019, employees with disabilities accounted for 5.02 percent* of Fast Retailing Group employees in Japan. This figure outperforms Japan's legally mandated figure (two percent) by a significant margin.
*Calculated as of June every year
Hiring Refugees
Since 2011, UNIQLO Japan has been working with the Refugee Headquarters (RHQ) and other organizations to actively promote the employment of refugees, focusing primarily on refugees and their families who have been granted refugee status and the right to settle in Japan.
Related Links

Top of page