Last Updated: 2020.11.20
to Japanese page
We collect clothing no longer needed by customers, striving to maximize the power of clothing and to ensure clothes are delivered to those in need. We donate collected clothing to refugees and displaced people around the world, as well as to socially vulnerable people in the communities we serve through our stores. We also use the power of clothing to help victims of disasters.
Clothing Donations
UNIQLO and GU: All-Product Recycling Initiative
In 2006, UNIQLO began working with the UN Refugee Agency (UNHCR) through our All-Product Recycling initiative. Under this program, we collect clothing no longer needed by customers, donating these items to refugees and displaced persons. In 2010, GU began its own recycling program as well. As of August 2020, UNIQLO and GU cooperate to collect clothing in 23 countries and regions.
Clothing Donations Through All-Product Recycling Initiative (Cumulative Through August 2020)
41.11 million items to 75 countries and regions
Afghanistan / Algeria / Angola / Australia / Bangladesh / Belarus / Belgium / Botswana / Brazil / Burkina Faso / Burundi / Cambodia / Cameroon / Chad / China / Columbia / Cota d'Ivoire / Democratic Republic of the Congo / Denmark / Ethiopia / France / Georgia / Germany / Greece / Haiti / India / Indonesia / Iraq / Italy / Japan / Jordan / Kazakhstan / Kenya / Kyrgyzstan / Laos / Lebanon / Liberia / Malawi / Malaysia / Mauritania / Mozambique / Myanmar / Namibia / Nepal / Netherlands / Niger / Pakistan / Philippines / Russia / Rwanda / Saudi Arabia / Serbia / Sierra Leone / Singapore / Solomon Islands / South / South Africa / South Korea / Sri Lanka / Sudan / Swaziland / Syria / Taiwan / Tajikistan / Tanzania / Thailand / Togo / Tunisia / Uganda / United Kingdom / United States / Vietnam / Yemen / Zambia / Zimbabwe
Related link
Theory: Closet for Needs
In 2015, Theory in Japan started Closet for Needs, a project to help women victims of domestic violence through clothing donations. Under this program, Theory employees collect and donate clothing to women who have been forced to live in shelters under constrained circumstances due to domestic violence. The program originated as an employee-generated idea. When donating clothing, Theory sets up a temporary store staffed by employees. Women are free to browse and choose the clothing they like best. The concept behind this program is that Theory apparel, employee communications skills, and style suggestions combine to help women recover their self-esteem and gain confidence.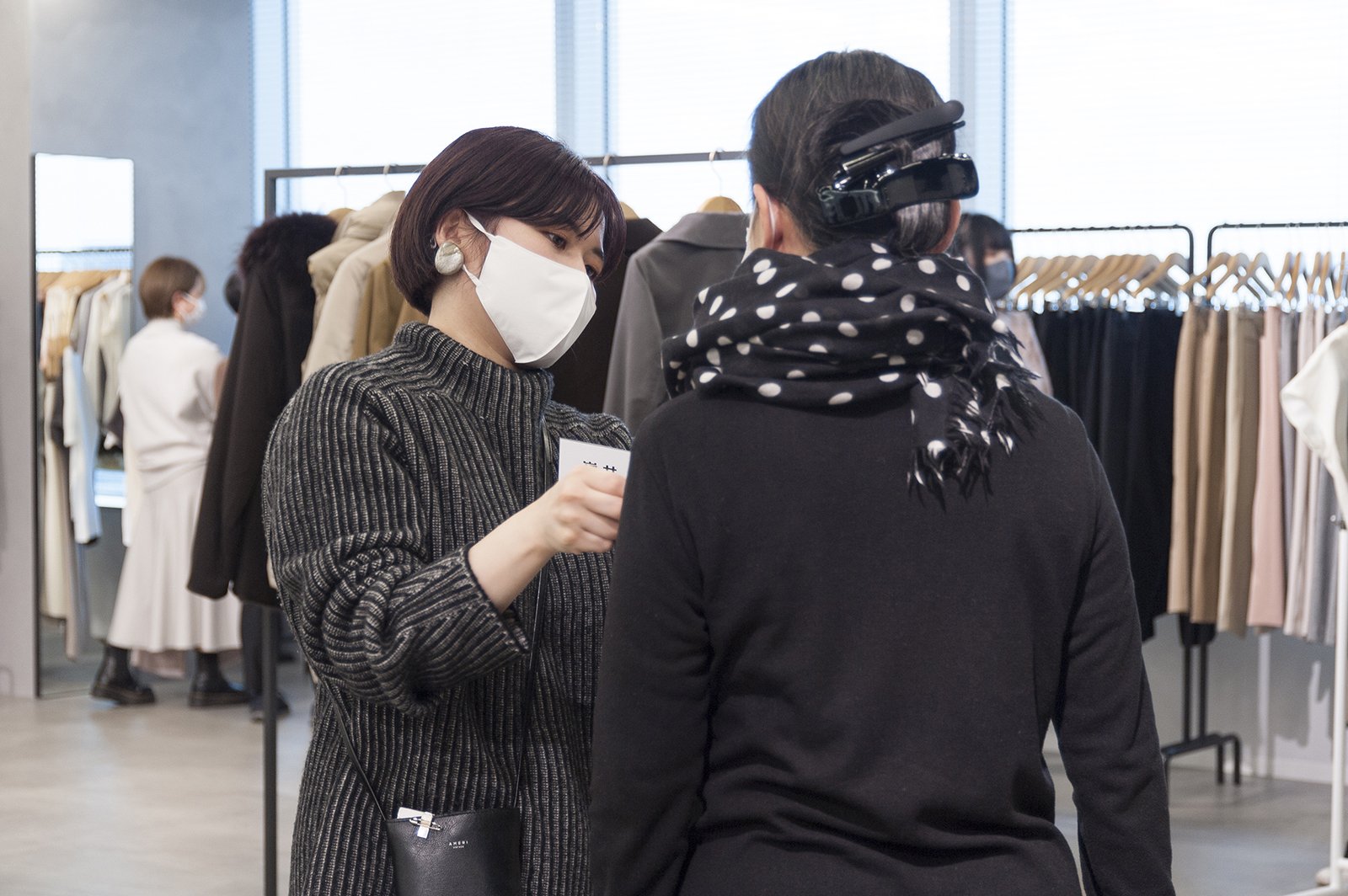 Theory employee shows warm hospitality during a clothing donation
Emergency Disaster Relief
Fast Retailing springs into action in response to disasters in Japan and around the world, helping victims through the power of clothing.
Great East Japan Earthquake Recovery Support
Fast Retailing went to work in the immediate aftermath of the March 2011 earthquake and tsunami in eastern Japan. We donated clothing, worked with NGOs, opened stores, and engaged in a number of other measures to support recovery in the region.
・Working With NPOs and Other Groups in Disaster Areas (2011-2014)
In February 2012, we launched the UNIQLO Recovery Assistance Project, designed to provide ongoing aid in areas affected by the Great East Japan Earthquake. We established a recovery fund consisting of JPY300 million from sales of UNIQLO stores throughout Japan and financial donations from customers. Over the course of three years, we provided funding to five organizations (NGO, NPO) involved in providing general economic assistance and helping victims recover independence and find employment: JEN, ADRA Japan, PlaNet Finance Japan, IVY, and Tohoku Common Profit Investment Fund.
・Work Experience for High School Students Affected by the Disaster (2014-2017)
In March 2014, we worked with NGO ADRA Japan in a project to provide UNIQLO store work experience program to high school students affected by the disaster. A total of 14 first-year students from Futaba Senior High School participated in the project. These students were at a temporary school in Iwaki City (Fukushima Prefecture), having been evacuated from Futaba, a community neighboring the damaged Fukushima Daiichi Nuclear Reactor. The students were assigned the challenge of making the UNIQLO Iwaki Onahama store the most popular in the region. The 14 students combined their ideas to suggest fashion styles tailored to local community needs, create posters, work with customers, and perform other tasks.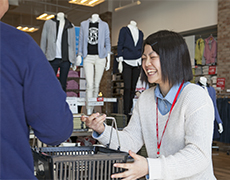 Learning the value of customer service through working experience opportunities
・From Temporary Locations to Permanent Stores; Ongoing Community Service (2012- )
On March 9, 2012, UNIQLO opened a temporary store in Kesennuma (Miyagi Prefecture), scheduled to operate for just one year. However, the store celebrated a major expansion and grand reopening on November 29, 2013, spurred by the desires and cooperation of the local customers and government.
Similarly, UNIQLO Sea Plaza Kamaishi (Iwate Prefecture) was also opened as a temporary location on March 9, 2012. This store was opened as the new UNIQLO Aeon Town Kamaishi on March 14, 2014. The new store featured a larger space and selection of products for local customers.
The UNIQLO Haramachi store in Fukushima prefecture was forced to close temporarily after the disaster. Now open once again, this store has joined the other two to provide local customers with clothing, employment, and spaces to enjoy everyday life.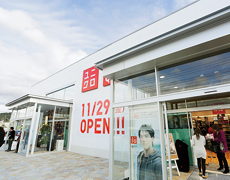 Temporary Location of the UNIQLO Kesennuma
・Providing Emergency Support After the Earthquake (2011- )
In the immediate aftermath of the Great East Japan Earthquake, Fast Retailing Group employees were mobilized as volunteers to go to disaster areas and distribute clothing to those in need. A total 347 employees volunteered, distributing 1.2 million articles of innerwear and other clothing from Fast Retail Group companies. Fast Retailing customers, business partners, employees, and others donated funds, delivered to the disaster area through the Japan Red Cross.
Main Donations
| Month/Year | Incident | Amount Donated | Press Releases |
| --- | --- | --- | --- |
| November, 2020 | Typhoon Goni and Typhoon Vamco | US$ 1,000,000 donation, 300,000 AIRism Masks | |
| July, 2020 | Torrential Rains in Kyushu Area | T-shirts, bottoms, room wear sets, and other items | News & Updates |
| October, 2019 | Typhoon No.19 | Approximately 70,000 sets of outerwear, fleece jackets and innerwear. | Fast Retailing to Provide Assistance for Areas Hit by Recent Typhoon |
| September, 2018 | Hokkaido Earthquake | Approximately 17,700 sets of outerwear, fleece jackets and innerwear. | Fast Retailing to Provide Assistance for Recent Hokkaido Earthquake |
| July, 2018 | The Japan Floods | Approximately 46,000 sets of T-shirts and innerwear. | Fast Retailing to Provide Assistance for the Japan Floods |
| April, 2016 | Kumamoto Earthquake | Approximately 13,600 sets of room wear and innerwear. | Fast Retailing Provides Assistance for the 2016 Kumamoto Earthquake |
| September, 2015 | Tropical Storm Etau | Approximately 3,800 sets of T-shirts and innerwear. | Fast Retailing Provides Emergency Relief for Tropical Storm Etau |
| April, 2015 | The Earthquake in Nepal | US$ 100,000 donation. | Fast Retailing Relief for the Earthquake in Nepal |
Related link

Top of page