Last Updated: 2022.10.28
to Japanese page
Fast Retailing launched the PEACE FOR ALL project in June 2022, as part of UNIQLO's range of UT brand graphic T-shirts. We started by releasing UT T-shirts emblazoned with peace-seeking message designs provided voluntarily by well-known people in different areas who supported our call to "take action with a desire for world peace." All profits from the T-shirt sales are being donated to international humanitarian organizations that support people affected by poverty, discrimination, violence, conflict, and war. Our aim is to expand this initiative worldwide together with our partner organizations, helping to realize a peaceful world and future, in which everyone can live safely.
About the donation recipient organizations
Under the PEACE FOR ALL project, Fast Retailing will donate the entire profits from the UT T-shirt sales (equivalent to 20% of the retail price) evenly through the Japan offices of three organizations with which we have formed a partnership. Each organization will then allocate those funds to activities designed to encourage international peace.
Recipient organizations with which we have formed a partnership
・UNHCR

UNHCR, the UN Refugee Agency, leads international action to protect people forced to flee because of conflict and persecution. They deliver life-saving assistance like shelter, food, and water; help safeguard fundamental human rights; and develop solutions that ensure people have a safe place to call home where they can build a better future.
・Save the Children

Save the Children is an international NGO that works to make children's rights to survival, development, protection, and participation a reality worldwide. It was established in the UK in 1919 and is currently at work in approximately 120 countries.
・Plan International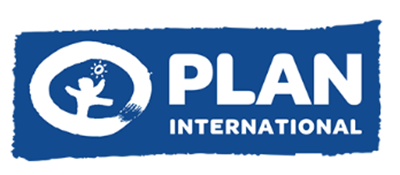 Plan International Inc. is an independent development and humanitarian organization that advances children's rights and equality for girls. They believe in the power and potential of every child. But this is often suppressed by poverty, violence, exclusion, and discrimination. And, it's girls who are most affected. Working together with children, young people, our supporters and partners, they strive for a just world, tackling the root causes of the challenges facing girls and all vulnerable children.
Relevant links
Activity report
Fast Retailing donated the proceeds from the project to all three partner organizations on September 20, 2022. Revenue from the T-shirt sales through to the end of August 2022 totaled 145,314,300 yen. We also collected 2,843,928 yen in donations through fundraising activities held in UNIQLO stores between June 17 and August 31, 2022. We would like to express our sincere gratitude to everyone who purchased the charity T-shirts and to those who cooperated with the fundraising activities.
The donations that have been evenly distributed to the three partner organizations through the PEACE FOR ALL project will be used for the following activities.
Activity reports and messages from each organization
・Japan for UNHCR
"We appreciate everyone's support for PEACE FOR ALL. The donations will be used to help UNHCR continue to provide protection, shelter and other forms of assistance, and advocacy on behalf of displaced and stateless people worldwide. UNHCR's lifesaving support also includes access to health care, safe and clean water, education for children and young people, and livelihood opportunities. With more than 100 million people forced to flee their homes, this support is crucial so UNHCR can respond to humanitarian emergencies in Ukraine, Pakistan, Ethiopia, Burkina Faso, Myanmar, Nigeria, Afghanistan, the Democratic Republic of the Congo, and beyond. Thank you to UNIQLO and the supporters."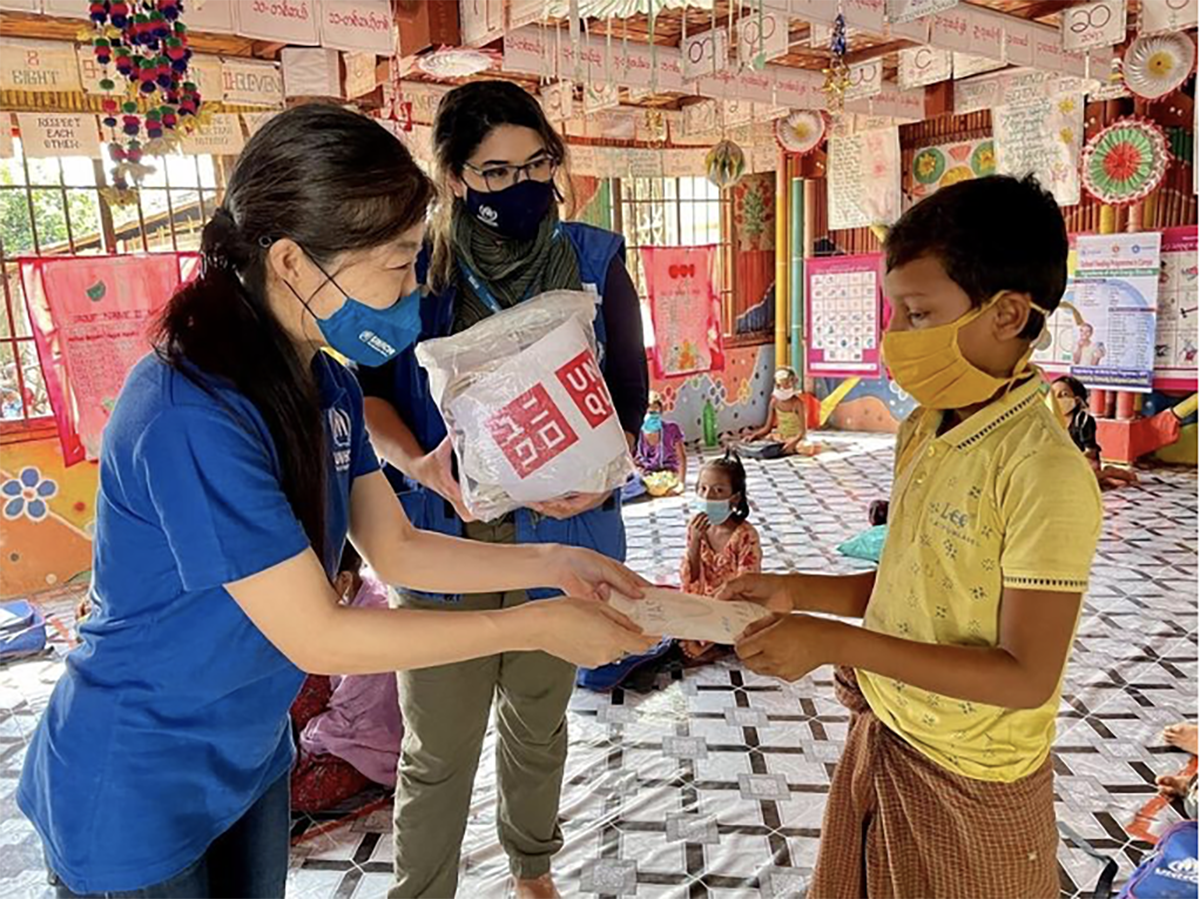 ・Save the Children
"We wish to express our gratitude to UNIQLO and to everyone who has purchased a charity T-shirt. We will use the donation to support children in need who are in difficult situations in Ukraine and its neighboring countries, as well as countries such as Afghanistan, Bangladesh, Turkey, Lebanon, and Mozambique. It will be used for a wide range of responses and activities, including establishing "Child Friendly Spaces" to provide opportunities for children to restore their normalcy, providing mental health and psychosocial support, ensuring learning opportunities, protecting children who have been separated from their families, and supporting livelihoods of families in difficult situations."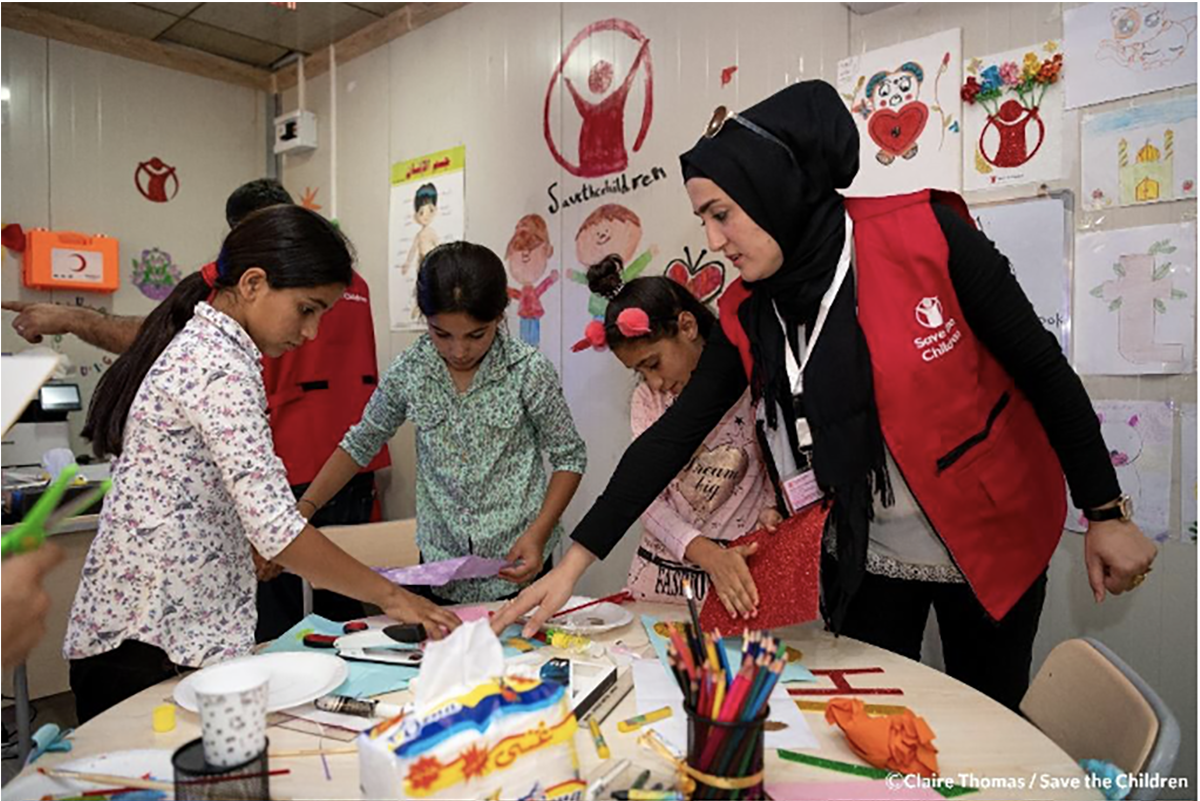 ・Plan International Japan
"We would like to express our heartfelt appreciation to UNIQLO for allowing us to take part in this wonderful project, and for the generous donation. The funds received will be used to help girls under 18 years of age who are forced to marry against their will, deprived of educational and other opportunities, or subject to violence or abuse, and to prevent early (child) marriage."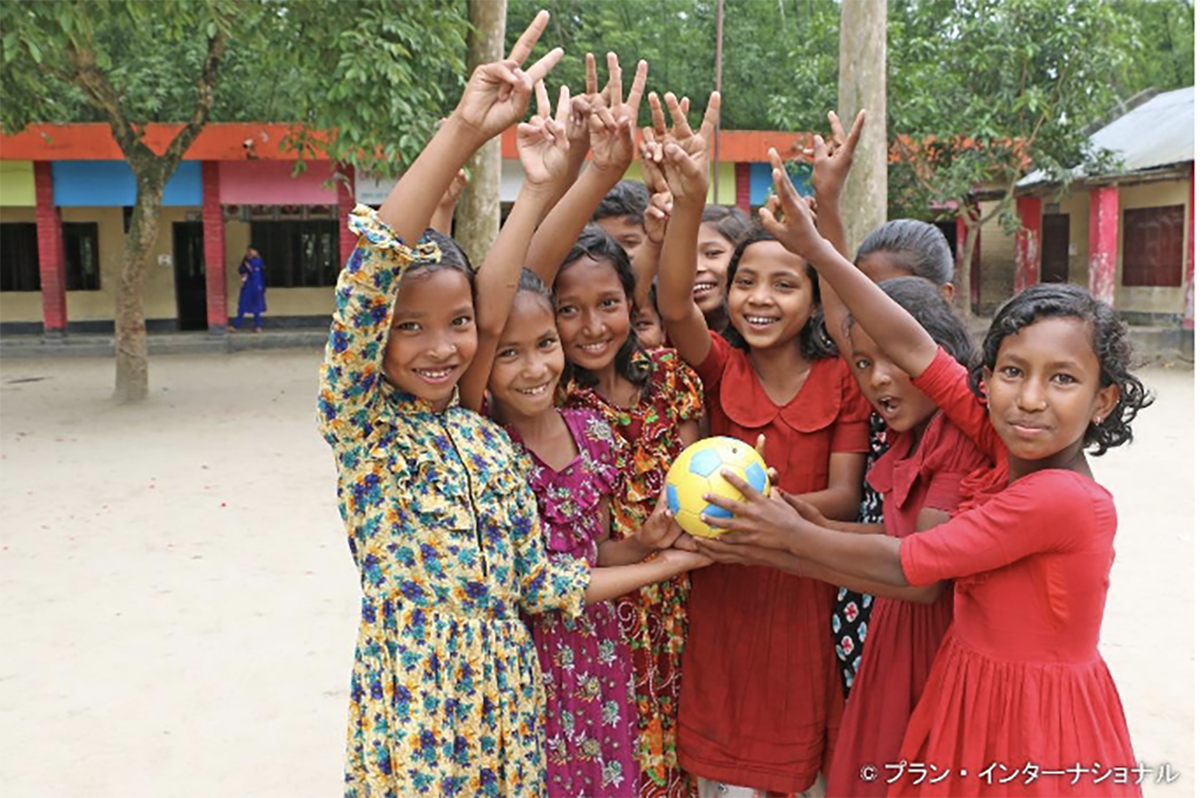 Charity T-shirts
Well-known persons who support our pursuit of world peace have participated voluntarily in the PEACE FOR ALL project by submitting a peace-seeking design. To date, 15 people have taken part.
Project participants
Jonathan Anderson, Tadao Ando, Rei Inamoto, Kosuke Kawamura, Shingo Kunieda, Kashiwa Sato, Adam Scott, Hana Tajima, Kei Nishikori, Ayumu Hirano, Ines de la Fressange, Haruki Murakami, Shinya Yamanaka, Gordon Reid, Christophe Lemaire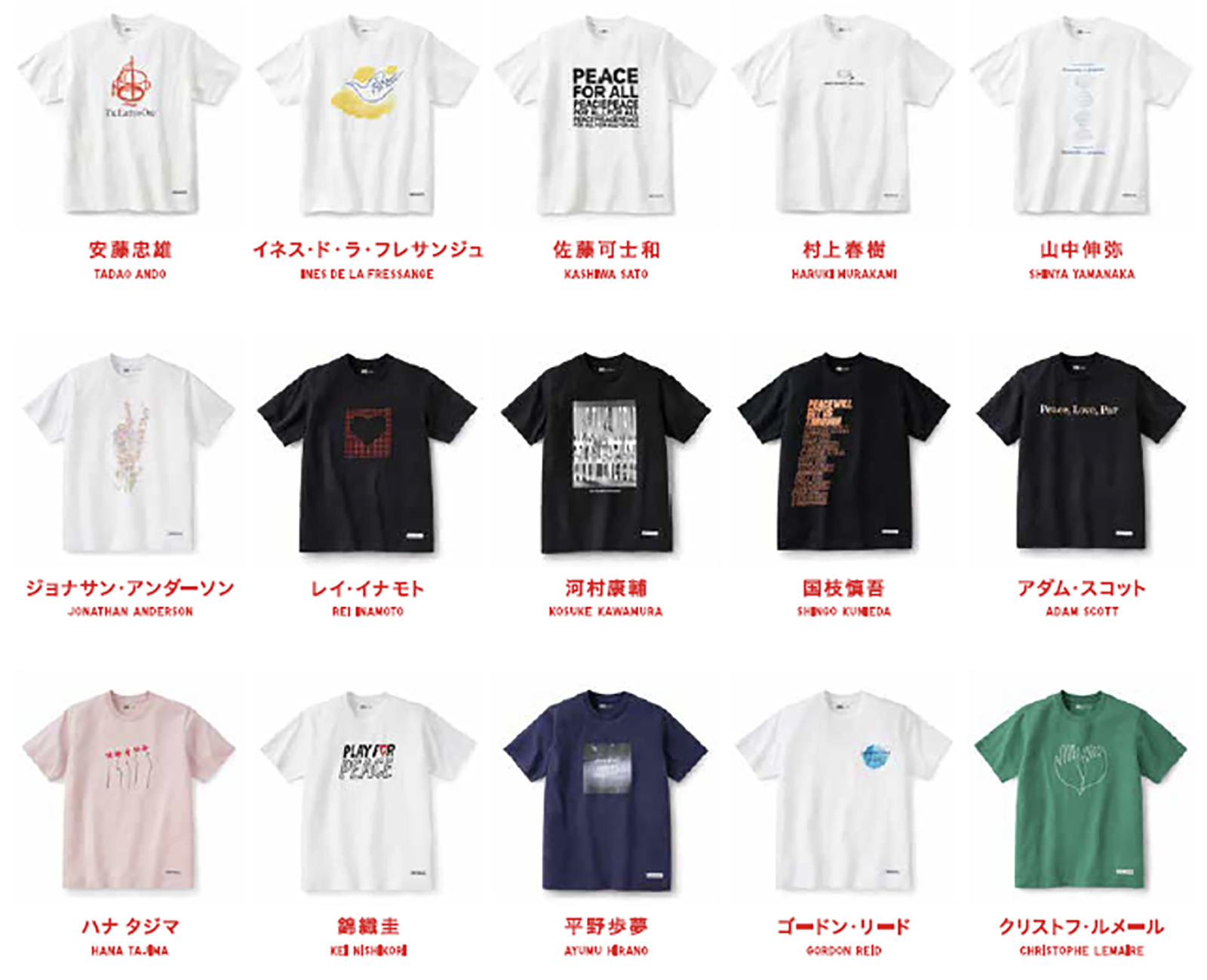 Relevant links
Promoting social contribution activities globally
Based on our LifeWear concept for ultimate everyday clothing that enriches the lives of all people, Fast Retailing is expanding its social contribution activities on a global scale. Through our clothing business, we are contributing to the stability and sustainable development of society.
By fiscal 2025, we aim to invest 10 billion yen in social contribution activities, implement local contribution activities at all our stores around the world, and support 10 million people from all walks of life, be they refugees or socially vulnerable people, young individuals of the next generation, or people involved in the arts, sports, or other fields. Our PEACE FOR ALL drive is an important part of those initiatives.
Relevant links

Top of page