Last Updated: 2023.06.19
to Japanese page
Fast Retailing supports the younger generation, who will become future leaders in society. We offer opportunities for education and social participation, helping empower children and youth.
Supporting Youth
One of the targets described in our Community Engagement Goals is to support children and youth. Our main activities in pursuit of this goal involve education and social participation. Fast Retailing employees serve as instructors in our school outreach program for children. Youth can participate in actual work experiences in our UNIQLO and GU stores. We also offer scholarship programs for university education.
The Power of Clothing Project teaches about refugee issues and the importance of clothing
In 2009, UNIQLO and GU in Japan launched The Power of Clothing Project. Under this project, UNIQLO and GU employees serve as instructors in our school outreach program for children. The children learn about clothing donations by UNIQLO and GU to refugee camps, using the opportunity to learn more about international refugees and internally displaced persons. The children learn about life among refugees and the role of clothing, and set up their own clothing drives. The children also view photo reports of clothing donations at refugee camps, learning about the important role and purpose of clothing. In 2014, UNIQLO launched The Power of Clothing Project in France, Thailand, Korea, and the United States.
【Steps in The Power of Clothing Project】
1.

School outreach conducted by UNIQLO and GU employees

2.

Call for students and children in the community to collect clothing

3.

Clothing collection and shipment

4.

Report by UNIQLO and GU back to the students
In 2022, a total of 745 schools and 88,000 students across Japan participated in work experience programs. School children collected nearly 1,100,000 articles of clothing, a portion of which were delivered to refugee camps.
The Power of Clothing project received the Good Design Award in 2021 and the Career Education Award of the METI Minister's Award in 2021(Japan).
Related Links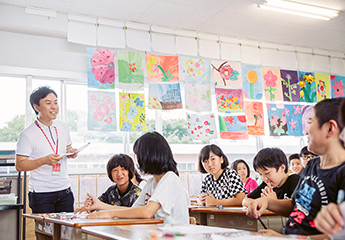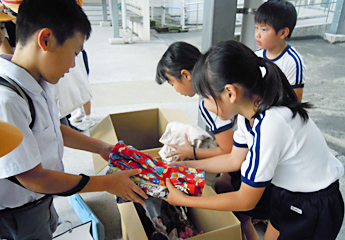 Workplace Experience
UNIQLO and GU stores in Japan sponsor work experience programs for elementary, junior high, and high school students. Students attending schools near our stores perform actual work done by UNIQLO and GU employees, learning the dignity of work and the enjoyment of being a contributing member of society. By experiencing service and teamwork that enhance customer satisfaction, students learn the value of work in the real world. Through these and other activities, participating UNIQLO and GU store managers and staff also learn valuable lessons.
In 2022, a total of 766 schools and 2,266 students across Japan participated in work experience programs.
Related Links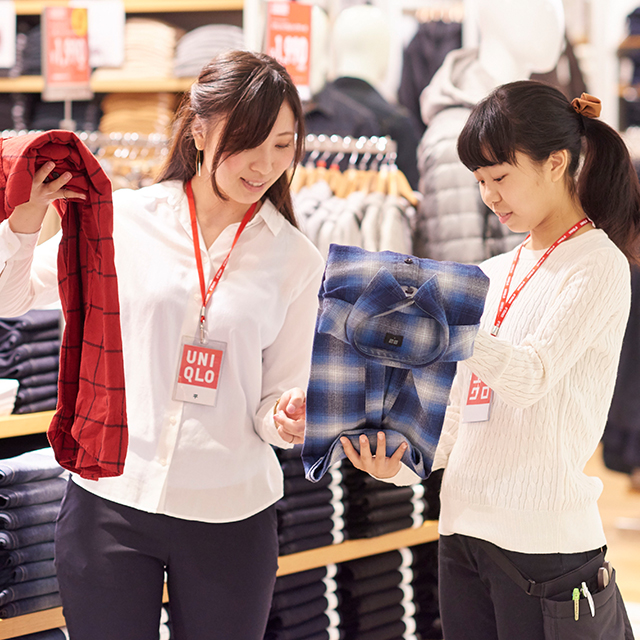 Scholarship Program for Asian University for Women Students
In June 2013, Fast Retailing established a scholarship of US$1 million over five years for students at the Asian University for Women in Bangladesh. The Asian University for Women aims to become the leading educational institute for women in Asia. In Asia, many female students face financial challenges preventing them from attending university. Nearly 60% of the students at the Asian University for Women rely on scholarships. We believe in providing ambitious women opportunities to study at university and upon graduating, growing into professionals who make their mark on the global stage.
In 2014, Fast Retailing began offering a summer internship program for scholarship students studying at the Asian University for Women. Interns visit Fast Retailing headquarters in Tokyo to learn about business functions such as global management, marketing and ecommerce, as well as conduct market research.
Related Links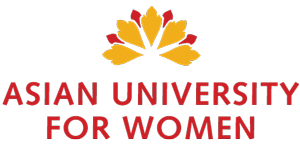 Clothes for Smiles
In 2012, UNIQLO launched the Clothes for Smiles project, the goal of which is to support programs that help children fulfill their hopes and dreams for the future. Under this program, UNIQLO set up a ¥1 billion fund from sales of HEATTECH and Ultra Light Down clothing. A total of ¥500 million from this fund was donated to UNICEF, while the remaining ¥500 million was donated to eight programs selected from 739 candidates collected through a global call for proposals.
Sponsor programs include the Girls'Soccer Project, which uses girls'soccer programs in Bangladesh, Ghana, and Zimbabwe to support female youth, and the Tsurumi Kodomo Hospice, the first-ever community-operated hospice in Japan (operated by the Nippon Foundation). The Tsurumi Kodomo Hospice provides an environment that serves as a secure and safe second home for children and families dealing with incurable illnesses.
Related Links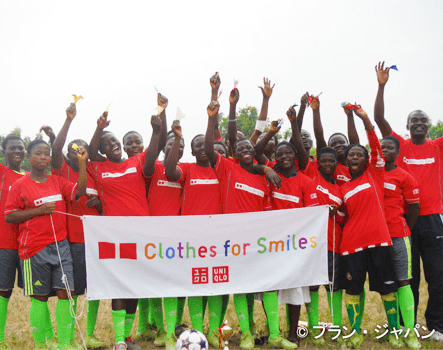 Girls'Soccer Project Game in Ghana
Creating Employment Opportunities
Fast Retailing aims to grow and prosper with the communities in which we operate. This includes the responsibility to hire from local communities, as well as seeking out opportunities to hire people with disabilities, refugees, and displaced persons.
The Fast Retailing Group Creates Employment Opportunities
The Fast Retailing Group contributes to creating local employment and economic development through its operation of stores and procurement activities. As of August 2022, Fast Retailing employs approximately 110,000 people around the world. Our partner factories are located in several countries including China, Vietnam, Indonesia, Thailand, Cambodia, Bangladesh and India, and our business with them fuels employment in those countries. In addition, we work with partner factories to help improve working conditions through our production offices located in the main production countries.
Related Links
Hiring People with Disabilities
Fast Retailing champions the hiring of people with disabilities. In 2001, UNIQLO began actively recruiting persons with disabilities in Japan. Ever since, both UNIQLO and GU brand stores in Japan have enthusiastically hired persons with disabilities, with a target of hiring at least one person with a disability at every store and endeavored to provide a rewarding environment. The two companies also provide guidance for store managers and employee trainers to broaden the capabilities and potential of persons with various types of disabilities. Working with staff with disabilities teaches employees the importance of teamwork, enhances the spirit of customer service, and offers numerous other incidental benefits. As of fiscal 2022, employees with disabilities accounted for 4.92 * percent of Fast Retailing Group employees in Japan. This figure outperforms Japan's legally mandated figure (2.3 percent) by a significant margin. We are also promoting hiring people with disabilities globally.
*Calculated as of 1st June every year
UNIQLO Singapore ION Orchard Store Jason Goh
"I am a Retail Associate at the Singapore UNIQLO Ion Orchard store and have been working here for four years. I joined through an organization called MINDS (Movement for the Intellectually Disabled Singapore). Every morning I pick up deliveries, carry boxes to the stock room and then replenish the storefront. I enjoy serving customers, helping them and talking to them. Everyone here offers support, and I have learned a lot from my supervisor. I am very happy here."

Employing People with Disabilities ―Singapore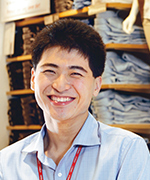 Jason Goh
Ion Orchard store
UNIQLO Singapore
Employing Refugees
Japan UNIQLO began working with the RHQ (Refugee Assistance Headquarters) and other organizations in 2011 to provide employment for people and families permitted to live in Japan permanently under recognized refugee status. The number of such employees increases every year, and as of April 2022, Fast Retailing employees a total of 124 refugees (Japan: 57*, France: 28, Germany: 13, Italy: 7, Netherlands: 5, Sweden: 5, Spain: 3, US: 3, Denmark: 2, UK: 1, Total: 124). After joining the company, refugees receive practical training. Fast Retailing also has programs for refugees to receive training at headquarters and attend Japanese language classes. The RISE (Refugee Inclusion Supporting and Empowerment) Convention, attended by refugee employees, store managers, and other store staff, is an opportunity for refugee staff to gather in one location to meet each other.
* Including 4 hired in Innovation Factory Co., Ltd
Related Links
Stores Growing and Prospering with the Community
UNIQLO is a global business that respects the culture, history, and the environment of each community and neighborhood in which it operates. The company strives to build stores with strong local connections. UNIQLO also aims to contribute to economic development in the countries and regions where the company operates.
For example, UNIQLO has opened large-scale stores in Paris, Boston, Barcelona, and Stockholm that maintain the integrity of historical structures. In so doing, UNIQLO integrates with local culture and history, becoming a welcome member of the community.
UNIQLO strives to procure building materials from local sources as another means to contribute to the local economy. Of course, new UNIQLO stores also mean more opportunities for employment. UNIQLO aims to prosper with communities by working closely with and building stores that become important and fully integrated members of the community.
Respect for Local Culture: UNIQLO Passeig De Gracia (Spain)
UNIQLO Passeig De Gracia was the first UNIQLO location in Barcelona. The store was welcomed enthusiastically by the city thanks to efforts to integrate UNIQLO with Spanish culture. The stairwell from the ground floor to the third floor features a stained-glass window that was an existing part of the building. Combined with a traditional chandelier from the Catalunya region, this section has become a feature by which the store is recognized. The stairwell connecting the ground floor to the lower level features a design depicting daily life in Barcelona. Pre-opening events included collaborations with local food markets, a yoga event in the store, and other events that were well received by locals. Shopping bags used during the grand opening were printed with an original logo incorporating the Barcelona street tiles and the UNIQLO logo, representing the integration between UNIQLO and the Spanish culture.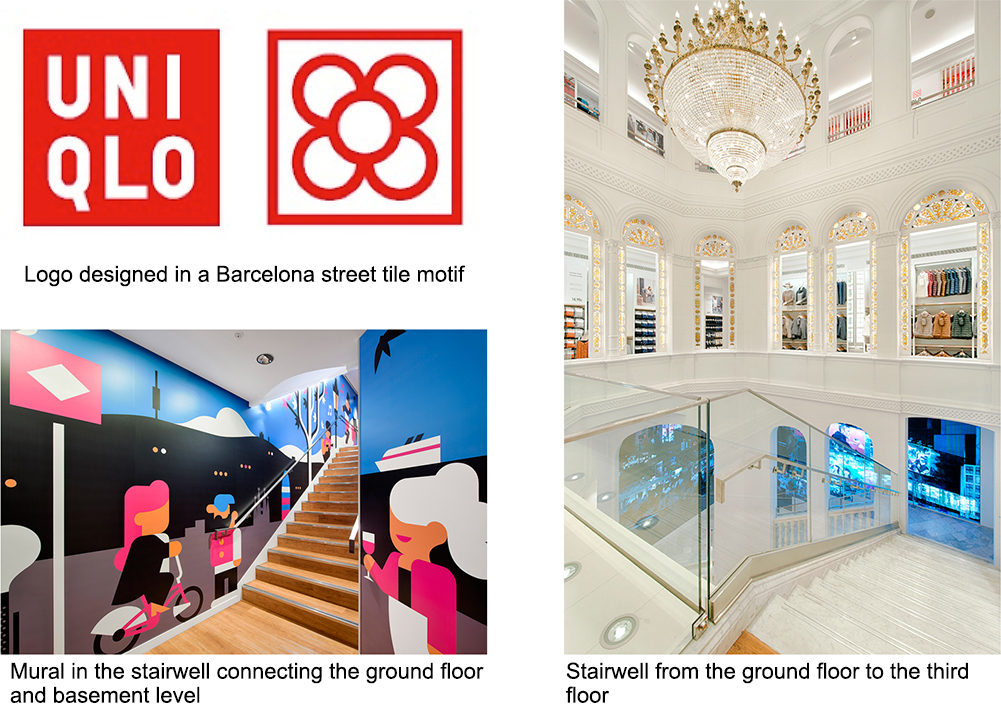 Respect for Historical Architecture: UNIQLO Kungsträdgården (Sweden)
In August 2018, UNIQLO opened its first location in Sweden. UNIQLO Kungsträdgården opened in a historical building designed by the famous modern Swedish architect Sven Markelius in 1966. Located near the popular Kingstrad Park in Stockholm, UNIQLO designed the stairs between the park and the store to serve as a communal space for the local population.
UNIQLO procured 100 percent of the materials for the store renovation from local sources around Stockholm.
In addition, the building in which the store is located received Leadership in Energy and Environmental Design (LEED) certification. LEED is a system that evaluates the environmental functionality of building and site usage.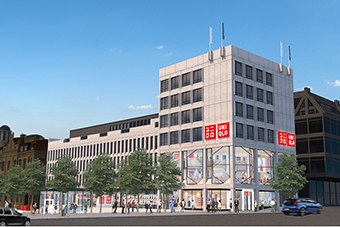 UNIQLO Kungsträdgården store
Global Activities Report
The Fast Retailing Group engages in initiatives wherever we do business around the world.
UNIQLO supports Street Soccer USA.
Street Soccer USA is a not-for-profit entity providing economically disadvantaged and homeless children opportunities to learn the fun of participating in team sports while learning valuable life skills that have resulted in gains in school attendance and graduation rates. Under most conditions, these children would never have the chance to play on a team of any kind. Street Soccer USA uses sports to support children and youth, reaching nearly 15,000 children over the course of 10 years.
UNIQLO has been supporting Street Soccer USA as an official apparel sponsor for several years. To date, UNIQLO has provided more than 28,000 articles of Dry Ex and other clothing to the organization. UNIQLO provides working experience opportunities for Street Soccer USA athletes in stores, and has hired several of them as UNIQLO employees.
This initiative received the ESPN Sports Humanitarian Award (Corporate Community Impact) in July 2018.

Children Participating in Street Soccer USA
UNIQLO in Indonesia: UNIQLO Goes to School Program
UNIQLO operates the UNIQLO Goes to School program in Indonesia, which teaches local students about future careers in retail and the type of work involved. The fourth installment of the program was held in May 2018. Nearly 200 vocational school and public school students participated, with volunteers from UNIQLO sharing their views on the importance of work and reward of working in a global environment.
Theory: Be Heard. Program
Theory sponsors the women-empowering Be Heard. Program. Under this program, female customers have the opportunity to interact with female leaders, entrepreneurs, and other role models to catch the entrepreneurial spirit. This is one way in which Theory expands the potential for women in leadership roles.
Related Links
Engagement With Not-For-Profit Organizations
Fast Retailing contributes to local communities through engagement with not-for-profit organizations.
UNHCR
UNIQLO (Fast Retailing Group) began working with the UNHCR in 2006, cementing a formal global partnership in 2011.
Related Links
Global Compact Network Japan
In October 2018, Fast Retailing signed on to the United Nations Global Compact. We support the 10 principles of UNGC and will continue our efforts to realize them.
Related Links
Special Olympics
In 2002, Fast Retailing became an official partner of Special Olympics Nippon. Our support includes providing uniforms to volunteer staff, managing athletic events, and other contributions.
Related Links

Top of page