Last Updated: 2020.03.23
to Japanese page
As a global company, Fast Retailing strives to address social issues around the world. We aim to grow and prosper with the communities we serve.
Community Engagement Policies
Community Engagement Policies
Today, international society faces many social challenges, including an increasing burden on the environment, poverty, refugees, racial discrimination, terrorism, regional conflict, and more. As a global company, Fast Retailing is engaged in helping solve these kinds of social issues. We understand that the retail industry cannot thrive without stable economic and social conditions in each community. The same goes for our manufacturing bases. Fast Retailing strives to grow and prosper with our communities, using our stores, people, products, and expertise to make a difference.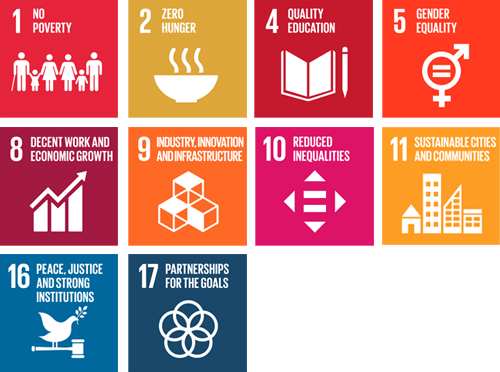 Commitment
We pursue the creation of value through six major initiatives under the guidance of our Community Engagement Goals.
1.

Supporting future leaders. Empowering youth through education and social participation.

2.

Creating employment opportunities and supporting the self-reliance of socially vulnerable people.

3.

Empowering employees of partner factories.

4.

Supporting refugees. Emergency clothing for refugees and displaced persons.

5.

Employee volunteering for relief activities

6.

Pursuing social business initiatives. Grameen UNIQLO creates employment opportunities,


contributing to the social and economic development of Bangladesh.
We engage in activities in three communities:
1.

Communities where the Fast Retailing Group operates stores

2.

Communities neighboring our partner factories

3.

Communities providing shelter to refugees and displaced persons
Local procurement to contribute to employment and economic development in the communities where we do business.
Work with the United Nations, NPOs, NGOs, other organizations and individuals to help build stronger communities
Support for sports and cultural activities
Approach:
We assign persons responsible for sustainability in every country and region in which we operate. These individuals identify social needs and issues in each community, taking specific actions to find solutions. As of August 2018, we employed individuals responsible for sustainability in 14 countries to help address local community issues.
For example, we provide clothing donations and work or shopping experiences for the communities we serve, as well as work with local organizations to support people in need.
Working with Outside Organizations
• Fast Retailing formed a global partnership with the UN Refugee Agency (UNHCR). Under this partnership, we donate clothing to refugees, provide programs for refugees to become self-reliant, employ refugees. We also conduct an employee-outreach program, sending employees to affected areas.
We support the Special Olympics, and send employee to the games to help as volunteers.
We work with a foundation in China to provide support for and donate clothing to children who are left home alone for extended periods while their parents work in faraway locations.
We work with the Nippon Foundation in support of the TSURUMI Kodomo Hospice.
We sponsor Street Soccer USA.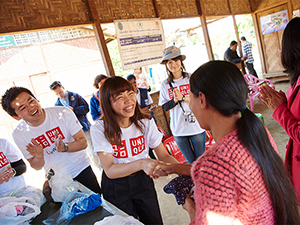 UNIQLO delivers clothing to refugees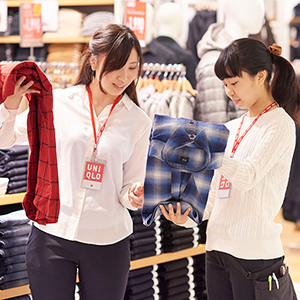 UNIQLO Japan sponsors in-store work experiences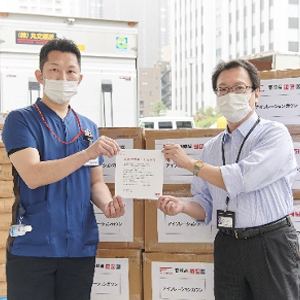 UNIQLO supports Street Soccer USA
Community Investment
Community Investment
Fast Retailing conducts community support activities with an aim to help solve social issues and to empower youth and vulnerable people around the world. We believe this approach contributes to stabilizing and energizing the societies where we do business and works to ensure the sustainable growth of our business.
Since fiscal 2019, with the aim of understanding the impact of community investment activities, we calculated community support total expenditure, the number of individuals reached and supported, as well as the number of organizations supported. These calculations are based on the "London Benchmarking Group (LBG) Guidance Manual (2018 version)." This information is disclosed as "Community investment" in the Sustainability Data Book, and to ensure the reliability of the data disclosed, "Community Investment" has been verified by SGS Japan Co., Ltd.
Related Links

Top of page