Last Updated: 2022.11.30
to Japanese page
At Fast Retailing, we believe we have an important responsibility not only to produce and sell clothes that our customers can wear for a long time, but also to maximize the value of those clothes after customers have finished wearing them. We encourage customers to bring our products they no longer want to our instore recycling boxes. We can then put this clothing to good use, in a variety of different ways.
Reusing Clothes
We believe it is our duty to get the highest possible value out of our clothes, until the very end of the product life cycle. We have been operating our Reuse and Recycle Clothing Program since 2006, collecting clothes customers no longer use in recycling boxes placed in each of our stores worldwide. With the help of our customers, we collected approximately 14.20 million items and 16.70 million items of second-hand clothing in FY2021 and FY2022 respectively.
Reusing Clothes (Donations)
We donate clothes that can still be worn to those who need them.
Through our partnerships with the United Nations' Human Refugee Agency (UNHCR), the Japanese Organization for International Cooperation in Family Planning (JOICFP), and other organizations, UNIQLO, GU, Theory, and Comptoir des Cotonniers are able to put collected garments to good use by donating them to refugees and internally displaced persons around the world, or using them as a means of helping women and young people gain more independence, or as clothing relief in times of natural disaster. Our job is to pursue initiatives that ensure the clothes are delivered right to the very places that need them and can utilize them well. We donated approximately 4.31 million items in FY2022. That brings the total number of donations since our Reuse and Recycle clothing program began to roughly 50.50 million items (September 2006 to end August 2022).
Related Links
Recycling Clothes
Clothing-to-clothing Recycling
We have started recycling the secondhand clothing we have collected into fresh materials for new clothes that we can then offer back to our customers.
Our RE.UNIQLO program includes clothing-to-clothing recycling activities. One of those closed loop activities involves extracting the down feathers from the secondhand clothing donations, and cleaning and revitalizing them to create a new raw material for use in new down jackets. We have also implemented clothing-to-clothing recycling activities of polyester materials through GU. GU separately collects products that contain polyester and sends these to be recycled into materials for new clothes.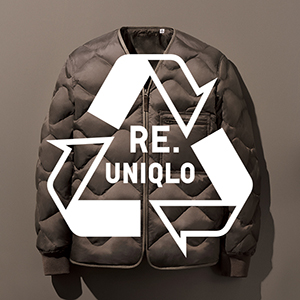 Recycling Clothes into Alternative Fuel and Industrial Materials
Some of the clothes we receive are not suitable for reuse or for recycling into raw materials for making new clothing. These items are still given a new lease of life, converted into a high-energy alternative fuel or automobile soundproofing material. The high-energy alternative fuel, made from reclaimed clothing, plastic waste, used paper, and wood waste, can be used as an alternative to coal and fossil fuels in dedicated boilers in paper mills, etc. The automobile soundproofing material is made by cutting up and reclaiming the fiber. Approximately 22 t-shirts (roughly 4.3kg of secondhand clothing) * can be recycled into enough soundproofing material for one vehicle and helps to reduce engine noise in petrol cars, and the radiation of high-frequency waves in electric cars.
*Assumes one t-shirt weighs 200g (Source: Nihon Tokushu Toryo Co., Ltd.)
Related Links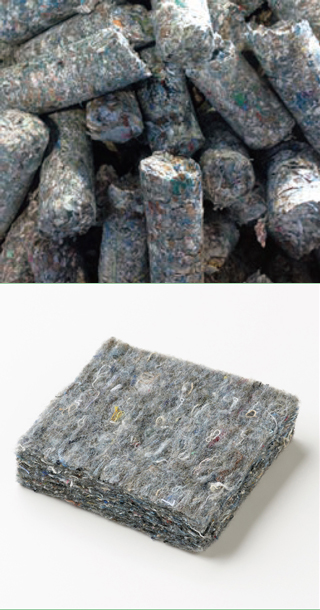 High-energy alternative fuel and automobile soundproofing material

Top of page