Last Updated: 2020.09.17
to English page
Fast Retailing collects clothing no longer used by customers to donate to others in need. Clothes no longer wearable are reused as refuse-derived fuel. We are committed to getting the most value out of clothing possible, doing our part to give back to society.
All-Product Recycling
At Fast Retailing, we believe in getting the most value out of clothing possible. We began our All-Product Recycling Initiative in 2006, when UNIQLO stores started collecting clothing no longer used by customers for reuse and recycling. GU is now also part of this initiative. Customers are invited to bring their clothes to a nearby UNIQLO or GU location, supporting a worldwide program to reuse clothing.
We sort through clothing received, donating wearable clothes (about 80 percent of donations) to refugees and displaced individuals in need.
Clothing deemed unwearable (estimated 20%) are transformed into energy in the form of calorie dense solid fuel (RPF) and soundproofing materials. Solid fuels substitute fossil fuels and are used for industrial purposes such as for boilers in paper manufacturing.Approximately 22 T-shirts (4.3kg clothing weight)*, are cut, turned back into fiber, and recycled into enough soundproofing material for one car, reducing engine noise in a petrol car and high-frequency waves in an electric car.
*Assumes 1 T-shirt weighs 200g (Source: Nihon Tokushu Toryo Co. Ltd.)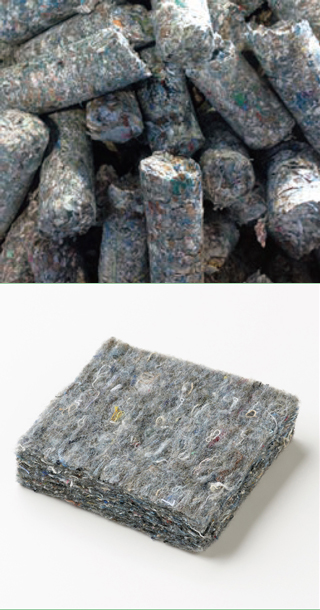 Clothing to Fuel and Materials
Related Links

Top of page