Last Updated: 2020.11.11
to Japanese page
Innovative Washing Process for Jeans to Cut Water Usage
The Fast Retailing Group has developed a new washing process for jeans that reduces water usage by up to 99%*. The technology, named BlueCycle, was originated at the FR Jeans Innovation Center, the Group's facility for jeans research and development in Los Angeles, California, with a goal to introduce such technology to all brands of the Group by 2020. The latest innovation combines advanced washing equipment utilizing nanobubbles and ozone with the skills of expert jeans designers, to greatly reduce the amount of water in the washing process compared to conventional production methods, while still ensuring high quality and design.
In addition, the pumice typically used in the washing process has been replaced with artificial stone that can be used semi-permanently, helping to reduce water pollution. The burden on workers has also been lightened with the introduction of lasers to replace the labor-intensive scraping process that has traditionally been done by hand.
We are promoting these initiatives across all brands of the Fast Retailing Group.
*For the 2018 model UNIQLO Men's Regular Fit Jeans, compared to the same products from 2017.
Jeans Innovation Center
The Jeans Innovation Center is a specialized facility for jeans research and development, established by Fast Retailing in Los Angeles, California, in November 2016. The facility brings together jeans specialists from throughout the FR Group, who develop jeans utilizing innovative technologies and materials, while also adhering to tradition.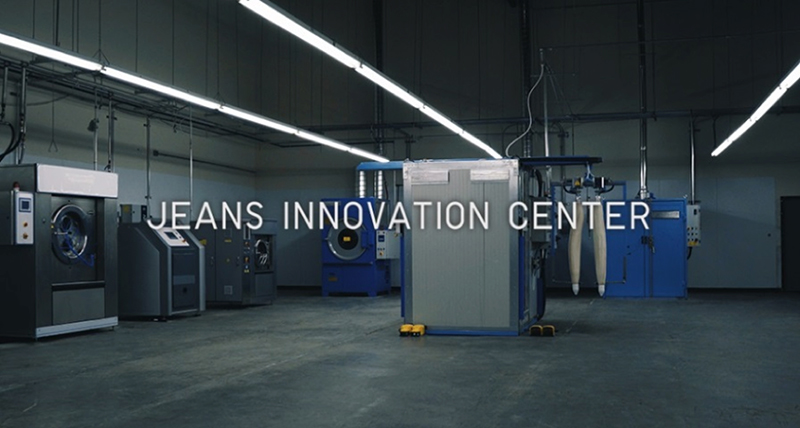 Related Links
UNIQLO DOWN RECYCLING
UNIQLO stores have begun collecting UNIQLO's used down items from customers. A new system developed by Toray extracts material from down products, to be cleaned for use in new down merchandise. Collection started in September 2019.
Conventionally, the stuffing in duvets and other items incorporating down is manually removed. By developing special extraction machinery, Toray has fully automated the cutting, stirring and separating and recovery, for 50-fold the process capacity of manual methods, thus greatly alleviating workloads.
In the 2020 Fall/Winter season, Recycled Down Jackets will be launched as the first offering from the initiative, originated with the Uniqlo U design team at the UNIQLO Paris R&D Center, which Artistic Director Christophe Lemaire oversees. All of the down and feather from the new products comes from the 620,000 down jackets collected from customers in 2019.
Related Links
Recycled Polyester Fibers
DRY-EX is a revolutionary material that quickly wicks away sweat and moisture. From 2020 Spring/Summer UNIQLO will begin to introduce DRY-EX items of clothing that incorporate high-value-added polyester fibers derived from reclaimed PET bottles.
This is a milestone because, while fibers made from reclaimed plastic bottles have been commercially available for some time, it has been hard to produce fibers featuring special cross-sections and fine fibers, owing to contaminants in PET bottles. Another challenge to address has been that plastic bottles yellow as they age.
Toray's contaminant filtering technology overcomes these issues, making it possible to manufacture fibers whose features are commensurate with those of fibers from virgin plastic made directly from petrochemical feedstock, including those with special cross-sections. Another advance is Toray's Recycling Identification System, which enhances reliability by ensuring that fibers derived from plastic bottles are traceable.
In the 2020 Fall/Winter season, UNIQLO is offering exceptionally comfortable men's Fluffy Yarn Fleece Full-Zip Jackets and Fluffy Yarn Fleece Pullovers that incorporate 30% recycled polyester from used plastic bottles.
Related Links

Top of page