Last Updated: 2018.12.07
to Japanese page
Fast Retailing engages in ethical and responsible procurement to ensure our products are socially and environmentally sustainable.
Procurement of Plant-Derived Materials
Cotton
We have set a goal to procure all cotton from sustainable sources by the end of 2025. We define sustainability with respect to cotton under several guidelines:
Procurement is from regions that have made improvements related to water, agricultural chemicals, land use, labor environment, and compensation for farm workers.
The above-related improvements are traceable and can be confirmed.
Product quality and prices meet levels that satisfy our customers
Cotton sourced from the United States or Australia is sustainable by definition. These countries control traceability, environment, and labor conditions at high levels. Better Cotton (see Better Cotton Initiative, below) is also sustainable by definition.
・Better Cotton Initiative
Fast Retailing became an affiliate member of the Better Cotton Initiative (BCI) in January 2018. BCI is a non-government organization dedicated to the sustainable production of cotton. BCI promotes better cotton cultivation, educating farmers on the proper use of water, pesticides and other agricultural chemicals, and more. Farmers meeting standards set by BCI are certified as Better Cotton producers.
・We Refuse to Use Cotton Produced in Uzbekistan
Concerns have been raised that the Government of the Republic of Uzbekistan is involved in the use of child and forced labor in harvesting cotton within its borders. Fast Retailing ensures, through all of our supply chain partners, that we do not knowingly source Uzbek cotton for the manufacturing of any of our products, and pledges not to do so until inspections by reliable international agencies indicate that the issue has been satisfactorily resolved. Additionally, Fast Retailing is working in collaboration with NGOs and other apparel brands to address the issue of child and forced labor in Uzbekistan.
Cellulosic Fibers (Rayon, Etc.)
We strive to understand the circumstances in regions that produce raw materials made from plant or wood cellulosic fibers. Fast Retailing is committed to eliminating materials sourced from endangered or old growth forests, endangered habitats, illegal logging, plantations, or through means infringing on the rights of indigenous peoples.
Procurement of Animal-Derived Materials
Fur
As of Autumn/Winter 2018, Fast Retailing has eliminated all real animal fur from our products across all brands.
Merino Wool
UNIQLO is dedicated to animal welfare, refusing to procure Merino wool from suppliers who source from producers who practice mulesing. Mulesing is the practice of cutting away a section of wool-bearing skin from the breech of the sheep to prevent parasitic infection in the deep folds of the Merino sheep skin. UNIQLO procures Merino wool from producers who use medicine or other alternatives to mulesing in preventing parasitic infection.
Mohair (Angora goat hair)
Fast Retailing will prohibit the use of mohair in any products by the year 2020.
Down, Feathers
Fast Retailing strives to eliminate the use of down and feathers sourced from birds subject to forced feeding or plucked from live birds. UNIQLO is committed to traceability for down products. The company intends to have those vendor garment factories involved in down production to become RDS (Responsible Down Standard) certified by the year 2020.
Related Links
TOPICS
Sustainable Good Wool by Theory
In October 2017, Theory introduced Good Wool by Theory, a sustainable wool collection. The company procures wool from Tasmanian sheep ranchers, which is then used at textile mills in Italy using renewable energy. This collection features biodegradable cellulosic linings, buttons made from cohune palm nut, and quality label tags made from recycled paper. The Good Wool by Theory collection is light and breathable, offering the type of practicality in material and elegance of form that is perfect for use in suits.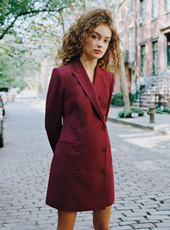 Top of page