Last Updated: 2020.03.03
to Japanese page
We aim to collaborate with individuals and companies worldwide to create a better society through our daily business.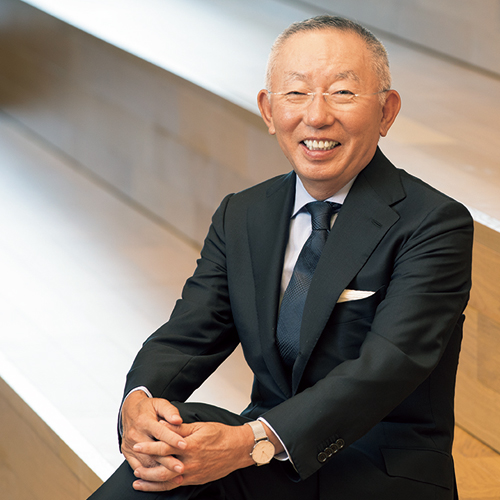 Does our work serve the world?
I feel a keen sense of crisis.
Our world is facing severe, mountainous problems in the form of climate change, resource depletion, human rights, refugee issues, and widening global income inequality. Despite that, national egos and political confrontation are hindering effective action, and the frequent occurrence of unprecedented natural disasters is calling the lasting prosperity of humanity into question.
In such an era, the most important thing for corporate players is a determination to improve society through their individual business operations. Earning profits, creating employment and paying appropriate taxes are wonderful social contributions, but companies simply have to do more.
We should always question whether the products we sell and the services we provide are of genuine use to the world, and we should insure our business activities are not exacerbating social burdens. If we do that then we might be able to reduce the environmental impact of our daily operations, and help realize sustainable growth for our society. Today's crisis situation necessitates such attitudes and concrete action.
Our customers: the origin of all we do
Our thinking is expressed in our LifeWear products. LifeWear is the ultimate everyday wear: simple, high-quality and user-focused "components" designed to make your life better. LifeWear is Made for Al l, transcending distinctions of race, age, ethnicity, religion, gender or sexual orientation. It is clothing that enriches your life and provides comfort.
To us, the customer comes first. Everything is based on our commitment to customer satisfaction and building a new customer base. Our duty is to take a fully customer-centric approach in which we strive to eliminate any unnecessary steps in every process from production, distribution to sales in order to deliver the most desirable products at the best timing in the most efficient manner. We use our resources effectively and avoid excessive production and extra labor. We do our best to design timeless clothes that last beyond seasons.
To clarify our approach, we announced our sustainability statement "Unlocking the power of clothing," which seeks to create new value by resolving problems for the People, Planet and Community that support our business. We determine concrete targets and commitments in each area that form our central business strategy, and strive to achieve them through our work.
I firmly believe we should respond proactively to environmental issues, especially climate change, and I see this as an opportunity to transform the way we act. We have committed to setting targets based on the Paris Agreement and are working to consistently reduce greenhouse gas emissions from our stores and entire supply chain. We are also seeking to realize a circular economy by starting to sell products made from polyester recycled from PET bottles, and from down extracted and recycled from items customers no longer use.
Join forces with global individuals and companies
A strong sense of purpose is most important in business. Why am I doing this job? Who will it serve? We should constantly consider these questions and work to improve our society. We should grow together with customers and society by always setting high targets and disciplining ourselves to achieve them. This attitude is essential.
To improve the critical situation facing today's world, we must transcend national frameworks and join with people and companies worldwide with determined action. We are fully committed to forming close links with individuals and companies with superior talent and leading technologies as we seek to create new clothing value through LifeWear in order to realize a sustainable society.
Changing clothes. Changing conventional wisdom. Change the world.
This is our corporate statement at Fast Retailing. We must change ourselves first to be able to change the world.
We promise to strive to help make the world a better place, beyond generations and borders, by providing joy, happiness and satisfaction through our clothes.
January 2020

Tadashi Yanai
Chairman, President and CEO
Fast Retailing Co., Ltd.

Top of page