Last Updated: 2020.05.29
to Japanese page
Governance and Management Structure
At Fast Retailing, the company president and CEO, as the executive officer with overall responsibility for sustainability, appoints an executive officer in charge of sustainability. We have also set up a Sustainability Committee which operates under the direct supervision of the Board of Directors and consists of executive directors, statutory auditors, and heads of relevant departments. The committee is tasked with promoting sustainability activities based on pertinent judgement and ensuring sustainability efforts are closely integrated with overall management strategy and direction. The Sustainability Committee debates all manner of sustainability-related policies and measures, and advises, counsels, and supervises the departments that execute sustainability measures. Committee members debate and determine the direction of corporate activities and corporate policy from a variety of sustainability-related perspectives, including environmental protection, respecting human rights, contributing to society, compliance, and diversity. Sustainability Committee decisions are then further disseminated to and integrated into our sales, marketing, production, purchasing, human resources and other relevant departments. In fiscal 2019, the Sustainability Committee determined sustainability activity direction by debating and managing progress on a variety of initiatives, including our activities to respect human rights across our supply chain and our response to plastic waste and other environmental issues.
Fast Retailing also debates the critical risks and required responses to important environmental, human rights and other issues in our Risk Management, Human Rights, Code of Conduct, and Business Ethics committees, which are also served by board members, statutory auditors, external experts, and managers of relevant departments.
Our Board of Auditors recognizes various sustainability-related issues containing potential risk and, as such, request relevant departments to report on the status and progress of the sustainability-related activities. In fiscal 2019, Fast Retailing's Sustainability Department reported on potential risks related to environmental, human rights and other sustainability issues and measures to address them.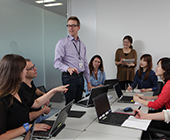 In order to implement and promote our sustainability activities across the Fast Retailing Group consistently, the Sustainability Department is taking leads to strengthen our management and implementation framework by cooperating with relevant head office departments and executives responsible for global operations on a daily basis, and appointing sustainability managers and/or staff in all our major international offices. In addition to regular weekly or monthly communications, we hold global conference every six months where sustainability managers and staff from all over the world come together in Tokyo to discuss specific sustainability issues and activities in individual markets.
We work with various stakeholders worldwide to deepen our understanding of global social issues and environmental problems, while continuously improving our sustainability initiatives and optimizing their effectiveness. We seek to remain accountable by improving the transparency of our sustainability activities through information disclosure as well as encouraging engagement and dialogue with external stakeholders.
Related Link

Top of page