Last Updated: 2023.03.16
to Japanese page
UNIQLO is able to produce such an amazing number of unique products because our business model unifies the entire clothes-making process--from planning and design through production, distribution, and retail. UNIQLO's market share is expanding worldwide as it develops radical new materials together with the world's best fabric technology innovators and creates basic designs using superior natural materials. UNIQLO LifeWear is high-quality, innovative clothing that is universal in design and comfort. It is made for everyone, everywhere. UNIQLO leverages today's increasingly digital world to communicate directly with customers and quickly transform their desires into actual products.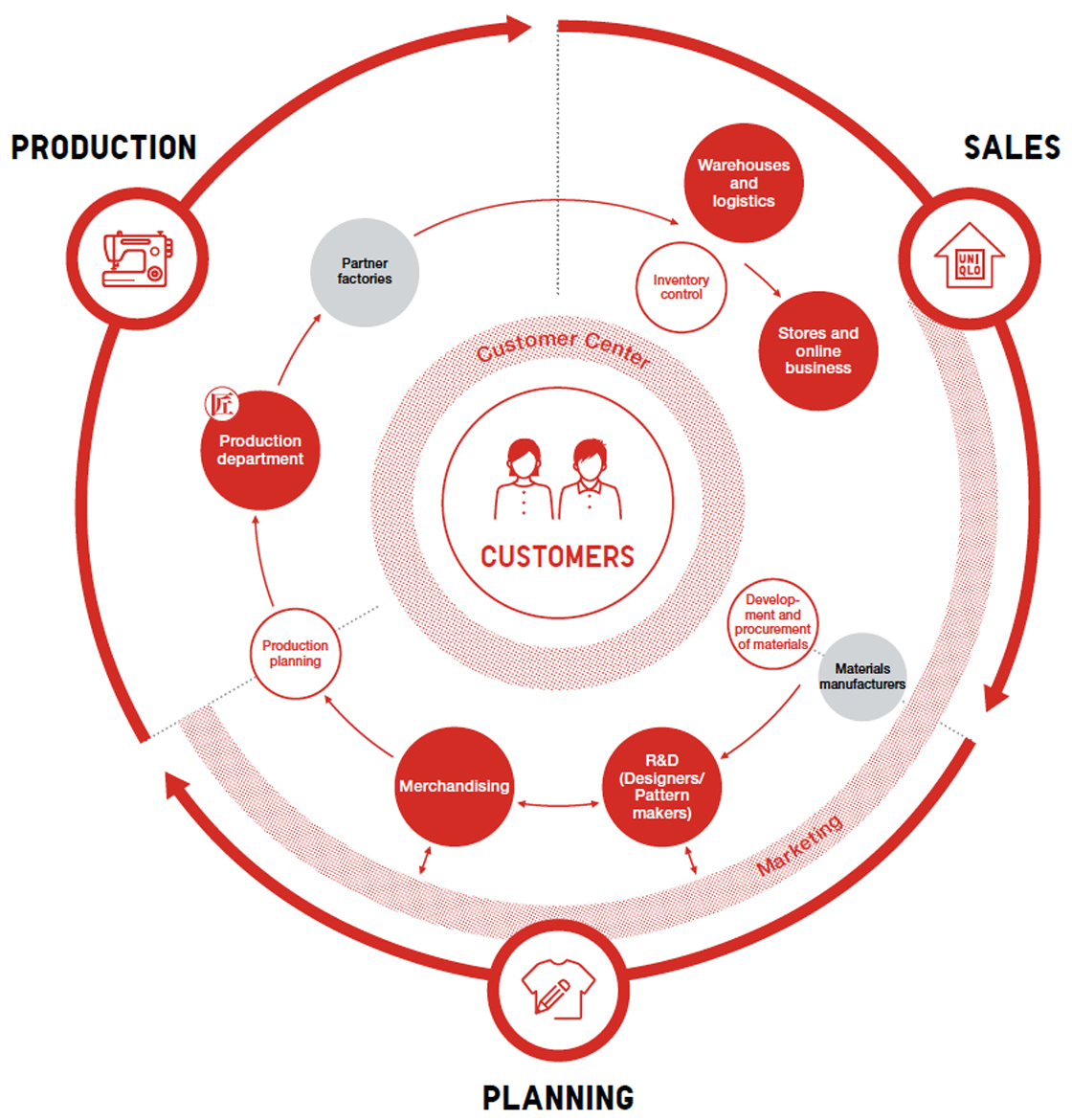 Research & Development (Designers/Pattern Makers)
An important part of R&D at UNIQLO is developing products that respond to customer requests, while also identifying emerging needs. Accordingly, our UNIQLO R&D centers constantly incorporate customer opinion while researching global fashion trends and new materials.

One year before a product's intended launch, the R&D department holds a concept meeting with a diverse range of representatives from the merchandising, marketing and materials development teams to determine the right design concept for each season. Our designers then begin the process of preparing designs and refining samples. Even after a design is decided, its color and silhouette can be refined multiple times before it is truly finalized.

Top of page
Merchandising
The merchandising team plays a vital role in the product creation process, from product planning through production. Deciding product lineups and volumes through the year is an important aspect of the department's job. To do this, merchandisers communicate closely with R&D, the production department, and other divisions to determine the designs and materials required for each season's products. They also manage the launches of our strategic products in close cooperation with other key departments.

Many UNIQLO products are manufactured in lots of approximately 1 million units, and the merchandising department monitors the latest sales conditions, issuing instructions to either increase or decrease production during the season--a key responsibility of the team.

Top of page
Development and Procurement of Materials
UNIQLO can secure stable, high-volume supplies of top-quality materials at low cost by negotiating directly with materials manufacturers worldwide. Utilizing our economies of scale enables us to achieve more favorable terms than any other manufacturer. The materials used for our core items are particularly important. Our in-depth research and experimentation generates improvements in the functionality, feel, silhouette, and texture of our clothes. For example, we work closely with Kaihara Corporation to source denim to specific spinning standards and dyeing specifications. We also partner with world-leading synthetic fiber manufacturer Toray Industries to create innovative new fibers and materials such as the ones found in our HEATTECH range.

Top of page
Production Network
A UNIQLO fabric-making factory

UNIQLO does not own any factories. Instead, we outsource the production of almost all our products to factories outside Japan. We have built strong relationships of trust with our partner factories over many years, and hold annual conventions to promote dialogue with factory managers. Our monitoring programs at our sewing factories and major fabric suppliers help to prevent human rights violations and to ensure good working environments and management frameworks in the making of our products. When required, we help factories implement improvements. UNIQLO continues to produce high-quality products by maintaining win-win relationships with partner factories. As we expand our global sales, we continue to grow our partner factory network in countries like Vietnam, Bangladesh, Indonesia, and India.

Top of page
Production Department
We assign production department members, who manage product quality and production progress, and Takumi (skilled artisans) to production offices in Shanghai, Ho Chi Minh City, Dhaka, Jakarta, and Bengaluru (formerly Bangalore). Production office representatives visit factories weekly to resolve any issues. The production department swiftly addresses any quality concerns raised by customers and implements improvements if required.

Top of page
UNIQLO Takumi Teams
"By visiting factories and providing technical advice, Takumi establish thorough quality control and a strong relationship of trust. I offer instruction on dyeing technology at partner factories, and this can encourage workers to embrace a new production management philosophy and to improve their factories. I am proud to be passing on expert Japanese techniques to the next generation."

Top of page
Inventory Control
The inventory control team works to improve management efficiency by supplying inventory that reflects the sales capabilities and product sales of each individual store. The team monitors weekly sales and stock at each store and dispatches inventory to fulfill orders and maintain appropriate inventory levels. At the end of each season, merchandisers and the marketing department coordinate ales promotions and help reduce residual inventory.

Top of page
Marketing
Each season, UNIQLO conducts promotional campaigns for core products such as HEATTECH, Ultra Light Down, AIRism, and Bra Tops. During the campaigns, UNIQLO advertises the products' unique qualities and features through TV commercials and online ads. In Japan, we use UNIQLO apps, email, social media, and flyers delivered with newspapers to notify customers about limited-period discounts, typically of 20-30%, on new seasonal ranges.

Top of page
Stores

Top of page
E-commerce
Our e-commerce operation is growing increasingly important as more customers shop both online and in stores. In FY2022, online sales accounted for approximately 16% of total sales (16.2% in Japan, 20% in the Greater China region, North America and Europe, and 10% in Southeast Asia & Oceania). We intend to further expand integrated store and e-commerce services that enable customers to shop conveniently when and how it best suits them, and to strengthen our role as an information-sharing platform through UNIQLO Live Station and other services.

UNIQLO online store

Top of page
Customer Center
Our customer centers analyze huge volumes of customer requests. Customer feedback helps us improve core products, develop new products, and enhance services. We have also adopted the latest AI, chatbot, and voice-recognition technology, enabling convenient communication with our customers through phone, email, chat, and other channels. In FY2022, we revised the size range of our wireless bras and started selling Ultra Light (previously known as Kando) jackets and pants for women based on customer feedback.

Top of page