Last Updated: 2009.05.29
Result of UNIQLO March 2009 recycling
Over 1 million items collected in March alone
Passing on so many customers' bountiful goodwill
UNIQLO CO., LTD.
to Japanese page
As part of our CSR activities, UNIQLO CO., LTD. conducts recycling campaigns every March and September where we collect any UNIQLO item of clothing initially bought by our customers but for which they no longer have any need. This campaign is called "Thank You Recycle" as an expression of gratitude to participating customers. In this sixth campaign conducted in March 2009, we collected over 1 million items per month for the first time ever. In total, we collected 1.5 times the amount of clothing compared to our last campaign in September 2008. The number of items collected each time is increasing thanks to the cooperation and support of our customers.
And so from this year, we have decided to conduct an additional campaign in June, to coincide with the seasonal change from warmer to cooler clothing.
■ Reused as emergency clothing aid, recycled as fuel, fiber materials
UNIQLO CO., LTD. has been collecting and recycling its own used fleece products since September 2001. And we have gradually expanded the scope of these activities to now include the full UNIQLO product range. Since September 2006, we have conducted a regular, reliable collection and recycling service during the months of March and September. The clothes that we collect from participating customers are recycled as fuel or fiber materials, or reused as relief clothing. And we are keen to pursue these meaningful activities to the very best of our ability.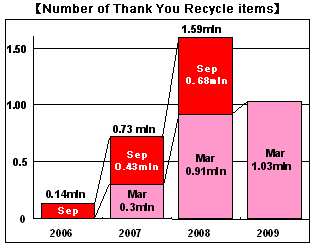 ■ Recycling breakdown of items collected in March 2009  
 
・ Items collected: 1,038,160 items
・ Recycling breakdown:
 
  Reusable as aid to developing countries, etc.
84%
 
  Fuel recycling (electrical energy)
10%
 
  Material recycling (industrial cotton waste, thermal insulation) etc.
6%
■ Starting an additional recycling campaign in June
Over 80% of the clothing collected through these campaigns is distributed as clothing aid to refugees and displaced persons globally through the cooperation of individual groups and organizations active in this field※. The number of refugees and displaced persons, who suffer from a shortage of clothing, is now said to exceed 30 million around the world. In the spirit of its CSR activities, FAST RETAILING would like to deliver clothing to as many refugees and asylum seekers as possible and so we have decided that, along with our March and September campaigns, we will conduct one additional recycling campaign each year in June, when people tend switch their wardrobe from warmer to cooler garments.

(※) International organizations and NGOs giving their full cooperation to the refugee camp donations
・ United Nations High Commissioner for Refugees(UNHCR)
・ Japan Relief Clothing Center (JRCC)
■ Reference
・For details of our full product range recycling:  https://www.fastretailing.com/eng/sustainability/community/donating_clothing.html
・For our full product range recycling report on donations to refugee camps: https://www.uniqlo.com/jp/csr/ (Japanese only)

Top of page