Last Updated: 2020.01.10
to Japanese page
About FAST RETAILING
Fast Retailing is a global company that operates multiple fashion brands including UNIQLO, GU, and Theory.
The world's third largest manufacturer and retailer of private-label apparel, Fast Retailing offers high-quality, reasonably priced clothing by managing everything from procurement, design, and production to retail sales. UNIQLO, our pillar brand, generates approximately ¥1.90 trillion in sales from 2,196 stores in 24countries and regions (FY2019).
UNIQLO, with its LifeWear concept of ultimate everyday comfort, differentiates itself by offering unique products such as sweaters made from superior-quality cashmere, supima cotton T-shirts, and ranges incorporating original HEATTECH and Ultra Light Down technologies. The Group's main sources of UNIQLO-driven growth are moving beyond Japan to Greater China(Mainland China, Hong Kong, Taiwan) and Southeast Asia.
Our fun, low-priced fashion brand GU has generated sales of approximately ¥240 billion, primarily in Japan. We expect to grow the GU brand in Greater China and South Korea going forward. Fast Retailing is making progress on its Ariake Project, which aims to transform the apparel retail industry into a new digital consumer retail industry. We are working to build a supply chain that uses advanced information technology to create seamless links between Fast Retailing and its partner factories, warehouses, and stores worldwide. This transformation will minimize the environmental impact of our business, create a manufacturing environment that upholds human rights, and ensure highly responsible procurement.
Fast Retailing strives to harness the power of clothing to enrich the lives of people around the world, and create a more sustainable society.
Sales and Store Numbers at FAST RETAILING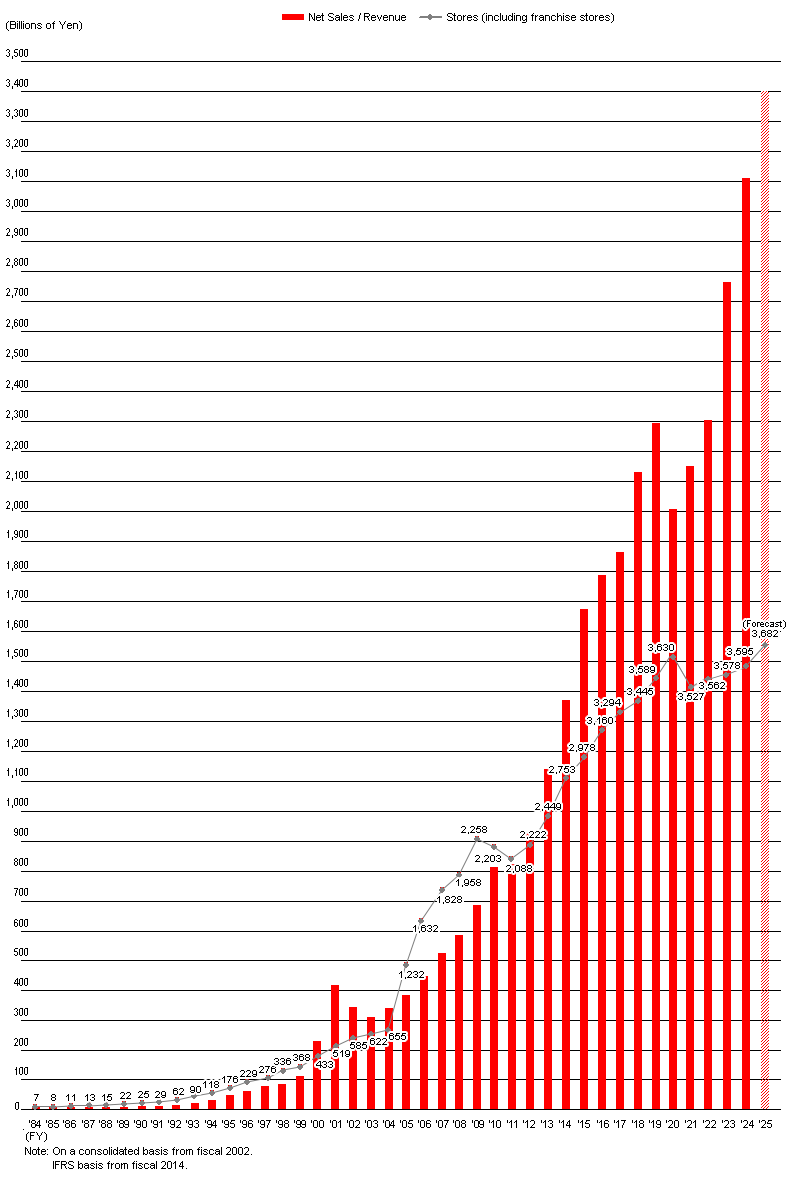 Data Downloading

Top of page