Last Updated: 2012.02.24
UNIQLO to Expand Recycling Program in Asia Brings All-Product Recycling Initiative to Hong Kong, Taiwan and Shanghai
UNIQLO Co., Ltd.
to Japanese page
February 24, 2012, Tokyo, Japan - UNIQLO is proud to announce plans to expand its All-Product Recycling Initiative to UNIQLO stores in Hong Kong, Taiwan and Shanghai, from March 1, 2012. Under this initiative, UNIQLO has collected more than 12 million articles of clothing donated by customers for redistribution to people in need (as of December 2011).
UNIQLO is committed to extending this initiative to stores worldwide as part of its corporate social responsibility (CSR) program, not only to donate clothing from its customers but to pass on their goodwill to people in need. First launched in Japan in September 2001 as the Fleece Recycling Campaign, UNIQLO expanded the program in 2006 to include all UNIQLO products and renamed it the All-Product Recycling Initiative. UNIQLO currently operates this initiative in five overseas markets-- the US, South Korea, France, Singapore and the UK.
Made for All: Delivering truly great clothing to people in need around the world
The All-Product Recycling Initiative is a cornerstone of UNIQLO's CSR program. Not content to simply manufacture and market truly great, long-lasting clothes, UNIQLO collects and recycles worn UNIQLO apparel to maximize the value and usefulness of clothing throughout its entire life cycle. When UNIQLO launched the initiative in 2006, the initial plan was to recycle apparel for use as industrial-grade textiles. However, most of the items donated by our customers were still wearable and still had value as clothing, so UNIQLO shifted the focus of the program to recycling for reuse and began donating clothing to refugee camps and to displaced people around the world.
With the support of global partners including the United Nations High Commissioner for Refugees (UNHCR), the Japanese Organization for International Cooperation in Family Planning and the Japan Relief Clothing Center, over the last five years UNIQLO has donated more than 4.2 million items of clothing to refugees, displaced people, survivors of natural disasters, expectant mothers and mothers with young children in 22 countries.
The All-Product Recycling Initiative continues to grow and evolve. After launching the program in South Korea in March 2011, UNIQLO expanded it to include France, the UK and the US in September and extended it again last December to include Singapore. UNIQLO is very proud to be able to introduce this initiative in Hong Kong, Taiwan and Shanghai from March 1, 2012 and take another step forward towards bringing this program to all markets where UNIQLO operates. UNIQLO is also expanding the scope of the initiative beyond the goal of 'delivering at least one article of UNIQLO clothing to every refugee,' to 'delivering truly great clothes to all those with clothing needs worldwide.' Accordingly, UNIQLO is adapting the way it donates clothing to ensure the program matches local needs.
For more information about the UNIQLO All-Product Recycling Initiative, please visit:
https://www.fastretailing.com/eng/sustainability/community/donating_clothing.html
■ All-Product Recycling Initiative in Hong Kong, Taiwan and Shanghai
In Hong Kong, UNIQLO will partner with the UNHCR, also a partner in Japan, to donate clothes to refugees, displaced people and others in need.
In Taiwan and Shanghai, UNIQLO will team up with local partner organizations* to provide clothing to people in need.
*Taiwan: World Vision
Shanghai: Disaster Relief and Aid Division of Shanghai Civil Affairs Bureau
Collection period
:
Year-round
Collection location
:
All UNIQLO stores in each country
(limited to Shanghai in China)
Accepted items
:
All items sold in UNIQLO stores
Please wash items before donation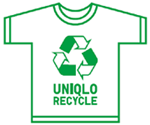 Top of page