Last Updated: 2010.10.12
g.u. to Launch All-Product Recycling Initiative
g.u. Marks Fourth Anniversary With
All-Product Recycling Initiative from October 13th
GOV RETAILING CO., LTD.
to Japanese
The g.u. brand is celebrating its fourth anniversary by launching an All-Product Recycling Initiative on Wednesday, October 13. Customers are invited to bring in new or used clothing purchased at g.u. and UNIQLO stores for socially responsible purposes, including for use as disaster relief supplies and for recycling into fuel and industrial fibers.
■ g.u. to Launch All-Product Recycling Initiative to Mark Fourth Anniversary
The g.u. brand was established in October 2006 under Fast Retailing Group, which also oversees the UNIQLO brand. Currently, g.u. operates 120 stores throughout Japan and is targeting 50 billion yen in sales and 200 stores by 2013. Customers can strive to offer the best shopping experience while adhering to the highest social responsibility standards, by recycling and reusing clothing to reduce waste.
■ Overview of the All-Product Recycling Initiative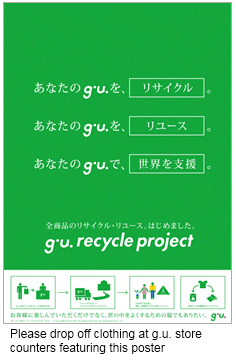 As part of its Corporate Social Responsibility (CSR) activities, UNIQLO, an FR Group company, started collecting and recycling used fleece garments from its customers in September 2001. UNIQLO expanded this program in September 2006 to include all of its products and started recycling used garments every March and September (and every June starting in 2009). In March 2010, these recycling efforts became a year-round activity.
This month, g.u. is joining the campaign to help provide clothing to the world's refugees and disaster victims, now estimated at more than 30 million people. Through the goodwill of its customers, g.u. aims to provide a steady supply of clothing to people in need as an expression of global unity.
*We donate to refugee camps in cooperation with the following international organizations:
・the United Nations High Commissioner for Refugees (UNHCR)
・the Japan Relief Clothing Center (JRCC)
・the Japanese Organization for International Cooperation in Family Planning (JOICFP)
■ Reference
For more details, please visit:
https://www.fastretailing.com/eng/sustainability/community/donating_clothing.html
Photo Report on Refugee Camps:
https://www.uniqlo.com/en/sustainability/refugees/photo/

Top of page