Last Updated: 2010.09.01
Result of UNIQLO recycling in the six months through August 2010
UNIQLO has collected 2.62 million articles of clothing in the six months
since launching year-round collection activities, exceeding the total for all of 2009
FAST RETAILING CO., LTD.
to Japanese
As a part of its corporate social responsibility activities under its All-Product Recycling Initiative, UNIQLO collects, recycles and reuses UNIQLO clothing which is no longer needed. Launched in September 2006, the program initially accepted clothes twice a year, during the months of March and September, with June being added in 2009. In March 2010, UNIQLO started accepting clothing donations year-round, with 2.62 million articles collected during the first six months. Some 1.46 million articles will be donated to five refugee camps, including to camps in Kazakhstan and Tajikistan for the first time as "the cooperation and support" of our customers are translated into smiles at refugee camps around the world.
■ All-Product Recycling Initiative
UNIQLO began collecting and recycling fleece products sold at UNIQLO stores in September 2001. In September 2006, we started to accept all UNIQLO products. We subsequently accepted clothing donations in March and September, and in 2009 we started accepting them in June. In March 2010, we began to accept donations year-round in order to deliver more clothes in less time to the world's refugees, who are estimated to exceed 30 million people. Under this new policy, in the six months through August 2010 we received 2,624,420 articles of clothing, more than the total of 2.62 million items collected in 2009.
■ Some 80 to 90 percent of donated items are reused to help refugees and victims of natural disasters

Donated clothes are recycled and used to produce energy as well as recycled fiber for industrial uses. However, 80 to 90 percent of the clothing is reused in the form of donations to refugees and clothing aid to victims of natural disasters. UNIQLO is intent on continuing to practice deliver not only clothing, but the goodwill of our customers to people in need.
■ Expanding the scope of our support activities
As part of our efforts to help refugees, UNIQLO employees visited refugee camps in Asia and Africa to donate clothing in collaboration with various supporting groups and organizations. * In August 2010, we visited the Republic of Kazakhstan for the first time to deliver donated clothing to refugees there. Kazakhstan winters are extremely cold, with temperatures reaching below -20◦ Celsius, making warm, winter clothes a necessity. As such, this time we mostly provided clothing to combat the cold, including fleece and Air Tech items. In addition to Asian and African countries, we will continue to broaden the scope of our activities to include Central Asia, delivering the goodwill of our customers to refugees and disaster victims everywhere.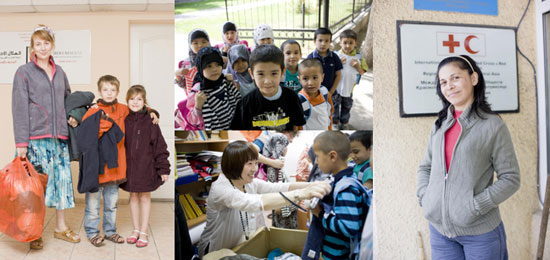 *International organizations and non-governmental organizations that help us to donate clothing to refugee camps include:
・the United Nations High Commissioner for Refugees (UNHCR)
・the Japan Relief Clothing Center (JRCC)
・the Japanese Organization for International Cooperation in Family Planning (JOICFP)
■ Reference
For more about the All-Product Recycling Initiative, please visit us online at
https://www.fastretailing.com/eng/sustainability/community/donating_clothing.html

Top of page