Last Updated: 2009.08.28
The 8th Thank You Recycle
UNIQLO All-Product Recycling Initiative conducts September 1 - 30
800,000 items collected in 7th Initiative conducted in March
UNIQLO CO., LTD.
to Japanese page
As part of our CSR activities, UNIQLO conducts recycling initiative where it accepts all types of UNIQLO clothing from customers for recycling or reuse. We started this recycling initiative in September 2006 with twice a year in March and September. From this year, we have added one more initiative in June to bring the annual number to three.
September marks the 8th round of the initiative called "Thank You Recycle" as an expression of gratitude to participating customers. Just with the March and June initiative, we have already collected a record annual total of 1.83 million items. As numbers increase each year, we can expand the reach of our customers' cooperation and support.
■ UNIQLO's All- product recycling initiative- "Thank You Recycle "
UNIQLO CO., LTD. has been collecting and recycling its own used fleece products since September 2001. And we have expanded the scope of these activities to now include the all UNIQLO product range. Since September 2006, we have conducted a regular, reliable collection and recycling service during the months of March and September, adding one more initiative in June from this year. Adding the 800,000 items collected in June to the March number, we are already at a record total for the year of 1.83 million items.
| | |
| --- | --- |
| Campaigns: | March campaign (March 1 – 31) |
| | June campaign (June 1 - 30) |
| | September campaign (September 1 – 30) |
| Collection points: | All UNIQLO Japan stores |
| | (Items received directly from customers, not sent through the post.) |
| Campaign items: | All products sold by UNIQLO |
| | (washed in advance please) |
| | ※ We cannot accept wet or stained clothes. |
■ 80-90% of items collected reused as emerging clothing for refugees
& sufferers of natural disaster
Some of the clothing collected to date has been recycled as fuel or fiber materials. But an overwhelming 80-90% is being reused as emergency clothing aid for refugees, displaced persons and natural disaster.
We have been able to donate clothing aid to refugee camps in Asia and Africa with the cooperation of individual groups and organizations active in this field. ※ We have decided to donate items in September 2009 to refugees in Nepal and Sri Lanka.
We look to pass on our customers' goodwill with the clothing that we distribute.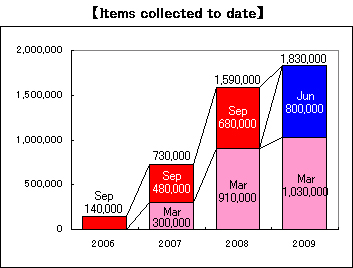 ■ Reference
・ For details of our full product range recycling:
https://www.fastretailing.com/eng/sustainability/community/donating_clothing.html
・ For our all- product recycling initiative report on donations to refugee camps:
https://www.uniqlo.com/jp/csr/ (Japanese only)

Top of page