Last Updated: 2008.05.02
Result of UNIQLO March 2008 recycling
910,000 items collected in March 2008 recycling campaign
90% of clothes to be donated to refugee camps in Asia & Africa
UNIQLO CO., LTD.
to Japanese page
As part of our CSR activities, UNIQLO CO., LTD. conducts recycling campaigns every March and September where we collect any UNIQLO product initially bought by our customers but for which they no longer have any need. This campaign is called "Thank You Recycle" as an expression of gratitude to participating customers. In this fourth campaign conducted in March 2008, we collected 910,000 items. That is more than double the 430,000 items collected in the September 2007 campaign. The number of items collected each time is increasing thanks to the cooperation and support of our customers.
UNIQLO CO., LTD. has been collecting and recycling its own used fleece products since September 2001. And we have gradually expanded the scope of these activities to now include the full UNIQLO product range. Since September 2006, we have conducted a regular, reliable collection and recycling service during the months of March and September. The clothes that we collect from participating customers are recycled as fuel or fiber materials, or reused as relief clothing. And we are keen to pursue these meaningful activities to the very best of our ability.
■ Results of March 2008 recycling campaign  
 
・ Roughly 910,000 items collected
・ Recycling breakdown:
 
  Reusable as aid to developing countries, etc.
92%
 
  Fuel recycling (electrical energy)
6%
 
  Material recycling, (industrial cotton waste, thermal insulation etc.)
2%
■ 90% of items to be donated to refugee camps in Asia and Africa
Thanks to the cooperation of various refugee support groups and institutions (※), 90% of the clothing collected in the September campaign will be donated to refugee camps in Asia and Africa. Within the planned areas for donation, we will confirm the local situation with the help of the UNHCR and then prioritize distribution to the areas of most urgent need. We hope to deliver the goodwill of our customers directly along with their clothes.
(※) International organizations and NGOs giving their full cooperation to the refugee camp donations
・ United Nations High Commissioner for Refugees(UNHCR)
・ Japan Relief Clothing Center (JRCC)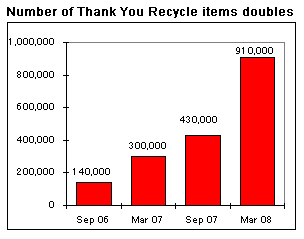 ■ Reference
・For details of our All-Product Recycling Initiative: https://www.fastretailing.com/eng/sustainability/community/donating_clothing.html
・For our All-Product Recycling Initiative photo report on donations to refugee camps: https://www.uniqlo.com/en/sustainability/refugees/

Top of page