Last Updated: 2007.08.28
Full range UNIQLO recycling campaign September 1 – 30.
UNIQLO CO., LTD.


( 31KB )
to Japanese page
Clothing collected in March will be distributed through UNHCR to African refugee camps
Developing more comprehensive humanitarian support by strengthening the UNHCR link
As part of our CSR activities, during the months of March and September UNIQLO CO., LTD. recycles any UNIQLO product brought in by customers to our stores. This third campaign held since September 2006 is being called "Thank You Recycle" as an expression of gratitude to participating customers. In the last campaign held in March 2007, we collected 300,000 items, 80% of which will be donated as relief supplies to refugee camps in Uganda and other African countries where the need for clothing is strong.
UNIQLO CO., LTD. has been collecting and recycling its own used fleece products since September 2001. And we have gradually expanded the scope of these activities to now include the full UNIQLO product range. Since September 2006, we have conducted a regular, reliable collection and recycling service during the months of March and September. The clothes that we collect from participating customers are recycled as fuel or fiber materials, or reused as relief clothing. And we are keen to pursue these meaningful activities to the very best of our ability.
■ Full Range Recycling Overview
・ Campaign periods  Spring campaign: March 1- 31, Autumn campaign: September 1 - 30
・ Collection points   Accepted directly from customers at all UNIQLO stores
・ Items for collection  Any product sold in UNIQLO stores
* Items should be laundered first at home
* We cannot accept dirty or marked items
■ Of the 300,000 items collected in March, 80% will be donated to African Refugee camps in Uganda, etc.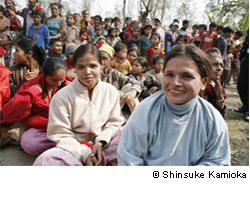 Of the 300,000 items collected during our last campaign conducted in March 2007, roughly 80% will be delivered in late September to refugee camps in Uganda and other African countries. The donations to the Ugandan Refugee camp are being conducted through the UNHCR (United Nations High Commission for Refugees).
The UNHCR, which has fully supported us in these activities, has been looking to strengthen its aid to Africa where the provision of clothing has long been lacking.
Following on from our visits to Thailand and Nepal in February of this year, UNIQLO representatives plan to visit the camps in Uganda to directly hand over the clothes kindly donated by our customers.
* Our clothing donations also enjoy the full support of the Japanese NPO, the Japan Relief Clothing Center.
■ Further strengthening our relationship with UNCHR
We are grateful to UNHCR for their full cooperation with our UNIQLO product recycling campaigns. In the future, we will be looking to offer further support to UNHCR and will be conducting even more comprehensive humanitarian activities in order to realize one of the organization's key aims, namely to achieve a permanent resolution to the refugee problem.
To kick start this new effort, we will be holding a charity event along with our UNIQLO 2007 Autumn/Winter collection at the 5th Japan Fashion Week from Tokyo on September 4, 2007. At the event, we shall be conducting a charity auction of favorite items and UNIQLO products signed by the actors & celebrities who appear in UNIQLO commercials along with other special guests. We shall also be running a similar online charity auction through Yahoo! from September 3 through 10, where you can bid for similar items signed by famous celebrities who have appeared in past UNIQLO commercials. All of the funds raised from these charity events will be used to support UNCHR refugee education programs for children, women, and vocational skills for young people, etc.
In addition to our current clothing donations, we plan to conduct more aggressive, comprehensive humanitarian activities in future by holding regular charity support events such as the ones mentioned above, and by donating the funds raised through the UNHCR.
Saburo TAKIZAWA, the UNHCR Representative in Japan issued the following comment on UNIQLO's most recent humanitarian efforts.
"I would like to express my deep gratitude to UNIQLO for its aggressive support of humanitarian aid through UNHCR. And I very much hope that this type of comprehensive CSR activity will spread from Japan throughout the world".
■ Reference
・  For details of the UNIQLO full range recycling project:
https://www.fastretailing.com/eng/sustainability/community/donating_clothing.html
・  For the UNIQLO full range recycling project report on donations to refugee camps:
https://www.uniqlo.com/en/sustainability/refugees/