Last Updated: 2010.10.06
"New Ultra Light Down" is transforming winters around the world
Only 206 grams and warm
A Toray & Uniqlo collaborative product
"New Ultra Light Down" is transforming winters around the world
UNIQLO CO., LTD.
to Japanese
Uniqlo and Toray have joined forces in the joint development of "New Ultra Light Down," an outerwear jacket that features both warmth and an amazingly light weight of only 206 g through application of special technologies. The compact "New Ultra Light Down" jacket and parker can be folded and pocketed, or kept in a bag, making for convenience of portability. This new down jacket is not only an item indispensable for autumn and winter, seasons for outings prone to changes in temperature, but is also wearable over or under other garments.
The "New Ultra Light Down," weighing a mere 206 g, will change winter around the world.
Rebirth of "Ultra Light Down"
Uniqlo's "Ultra Light Down" made its debut in 2009 as an outerwear jacket featuring both warmth and light weight. Compared to "Light Down (500g)," a similar Uniqlo product, "Ultra Light Down" is a groundbreaking product developed jointly by Uniqlo and Toray that realizes a weight only 270g, approximately half that of the earlier product. And now, "New Ultra Light Down" a product for autumn and winter 2010, features even further enhancements in the continuing pursuit of lightness and warmth to finally succeed in realization of a jacket that weights no more than an amazing 206g.
■ The Secret behind the Lightness of "Ultra Light Down"
The secret behind "Ultra Light Down" lies in the raw materials that incorporate special technologies.
① A special process enables direct insertion of down into the fabric!
Ordinary down jackets feature a 2-layer structure comprising a bag called a "down pack" that contains the down and the outer fabric layer with the down stitched into the fabric to prevent the down escaping (Fig. 1). "Ultra Light Down" is subjected to heat and pressure to close the mesh between threads (Figs, 2 & 3), making it difficult for the down to escape. This special process eliminates the need for down packs, thereby reducing the weight of the finished product.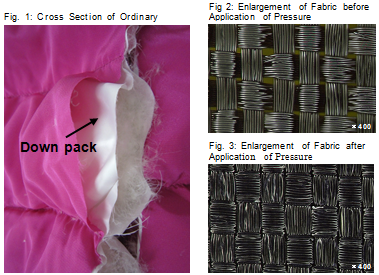 ② Use of ultra-thin thread to preserve the softness of the fabric
The use of ultra-thin thread makes it possible to make the fabric slimmer while at the same time preserving the fabric softness and strength.
This special thread is more or less the same thickness as one and a half human hairs. A single thread is made up of even thinner multiple fibers.

■ The Warmth of Premium Down
Use of carefully selected high-quality premium down ensures a suitable degree of warmth without using more down than necessary.
■ Product Lineup
Jacket and parker are pocketable to make for ease of portability. The number of variations has been increased to 3 models for men (1 model in '09) and 3 models for women (1 model in '09) to realize compatibility with diverse scenarios.


*206g is the weight of the W Premium Down Ultra Light Parker, L size and may vary depending on the item.
On sale at Uniqlo stores nationwide and on the Uniqlo On-line Store (http://store.uniqlo.com).

Top of page