Last Updated: 2009.04.16
UNIQLO online shopping in China starts
UNIQLO online shopping in China starts on Thursday
April 16 in partnership with TAOBAO.
UNIQLO CO., LTD.
to Japanese
UNIQLO's online shopping operation in China opened for business today. The operation has been facilitated through a partnership with the TAOBAO shopping site, a key focus of China's largest e-commerce corporate group Alibaba.
Two new stores are to open simultaneously on Thursday April 16 – one on the TAOBAO shopping mall, and UNIQLO's own site, making UNIQLO products available to customers throughout China.
UNIQLO launches online shop in China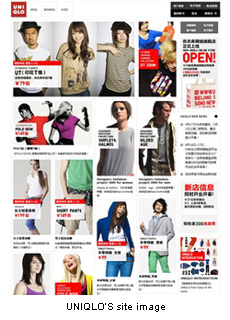 Since its first store opened in Shanghai in September 2002, UNIQLO has been steadily creating its store network in China, and today UNIQLO has 36 stores in China and Hong Kong. With UNIQLO sales in China continuing to grow rapidly year after year, UNIQLO is planning to expand the network to 100 stores at the earliest opportunity.
UNIQLO has also recently launched a Chinese-based online sales operation through a strategic partnership with the TAOBAO shopping site, a key focus of China's top e-commerce corporate group Alibaba. Internet usage in China is expanding at a powerful rate, with nearly 300 million users today. Internet can be said as high growth potential channel in China. By participating in this rapidly expanding market, UNIQLO will be looking to offer high quality products to customers all over China, and also to expand customer awareness of the UNIQLO brand.
Double store opening
On Thursday, April 16, UNIQLO will open two online stores, one on the TAOBAO shopping mall and one exclusive UNIQLO site. By opening a store, in China's largest shopping site, the TAOBAO mall with sales over 100 million Yuan and over 100 million members in fiscal 2008, UNIQLO can quickly increase brand awareness across China.
On the other hand, UNIQLO's own web-based store in China will be designed in the common format with UNIQLO websites worldwide, offering UNIQLOCK and other popular web contents that make UNIQLO-designed sites attractive. Customers can also receive the latest information including the weekly mail magazine and the latest UNIQLO campaigns.

Customers will be able to choose from approximately 500 different items of UNIQLO mainstay products and both sites will provide ample information on our latest campaigns and products.
UNIQLO T-shirt brand UT will act as the sites' launch feature product range. Under the keyword theme "MEGA CULTURE", UNIQLO will be displaying various culture on the T-shirt medium. UNIQLO will be selling a total 700 designs of T-shirt for the summer season across China.


Top of page