Last Updated: 2011.10.06
Grameen UNIQLO T-Shirts and Tote Bags to Hit Stores Oct. 14
Grameen UNIQLO T-Shirts and Tote Bags to Hit Stores Oct. 14
Sales of clothing from social business to mark opening of
UNIQLO's New York Fifth Avenue Store
UNIQLO Co., Ltd.
to Japanese page
UNIQLO produced these T-shirts and tote bags, which embody the underlying philosophy of the Grameen UNIQLO social business, to inform more people about the initiative that UNIQLO has started with Grameen Bank Group. All profits from these products will be reinvested in the social business. Three T-shirts designs will be available in unisex sizes S to XL for 1,500 yen each. The tote bags will also be available in three different styles for 990 yen.
UNIQLO Grameen T-shirts and tote bags will be released at all UNIQLO stores (*available at selected stores) and online stores on Friday, October 14 to commemorate the opening of the largest global flagship, the UNIQLO New York Fifth Avenue Store.
■ Grameen UNIQLO T-Shirts and Tote Bags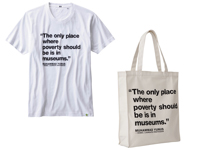 Nobel Laureate Professor Yunus on poverty
Grameen Bank, the biggest microcredit institution in Bangladesh, was awarded the Nobel Peace Prize in 2006 along with its founder, Professor Muhammad Yunus. Grameen Bank lends money to the poor and unemployed without requiring collateral. These T-shirt and tote bag designs feature Professor Yunus' message to eradicate poverty: "The only place where poverty should be is in museums.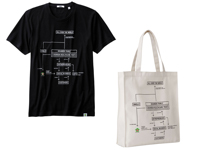 Grameen UNIQLO business model
Grameen UNIQLO's social business is conducted entirely within Bangladesh, from production to sales. Grameen Bank provides loans to entrepreneurs, who then generate profits by selling clothing from the Grameen UNIQLO social business. Grameen UNIQLO addresses social problems such as poverty and encourages individuals to achieve financial independence. This social business model was designed to facilitate change and make the world a better place. The diagram featured in this design clearly outlines the social business process.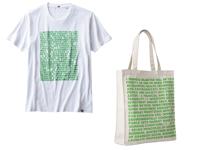 Seven principles of social business
The Grameen Group upholds seven key principles when starting new social businesses:
1. The Business objective must be to overcome poverty, or one or more problems (such as education, health, technology access or the environment) which threaten people and society; it must not be profit maximization.
2. Financial and economic sustainability.
3. Investors will get back their investment amount only. No dividend will be given beyond the investment money.
4. When the investment amount is repaid, all company profit stays within the company for expansion and improvement.
5. Be environmentally conscious.
6. The workforce will get market wage with better working conditions.
■ About Grameen UNIQLO
UNIQLO launched a social business in the People's Republic of Bangladesh in collaboration with Grameen Healthcare Trust of the Grameen Bank Group. We produce and sell truly great clothing at prices that are affordable for everyone. All profits are then reinvested in the social business. This business scheme was designed to address social problems related to poverty, sanitation and education, with local people involved in planning, manufacturing and selling clothing in Bangladesh.
*Social business: A new business structure which focuses on civic concerns, such as eradicating poverty; advocated by Nobel Peace Laureate, Muhammad Yunus.
*Shareholders can only recover their original investment, and cannot claim any additional profits. Any profits generated are reinvested in the company.
■ Grameen UNIQLO's Social Business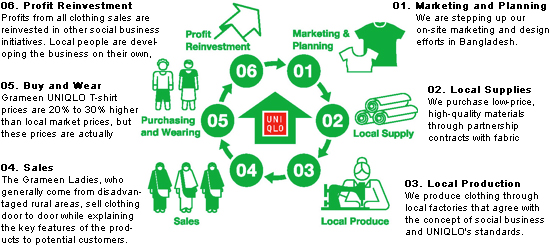 Top of page