Last Updated: 2012.09.21
Fast Retailing's Annual Report Receives Gold Award at the ARC Awards for the Third Year Running
FAST RETAILING CO., LTD.
to Japanese page
■ ARC Gold Award in the Chairman's Letter division

The Fast Retailing annual report, Annual Report 2011, was awarded the Gold Award for the third year running in the Retail: Specialty Stores category of the Chairman's Letter division at the International ARC Awards 2012 held in the United States, the world's biggest annual report competition. In addition, Fast Retailing also won the Silver Award this year for Interior Design in the same Retail: Specialty Stores category. The Fast Retailing annual report is a publication that communicates a wide variety of information to stakeholders including investors, business partners and individuals. Such information includes a message from our Chairman, strategies for growth, the company's business model and mission statement, our corporate concept, risk information, financial information, CSR activities, and information on corporate governance.
■ About the International ARC Awards
The International ARC Awards contest is an annual report competition held by MerComm, Inc.*, an independent awards organization located in the United States. The organization is free from the influence of specific industries, advertisers, or sponsors as reviews and evaluations are carried out by judges from a variety of countries and working in a wide range of industries. The competition's nearly 200 judges work in such fields as the financial industry, private corporations, and production industries. This year, the 26th year the awards were held, more than 2,200 entries were received from 32 countries around the globe.
Works are judged focusing on criteria related to the category in which they are entered, with the most coveted award being the Overall Annual Report Division. Other awards include Cover Design, Chairman's Letter, Photos, etc. Within each category, one Gold Award, one Silver Award, one Bronze Award, and one Honors Award are presented to selected works.
In judging and evaluating annual reports, key factors include whether the company's message is clear to the reader, the persuasiveness of the Chairman's message and other texts, how easy the financial information is to read and understand, originality of the cover and interior design, the cohesiveness of the overall report, and other items. Evaluations are exceedingly strict, with an evaluation of "not applicable" given if the minimum required score is not attained. The Gold Award has particularly exacting demands, requiring an average score of 90 or higher out of a total possible score of 100 points (for all evaluation items together); only approximately 5% of award recipients receive a Gold Award.
*MerComm,Inc:An independent awards organization that presents awards to corporations, groups and individuals who have engaged in original and effective communications in the areas of internal company guidance, annual reports, Web communications, etc., and who have contributed to the development of communication methods at a global level, with the aim of maintaining high standards for corporate communications. The organization has no advertisers or sponsors, allowing for fair and impartial reviews and evaluations.
Fast Retailing
Annual Report 2011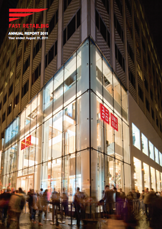 Theme:
"UNIQLO: Changing the World with Clothes of the Future"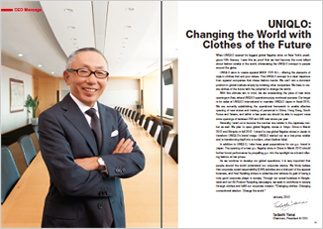 The Fast Retailing annual report may be downloaded using the links below:
English version : https://www.fastretailing.com/eng/ir/library/annual.html
Japanese version : https://www.fastretailing.com/jp/ir/library/annual.html

Top of page