Last Updated: 2008.11.28
FR to establish Bangladesh production joint venture
FAST RETAILING CO., LTD.


( 19KB )
to Japanese page
FAST RETAILING CO., LTD. and three other partners have reached an agreement to establish a joint venture company, CPAT (SINGAPORE) PRIVATE LTD., with the aim of fabric and garment manufacturing in the People's Republic of Bangladesh. Chinese firms Pacific Textiles Holdings Limited and Crystal International Limited are to join the venture along with Ananta Group of Bangladesh.
1. Establishing a joint venture in Bangladesh
While UNIQLO is currently developing its global operation, approximately 90% of all UNIQLO products continue to be manufactured in China. In line with our increasingly global store network, we seek also to globalize our manufacturing structure. To that aim, as our UNIQLO operation grows and expands worldwide, we will be looking to locate approximately one third of total production in countries outside of China. The manufacturing partners that support production of our high quality UNIQLO products are all extremely capable companies. As UNIQLO operations expand, likewise the expansion of production bases for our partner companies will be a key management issue going forward. We believe that supporting the global development of each partner will ultimately contribute positively to the globalization of FAST RETAILING itself. The agreement for this latest joint venture is a direct result of this strategy.
The new joint venture company CPAT will be expected to conduct manufacturing activities and set up both Fabric manufacturing and garment manufacturing plants in Bangladesh. We also reached a separate agreement today to set up a joint venture between Chinese firm Bros Eastern Company Ltd. and CPAT with the aim of establishing a spinning plant in Bangladesh.
2. The CPAT joint venture company
Company name : CPAT (SINGAPORE) PRIVATE LTD.
Location : Republic of Singapore
Main business areas : Operation of apparel-related production plants in Bangladesh
Total capital : 80 million US dollars (combined total for four companies)
FR investment total : 8 million US dollars(10% investment ratio)
Establish company : January, 2009 (tentative)
Open for business : By end 2009 (tentative)
3. FR partner companies in Bangladesh venture
(1)Pacific Textiles Holdings Limited
The group of companies spearheaded by Pacific Textiles Holdings Limited manufactures fiber for knitwear products with production bases in China and Sri Lanka. The firm provides extensive, high value-added fiber for a broad range of products. The company has recently been successfully diversifying into non-apparel end markets providing fabric for automobiles, etc. The firm also successfully listed on the Hong Kong Stock Exchange in May 2007.
The Pacific Group boasted net sales of 4,280 million Hong Kong dollars in FY2007.
(2) Crystal International Limited
The group of companies spearheaded by Crystal International Limited manufactures garment and is developing an increasingly global presence. With an annual manufacturing capacity of 200 million units, Crystal supplies UNIQLO and many of the world's famous fashion brands including M&S and GAP.
The Crystal group forecasts net sales of 868 million US dollars for FY2008.
(3) Ananta Group
Ananta Group is investing in the CPAT (SINGAPORE) PRIVATE LTD through Trendit Corporation, owned by the same shareholders. Ananta is a fast-growing garment manufacturer in Bangladesh with a wide range of product development capabilities. The Group has an annual production capacity of 12 million garment and employs over 6,000 direct staff in its state-of-the-art facilities. Ananta's customers include top brand retailers from the United States and Western European countries including GAP and H&M.
The Ananta group forecasts net sales of 40 million US dollars for FY2008.
(4) Bros Eastern Company Ltd.
The group of companies spearheaded by Bros Eastern Company Ltd. operates spinning plants throughout Mainland China. It owns multiple cotton processing plants across China to ensure a steady supply of raw materials. Through the use of non-polluting dyes, the company's Ningbo cotton yarn dyeing plant is proven ecologically sound.
The Bros group forecasts net sales of 2.9 billion Chinese Yuan for FY2008.
(Reference: Overview of planned joint venture company)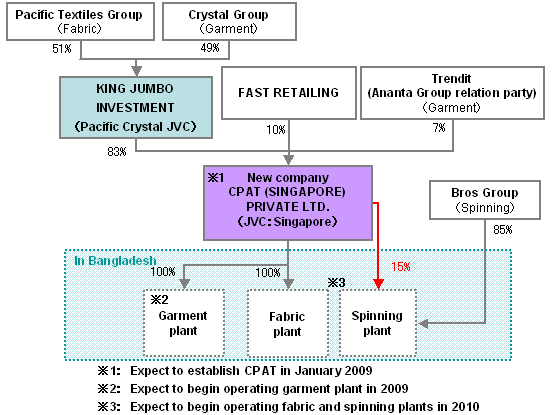 Top of page