Last Updated: 2022.04.20
UNIQLO opens most significant store to date on London's iconic Regent Street
Major retail space focuses on making life's essentials
- clothing, art, and community - accessible and sustainable for all,
and will be the first joint store with Theory in Europe.
UNIQLO CO., LTD.
to Japanese page
Fast Retailing Co., Ltd.'s global apparel brands, UNIQLO and Theory will open the doors to a vast joint store on Regent Street this Thursday 21st April from 10am. The 1,900 square meter store space sees the sensitive renovation of a beautiful heritage building on London's most iconic shopping street, reinforcing the company's strong commitment to the U.K.
"Regent Street holds a special significance for UNIQLO as it was the location of one of the first stores that we opened outside of our home market in Japan, 20 years ago." says Taku Morikawa, C.E.O. UNIQLO Europe. "The store was designed to reflect the Spirit of London and aims to make our LifeWear offering more accessible and sustainable for our loyal customers who have supported us in the UK for these past 20 years."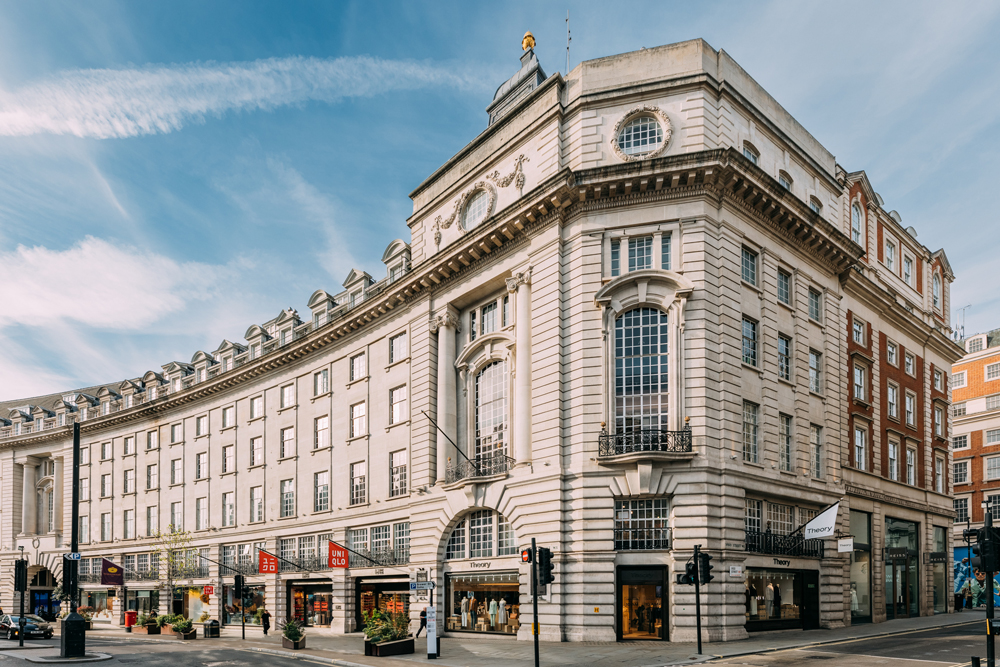 UNIQLO and Theory will open the doors to a vast joint store on Regent Street this Thursday 21st April from 10am
'The Spirit of London' - Celebrating 20 years of UNIQLO in the U.K.
In the 20th anniversary year of UNIQLO in the U.K. the brand has chosen to celebrate the Spirit of London. In recognition of their long-term partnership, UNIQLO and Tate have collaborated on an Open Call for Tate Collective, Tate's membership for 16-25 year olds, who were invited to creatively respond to the theme "The Spirit of London".


Tate Collective Winning Artists and their work, from left to right: Rosie Haynes, Flatboy and Yolande Mutale
Taking inspiration from the evolution of London and the diversity that makes the city such an exciting place to live in, three winners were selected. Young artists Rosie Haynes, Flatboy and Yolande Mutale each created a series of 12 digital art pieces that showed what they love about London, and these works will now feature on the stairway walls of UNIQLO Regent Street for the people of London to enjoy.
Championing Design: Old and New
Located close to Mayfair's historic tailoring district in a 19th Century Grade 2 Listed building, the store covers three expansive floors of UNIQLO LifeWear alongside beautiful original features. A Grade 1 Listed dome space on the Lower Ground Floor, which once existed as a fully operational Barber Shop in the 1920s, is now home to a display for the UNIQLO Masterpiece collection, whilst retaining the Barber Shop's original Art Deco features.
The Theory store space, which has been created in partnership with Architecture studio Sybarite, is a sculpted and curvaceous space created from natural materials including cork and organic clay.


The Old Barber shop space is now home to UNIQLO's Masterpiece collections including original Grade 1 Listed Art Deco features
Focus on Sustainability
UNIQLO Regent Street has a key focus on Sustainability, from Repair and Recycle bins used for contributing to the RE-UNIQLO circular program and donating to the UN Refugee Agency, UNHCR, as part of the brand's long standing partnership; through to special focus areas, including an upcycling project with local students at Central St Martins and the company's very first Repair Studio in partnership with East London repair shop, Studio Masachuka.
The UNIQLO Repair Studio will provide both simple and elevated repair services based on the Japanese Sashiko stitching technique. This very old tradition encourages customers to mend, embellish and upcycle clothes to give them a new lease of life and keep them for an even longer time. Essential accessories will also be available for customers to try to repeat these techniques at home, including Shozaburo scissors and Misuya Bari needles from Kyoto and Sachiko threads.

The Repair Studio features alongside local partnerships with South East London florist, JamJar Flowers and East London coffee roasters, Perky Blenders
Platforming Local Businesses
Floral display colour-matched with the brand's 20 colours of linen have been provided by South East London florist, JamJar Flowers alongside a pop-up from long-time partner, Perky Blenders, who will be offering free coffee to all UNIQLO Regent Street customers for the opening week.

Top of page