Last Updated: 2013.09.30
UNIQLO Comes to Australia Plans to Open First Store in Melbourne, Spring 2014
UNIQLO CO., LTD.
to Japanese
UNIQLO announces plans for its highly anticipated market debut in Australia with the opening of its first store in Melbourne in the Spring 2014*. UNIQLO has selected Emporium Melbourne, a brand new retail complex in the heart of Melbourne's city centre, as the location for its first official Australian presence.
UNIQLO's market entry into Australia marks the latest step in its ongoing international expansion. Since the opening of its first store in Japan in 1984, UNIQLO has built a network of more than 1,200 stores across 14 markets. The launch of UNIQLO's first store in Australia continues the brand's active growth strategy in the Asia Pacific region. It follows UNIQLO store debuts in Singapore (2009), Malaysia (2010), Taiwan (2010), Thailand (2011), the Philippines (2012) and Indonesia (2013). UNIQLO views Australia as a key market in establishing its brand in the Asia and Oceania region and a first step into markets in the southern hemisphere.
The new UNIQLO store in Emporium Melbourne will be a premium large-scale store with a sales floor of nearly 2,180 square meters spread over four floors - two basement floors and two above ground floors. Designed as a showcase for the UNIQLO brand, the store will offer visitors a full lineup of stylish UNIQLO apparel with great ranges of men's, women's, kids' and babies' clothes.
Commenting on today's announcement Shoichi Miyasaka, CEO of UNIQLO Australia and Fast Retailing Group Senior Vice President, said: "We are very excited to be opening our first store in Melbourne, Australia. The city is a great centre of style and we hope to make UNIQLO an essential stop for fashion-conscious Melbourne shoppers looking for high quality, affordable clothes. Our goal is to build a loyal customer base by offering every visitor the outstanding level of customer service that UNIQLO is known for within Japan, in a comfortable and welcoming shopping environment."
*Spring 2014 for Northern Hemmisphere
■ Details of UNIQLO's First Store in Australia
| | | |
| --- | --- | --- |
| Store name | : | UNIQLO Emporium Melbourne Store (name pending) |
| Address | : | 269-321 Lonsdale Street, Melbourne, Victoria, Australia |
| Total sales floor area | : | Approximately 2,180 square meters |
| Launch date | : | Spring, 2014 |
■ Company Overview
| | | |
| --- | --- | --- |
| Name | : | UNIQLO Australia Pty Ltd |
| Location | : | Melbourne, Australia |
| CEO | : | Shoichi Miyasaka |
| Ownership | : | 100% consolidated subsidiary |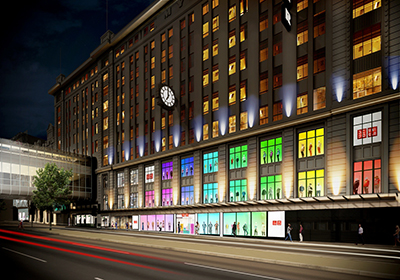 Top of page