Last Updated: 2013.09.25
UNIQLO Launches Latest Ultra Light Down Collection
All Items in New Lineup Now Come with Carry Pouches
UNIQLO CO., LTD.
to Japanese
UNIQLO today announces a great new lineup for its Ultra Light Down collection, set to transform down jackets into stylish, highly portable garments for all seasons. For the first time, all items across the UNIQLO Ultra Light Down collection come with compact carry pouches. This year's collection features 12 stylish designs, including UNIQLO's lightest-ever downs, available in a selection of as many as 160 different pattern and color variations.
Since debuting in 2009, UNIQLO's popular Ultra Light Down collection has offered customers superb ranges of down jackets that combine warmth and lightness. For the fall-winter 2013 season, UNIQLO is making carry pouches a standard feature for every garment across the range. Carry pouches make it simple for customers to fold up and pack away their down jackets and vests quickly and easily, transforming them into portable, versatile garments that can be worn year-round.
For this season's Ultra Light Down collection, UNIQLO is using an advanced transfer printing process to create stylish new prints featuring shading and textured looks. These stunning new prints mean that customers can integrate Ultra Light Downs into an even wider range of outfits. In the women's range, UNIQLO is launching its lightest-ever downs, with a new range of compact down jackets and vests.
With this season's Ultra Light Down collection, UNIQLO is bringing customers worldwide high-quality down jackets that combine the line's signature lightness and warmth with more stylish designs and greater versatility. Many items from the collection are now available for purchase at UNIQLO outlets in the 14 markets around the world where it operates stores, and online at www.uniqlo.com.
New Features for This Season's Ultra Light Down Collection
All downs come with a carry pouch - Previously only available with select items, this season UNIQLO has extended the carry pouch feature to the entire Ultra Light Down line up.
New denim, knit and herringbone print patterns - Leveraging a new print making process, UNIQLO is now able to offer a richer range of patterns for a wider array of styling options. New patterns for Ultra Light Downs include denim, knitted and herringbone prints, featuring shading and textured effects impossible with conventional screen print technology.
Matte colors added this season - This season's Ultra Light Downs come in two different color ranges. "Urban concept" colors are matte and understated, while the "sports concept" colors are shiny and lustrous. Prior to this season, the outer shells of all Ultra Light Down jackets featured a glossy finish because special processing was required to prevent the down from escaping the jackets since unlike conventional downs they do not feature bulky down packs. However, thanks to improvements made in the processing of the shells, UNIQLO has been able to successfully develop downs in a range of matte colors that are better suited to street wear.
Compact down jackets and vests for women, the lightest Ultra Light Down items yet - The new compact jackets and vests for women are the lightest*1 Ultra Light Down items yet. The jackets are so light they can be worn like cardigans. The vest type is just 79 grams, and the jacket type weighs only 123 grams*2. UNIQLO has made compact jackets two centimeters shorter than standard Ultra Light Downs to give customers the option of wearing them as an inner layer under winter coats for extra warmth on the coldest winter days.
Note: Grams applies to Japanese market
*1: A medium size women's Ultra Light Down jacket weighs 173 grams.
*2: The weights indicated are for the medium size. The weight will vary depending on the size.
Updated design details - This season's Ultra Light Downs feature a range of subtle design enhancements aimed at delivering cleaner and sharper silhouettes and avoid the bulky look that often comes with winter outfits. Men's down jackets, vests and parkas now feature narrower quilt lines for a snugger fit and lighter look. UNIQLO has reworked the collars and hoods of both men's and women's downs, meticulously readjusting the amount of down in them to give them more shape when worn down. For women's down coats, UNIQLO has redesigned the quilting pattern in the front and back. By varying the width of quilt panels and adding curves to panels UNIQLO has created downs that offer women a more flattering and shapely silhouette.
Ultra Light Down Technology Delivers Amazing Lightness and Warmth
Ultra-fine nylon yarn behind the extraordinary lightness - The shell of the Ultra Light Down items is made from a special, high-density nylon fabric that UNIQLO jointly developed with leading textiles maker Toray. The nylon fabric itself is made from an ultra-fine, durable, lightweight nylon yarn that is softer than cotton or polyester. The yarn is about 1/10 the thickness of a single strand of human hair. This amazing ultra-fine yarn is behind the incredible lightweight quality of UNIQLO Ultra Light Downs.

Special treatment process means down is directly packed into the shell reducing weight - Conventional down jackets have a two-layer structure consisting of outer shells and down packs, which prevent down from escaping through gaps in fabric. However, the surfaces of the Ultra Light Down shells have been specially processed to plug all the tiny spaces between the fibers of the shell ensuring that down is safely sealed inside. This innovative process eliminates the need for down packs and means UNIQLO can create jackets that are significantly lighter than conventional downs. For example, the down packs in a conventional down jacket equivalent to a medium-size men's Ultra Light Jacket weigh about 130 grams. By eliminating the need for those down packs UNIQLO can reduce the weight of Ultra Light Downs accordingly.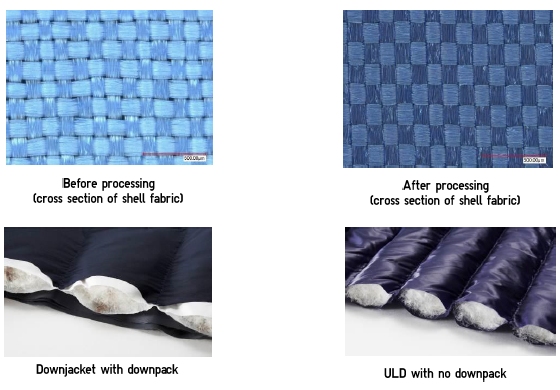 High-quality down that provides warmth even in small amounts - UNIQLO uses specially selected, premium down in all its Ultra Light Down products. This results in garments that are surprisingly warm for their lightness. UNIQLO uses down with a 90:10 down-feather mix and a fill power of at least 640*.
*: Fill power is a measure of insulation. Fill power above 550 is commonly accepted as high-quality down.
New Compact Down Jackets and Vests: Lightest-Ever Ultra Light Down Items that Can Be Worn Like a Cardigan
UNIQLO has added to the women's lineup new compact jackets and vests that can be casually worn as an outer garment like a cardigan or as an inner layer in the coldest winter days. The collarless design of the jackets and vests allows customers to create a sharp, layered look without bulk. These items are the lightest Ultra Light Down items yet, with the vest type weighing just 79 grams and the jacket type only 123 grams. When folded into the accompanying pouch, they measure 16 to 17 centimeters high and 8.5 centimeters wide, which is smaller than a 400-milliliter PET bottle.
Matte Colors Now Available in Addition to Classic Glossy Shades
UNIQLO has added matte colors to the men's lineup of vests, jackets and coats, as well as to the women's range of jackets, coats, stand-up collared vests, compact jackets and compact vests. Previously, because Ultra Light Downs do not feature conventional down packs, both the outer and inner surfaces of their shells had to be pressed with heat to prevent down from escaping in a treatment called cire finish. This process resulted in glossy surfaces for all Ultra Light Downs. This season, in order to provide customers with down items that they can wear in a wider range of occasions, UNIQLO has added a range of down items in understated matte colors by applying a cire finish only to the inner surface of the shells where they come in direct contact with the down.
Extensive Lineup of Items That Are Sporty Both in Style and Color
This season, UNIQLO is offering Ultra Light Down items in two ranges of colors. While the new "town concept" colors are matte and understated, the "sports concept" colors feature a classic lustrous finish that makes them more sporty both in style and color. The hoods of "sporty concept" items have been redesigned to have more shape when worn down. Processed with a cire finish, these items have a lustrous and sporty look. Female customers also have a choice of hooded vests available at 3,990 yen.

Top of page