Last Updated: 2013.06.20
First UNIQLO Store in Indonesia Launches on June 22 UNIQLO Jakarta Lotte Shopping Avenue Store First in Indonesia With Full Product Line
UNIQLO CO., LTD.
to Japanese
June 20, 2013, Tokyo Japan - UNIQLO today announces that its first retail location in Indonesia, the UNIQLO Lotte Shopping Avenue Store (Ciputra World 1 Jakarta, Jl. Prof. Dr. Satrio Kav 3-5, Karet Kuningan, Jakarta), opens on Saturday, June 22, 2013. The megastore, one of the biggest in Southeast Asia, will carry the brand's full product lineup.
To mark the launch, UNIQLO will offers limited time discounts on some of its key products, such as UNIQLO T-shirts (UT), Denim, and AIRism innerwear. For the first one thousand visitors to the store on opening day, UNIQLO will also present an original tote bag.
UNIQLO's first store in Indonesia is to open in the new LOTTE Shopping Avenue shopping complex, currently under development in the Kuningan district of Jakarta - home to many bustling shopping malls. With a sales floor of almost 2,680 square meters, the UNIQLO LOTTE Shopping Avenue Store offers a great selection of UNIQLO men's, women's, kids' and babies' clothes. Featuring a diverse lineup of stylish apparel, stunning product displays, and Japanese customer service, the UNIQLO LOTTE Shopping Avenue Store brings the very best of the UNIQLO brand to Indonesia. For more information, please see the UNIQLO Indonesia website  https://www.uniqlo.com/id/
"I am pleased to offer our products to Indonesian consumers," said Tadashi Yanai, Chairman, President and CEO of Fast Retailing. "As the most populous nation in Southeast Asia, and with a strong and growing economy, Indonesia is a key market. With the opening of our first store, we aim to speed up our expansion in Southeast Asia."
UNIQLO's business in Indonesia (PT. FAST RETAILING INDONESIA) takes the form of a Joint Venture with Mitsubishi Corporation. The business is overseen by Fast Retailing Group Executive Vice President Naoki Otoma.
Yasuhiro Hayashi, Chief Operating Officer of PT. FAST RETAILING INDONESIA, said, "We have been preparing for this launch for the past year. Through this process, I came to understand that Indonesians have a wonderfully unique sense of fashion - effectively mixing traditional and modern, Western influences. From this perspective, UNIQLO is likely to be a hit, because - rather than finished outfits - we offer the tools that people need to build their own look, and effectively express themselves through clothing. I look forward to giving Indonesians a taste of Japanese service, and to building a fan base in this important market".
UNIQLO plans to accelerate store openings across Asia, which it views as offering tremendous opportunities for growth. At the end of May 2013, UNIQLO operated 1,254 stores in 13 markets, including 23 stores in the four Southeast Asian countries of Singapore, Malaysia, Thailand and the Philippines.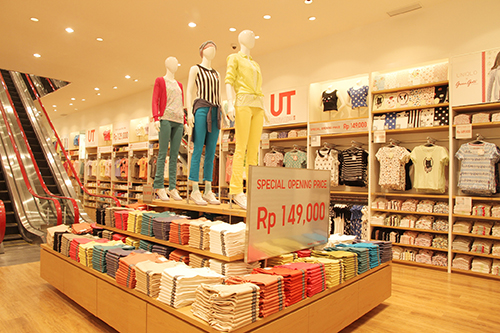 Top of page