Last Updated: 2013.02.13
UNIQLO to Open First Store in Indonesia in Summer 2013 New Jakarta Mega Store is One of Biggest UNIQLO Outlets in Southeast Asia
UNIQLO CO., LTD.
to Japanese
February 13, 2013, Tokyo, Japan - UNIQLO today announces plans to open its first store in Indonesia, marking the company's entry into the world's fourth most populous country. Located in Jakarta's stylish Kuningan district, the new UNIQLO LOTTE Shopping Avenue Store will open this summer. Featuring a 2,680 square meter sales floor, it will be one of UNIQLO's biggest stores in Southeast Asia.
UNIQLO's first store in Indonesia is set to open inside the new LOTTE Shopping Avenue shopping complex, currently being developed in the Kuningan district of Jakarta. Kuningan, is already the home to many bustling shopping malls. With a sales floor of almost 2,680 square meters, the UNIQLO LOTTE Shopping Avenue Store will offer a great selection of UNIQLO men's, women's, kids' and babies' clothing lines. Featuring a diverse lineup of stylish apparel, stunning product displays and high-quality, Japanese-style customer service, the UNIQLO LOTTE Shopping Avenue Store will promote the very best of the UNIQLO brand to Indonesian customers.
UNIQLO views Asia as offering tremendous opportunities for growth, and the company plans to accelerate store openings around the region. At the end of January 2013, UNIQLO operated 1,206 stores in 13 markets including 23 stores in the four Southeast Asian countries of Singapore, Malaysia, Thailand and the Philippines. Stores in these four countries continue to perform well.
As the most populous nation in the Southeast Asia region, and with a strong and growing economy, UNIQLO views Indonesia as a key market within the region. By opening a major store in Jakarta, UNIQLO aims to further accelerate its expansion in Southeast Asia.
■ UNIQLO LOTTE Shopping Avenue Store
Address :
LOTTE Shopping Avenue
Ciputra World 1 Jakarta, Jl. Prof. Dr. Satrio Kav 3-5, Karet Kuningan, Jakarta
Floor Space :
Approximately 2,680 square meters (over two floors)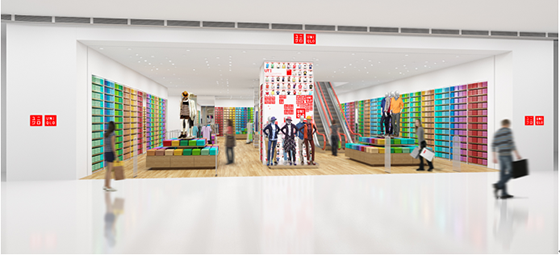 Top of page