Last Updated: 2012.09.26
UNIQLO Celebrates 10th Anniversary of HEATTECH With Wider Lineup and New Babies Line
UNIQLO CO., LTD.
to Japanese
September 26, 2012, Tokyo, Japan - UNIQLO today announces plans for the 10th anniversary of its signature HEATTECH line of functional winter apparel, with an expanded product range featuring a large selection of more than 800 colors and patterns, plus a new line for babies. Since its launch in 2003, the HEATTECH line has constantly evolved as UNIQLO incorporates customer feedback to improve product performance and design.
Marking the 10th anniversary of its popular line, for the first time UNIQLO is offering a HEATTECH range for babies alongside its established lineup of items for men, women and children. Adding babywear means that the entire family can now enjoy the greater warmth and comfort offered by HEATTECH. UNIQLO has also expanded the selection of items available, and more than doubled the number of colors and patterns on offer this year. The HEATTECH lineup for this winter also features new advances in fabric, to bring even greater warmth to customers around the world. UNIQLO invites customers to try on the latest HEATTECH range and experience the difference for themselves.
■ 10th Anniversary of HEATTECH Debut
Over the last decade, UNIQLO has continued to improve the thinness, lightness and warmth of the HEATTECH line. UNIQLO's goal is to free customers from the need for traditional bulky winter wear and allow them to fully enjoy winter fashions. Thanks to the support of customers around the world, the HEATTECH line is approaching its 10th year of success. To celebrate this milestone, UNIQLO is planning a series of exciting new initiatives set to be revealed soon.
■ Large Selection of HEATTECH Products
This season, UNIQLO offers its most complete HEATTECH lineup to date with a wider selection of garments available in a bigger range of colors and patterns. UNIQLO has more than doubled the number of colors and patterns from 343 in 2011, to an incredible 827 this year. The company has also taken HEATTECH far beyond innerwear this year; new items include camisoles with lace collars and print T-shirts that can also serve as stylish outerwear. UNIQLO has also launched HEATTECH lounge wear this year. This exciting new range offers great versatility-- warm and comfortable casual wear for relaxing at home that doubles as innerwear for trips around the neighborhood. UNIQLO has also added HEATTECH items designed for babies to complement its lineup for kids. All the items in the babies range have Oeko-Tex® Standard 100 Certification*.
HEATTECH continues to rewrite the rules for innerwear while bringing warmth and comfort to customers. This year's lineup offers people of all age ranges a greater range of options than ever before.
* Oeko-Tex®Standard 100 is a set of globally uniform standards for textiles designed to ensure product safety and safeguard health.They are internationally recognized and have been adopted by over 9,500 manufacturers in more than 80 countries around the world.
The class for baby products (Product Class I) has the strictest standards.
New items* for 2012 New designs** for 2012
Women's
Men's
New Baby items

*

HEATTECH Lounge Air

*


HEATTECH Shorts

*


Lace

**


Collaboration patterns

**

HEATTECH Steteco

*


T-shirt

*


Collaboration patterns

**

HEATTECH U-neck T-shirt (S)
HEATTECH U-neck T-shirt (L)
HEATTECH Turtleneck T-shirt
HEATTECH Tights

■ Constant Advances in HEATTECH Functionality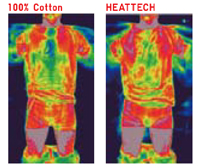 The long list of HEATTECH functions begins with HEATTECH's signature heat warming and retention.
This year's HEATTECH items for men and kids feature a new moisture transfer function, made possible by a higher mix of rayon in the fabric. The fabric absorbs excess moisture trapped inside and releases it externally, delivering a drier feel. Men's items this year have been specially processed for improved deodorizing performance. The fibers of children's items are now micro-sized to create a softer texture. The women's items offer an enhanced moisturizing effect creating a texture that is kinder to the skin.
■ Evolution of HEATTECH functions
2003
HEATTECH introduced
Heat warming and heat retention functions


2004
HEATTECH (men's)
Antimicrobial and dry functions added


2005
HEATTECH (women's)
Moisture retention function added


2006
HEATTECH (women's)
Moisture retention function improved


2007
HEATTECH (men's and women's)
Stretch function added
HEATTECH (women's)
Moisture retention function improved


2008
Global availability


2009
HEATTECH (men's and women's)
Anti-static and shape retention functions added


2010
HEATTECH (women's)
Thinner fibers for a silkier feel


2011
HEATTECH (men's)
Deodorizing function added
HEATTECH (women's)
Moisture retention function improved


2012
HEATTECH (men's)
Moisture absorption and release function added; Deodorizing function improved
Basic Functions of HEATTECH Innerwear
Function
Description
Men's
Women's
Kids'
Babies'
Heat of adsorption
HEATTECH turns moisture evapolating from your body into heat by itself.
Yes
Yes
Yes
Yes
Heat retention
Pockets of air that form between the fibers prevent heat generated by the fabric from body moisture from escaping.
Yes
Yes
Yes
Yes

NEW!


Moisture transfer
Excess moisture on the inside is absorbed and released to the outside for a drier feel.
Yes
Yes
Yes
Sweat-absorbing and quick drying
The fabric quickly absorbs perspiration and dries fast to ensure a silky feel at all times.
Yes
Yes
Yes
Stretch
The elastic fabric stretches for a light, comfortable fit.
Yes
Yes
Yes
Yes
Anti-static
The fabric limits the static electricity that results from putting on or removing garments.
Yes
Yes
Yes
Yes
Shape retention
A special knitting structure prevent any shape loss caused by washing.
Yes
Yes
Yes
Yes

IMPROVED


Moisture retention
The fibers contain whey, which has natural amino acids, for a soft texture (women's items only).
Yes
Antimicrobial
A special finish suppresses body odors.
Yes
Yes
Yes

IMPROVED


Deodorizing
A special finish absorbs and neutralizes perspiration and other sources of odors (men's items only).
Yes

Top of page