Last Updated: 2012.09.26
UNIQLO Unveils New Lineup of Ultra Light Down Jackets Featuring Almost 100 Colors and Patterns Available this Fourth Season
UNIQLO CO., LTD.
to Japanese
September 26, 2012, Tokyo, Japan - UNIQLO today announces the return for the fourth year of its popular Ultra Light Down line of warm and lightweight down jackets. For the 2012 fall winter season, UNIQLO is offering its widest ever range of colors and patterns with almost 100 different variations across men's and women's lines. UNIQLO has also added new designs this year including a women's topper jacket with three-quarter length sleeves featuring a versatile A-line design. For men, UNIQLO debuts a Premium Down Ultra Light Coat ideal for wearing over suits on commutes to work. And for this year's lineup, UNIQLO has selected prints with dot and check patterns making it easy to coordinate them with any outfit.
The Ultra Light Down's lightweight quality makes it perfect both as outer wear for early fall and as a middle layer worn beneath outer garments in the cold winter months. UNIQLO's new line of Ultra Light Downs is set to transform the way people around the world dress this fall and winter.
■ UNIQLO's Ultra Light Down Transforms Down Jackets
When UNIQLO first introduced its Ultra Light Down in 2009, it consigned bulky down jackets to history. While conventional down jackets are great at keeping out the cold, their bulkiness gives them a rugged, outdoors feel that limits their versatility and makes them hard to style fashionably. UNIQLO Ultra Light Downs address this by combining warmth with lightness for jackets that are versatile and easy to incorporate into a wide range of stylish outfits. They have proved such a hit with customers that it has been a challenge for UNIQLO to keep pace with demand every year. The secret of the Ultra Light Down's popularity is the unmatched combination of lightness, thinness and warmth it offers. Ultra Light Down is truly a breakthrough product that allows customers to wear light fashionable outfits even on the coldest winter days.
■ The Secret of the Lightness is in the Fabric
Proven technologies co-developed by UNIQLO and leading textiles maker Toray Industries lie behind the warmth, slimness and exceptional lightweight quality of Ultra Light Downs. Conventional down jackets have a two-layer structure that consists of 1.) the jacket's shell and 2.) packs containing the down. With conventional down jackets, the down packs are essential--they trap the down and prevent it from falling out. UNIQLO and Toray's technology eliminated the need for these down packs, allowing the down to be added directly into the shell. This innovation significantly reduces the weight and bulkiness of down jackets.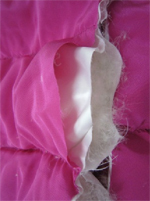 Conventional down pack
■ The Proven Technologies Behind the Product
As UNIQLO and Toray worked to eliminate the need for down packs in jackets, they concentrated on the shell. This involved the development of an extremely dense material for the shell made from ultra-fine nylon yarn. To achieve this, a specially developed treatment process involving the application of heat and pressure is used to plug all the small spaces between the fibers of the shell which ensures that every feather of down is safely sealed inside. By dispensing with down packs, UNIQLO and Toray were able to successfully develop a down jacket that is significantly lighter and less bulky than conventional downs.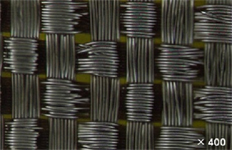 Material (magnified photo): Before pressure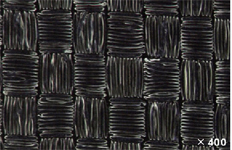 Material (magnified photo): After pressure
The specially developed heat and pressure treatment process which plugs the spaces between the fibers often creates fabrics with a hard texture. To effectively combat any hardness and ensure a soft, light fit, UNIQLO and Toray use an ultra-fine nylon yarn.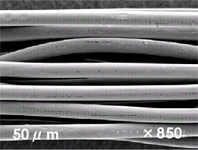 Ultra-fine nylon yarn (magnified)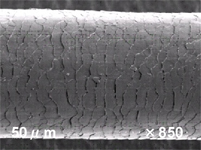 Human hair (magnified)
■ Using High-Quality Down Means Warmth is Generated With Even Small Amounts
UNIQLO uses extremely fluffy, premium down in its Ultra Light Down line with a fill power of at least 640*. By selecting high-quality down, UNIQLO only needs to use the exact amount of down required to keep wearers of Ultra Light Downs at an optimal level of warmth.
*Fill power above 550 is generally accepted to be high-quality down.
■ Make One of the Almost 100 Colors and Patterns Part of Your Wardrobe
This year's lineup of Ultra Light Downs comes in a large variety of cuts, colors and prints. The new women's Premium Down Ultra Light Topper Jacket is not only a great choice for casual wear, its A-line cut also offers style and elegance. This jacket's three-quarter length sleeves make a great combination with tunics, dresses and more. The new men's Premium Down Ultra Light Coat can be worn comfortably over suits, making it ideal for commutes. For the prints, this year UNIQLO has selected patterns such as dots, checks and other patterns that are easy to coordinate.
With its lightweight quality, ease of movement and versatility, UNIQLO's Ultra Light Down line offers an almost endless range of styling options. They are a great choice for spring, fall and winter--worn over a sweater in fall, as a middle layer under your favorite outer garment in winter and simply pulled over a T-shirt in spring. An Ultra Light Down is sure to expand your fashion choices across the seasons. This year, UNIQLO has assembled a range of nearly 100 colors and patterns to ensure every customer can find the one Down that's perfect for them. With so many great items to choose from, before you know it you won't be able to leave home without your UNIQLO Ultra Light Down.
Men's Line
Product name
Colors
Sizes
Price incl. tax
(Japanese Yen)
Premium Down Ultra Light Vest
13
S,M,L,XL
3,990
Premium Down Ultra Light Jacket
21
S,M,L,XL
5,990
Premium Down Ultra Light Parka
6
S,M,L,XL
5,990
Premium Down Ultra Light Coat
4
S,M,L,XL
7,990
Women's Line
Product name
Colors
Sizes
Price incl. tax
(Japanese Yen)
W's Premium Down Ultra Light Vest
26
S to XL
3,990
W's Premium Down Ultra Light Topper Jacket
4
S to XL
5,990
W's Premium Down Ultra Light Jacket
20
S to XL
5,990
W's Premium Down Ultra Light Parka
21
S to XL
5,990
W's Premium Down Ultra Light Coat
6
S to XL
7,990

Top of page