Last Updated: 2012.09.12
UNIQLO and BIC CAMERA to Open New 'BICQLO' Store in Shinjuku Shinjuku East Exit Store Aims to Become New Hotspot in the Area Doors Will Open on September 27
UNIQLO CO., LTD.
to Japanese
September 11, 2012 - Tokyo, Japan - UNIQLO's new growth engine and a store with global appeal, BICQLO UNIQLO Shinjuku East Exit Store, will open for business on Thursday, September 27.
'BICQLO' was born out of a collaboration between UNIQLO and Japanese leading home appliances retailer BIC CAMERA, two companies that offer completely different products. By combining the expertise and know-how that each company has gained in the areas of fashion apparel and home electronics respectively, UNIQLO and BIC CAMERA aim to create a new type of store that will serve as a new hotspot in the Shinjuku district of Tokyo, bringing both joy and surprise to people from all walks of life.
BICQLO Shinjuku East Exit Store, which will open inside the current BIC CAMERA store, will be different from what customers across the world have come to expect from UNIQLO. The new store will be filled with many fun surprises that are sure to delight customers, so make sure to visit the store and experience first-hand the special events available only at BICQLO. With this newest store, UNIQLO hopes to help revitalize Japan by pumping energy and excitement into Shinjuku, the vibrant retail district that visitors from all over the world regularly flock to.
BIC CAMERA + UNIQLO = BICQLO
BIC CAMERA INC. and UNIQLO CO., LTD. are pleased to announce the joint opening of a new store near the East Exit of Shinjuku Station, named 'BICQLO.' Not only will the store feature both fashion apparel brand UNIQLO and home appliances retailer BIC CAMERA, the store represents a collaborative effort between two companies that combines the know-how in each area of expertise. The UNIQLO store is labeled under a new store category: a "store with global appeal."
What is a "store with global appeal?"
A store with global appeal is a store that is full of energy, offering the newest, latest in-style products, at the lowest prices. At this store, energetic staff greet customers with the highest level of store services. In addition, the store offers a shopping experience that is easy to see, easy to choose, and easy to shop at.
The store with global appeal is full of energy and always prosperous, thriving and brisk. The store with global appeal is UNIQLO's brand new growth engine, and the new hotspot that is the center of the world's attention.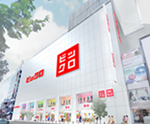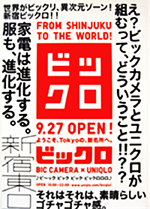 Shinjuku as a New Hotspot for Visitors in Japan and Abroad
Visitors from all over Japan, as well as the world, flock to Shinjuku. UNIQLO is opening a store inside a home appliances store, in an area of Japan that is well-known for home and electrical appliances stores. UNIQLO wishes to make the BICQLO store a new hotspot in Shinjuku, by offering customers many fun surprises and promotions, in the hope that it can contribute toward the revitalize Japan.
Store Image and Design
As with the UNIQLO Ginza Global Flagship Store, Mr. Kashiwa Sato (of SAMURAI) is in charge of the overall brand and image of BICQLO.
Staff uniform
To represent this new store category, UNIQLO and BIC CAMERA have joined forces to produce a joint uniform for BICQLO, overseen by Kashiwa Sato and designed by UNIQLO Creative Director Naoki Takizawa. While UNIQLO's store uniforms are chosen from items of clothing sold in stores, and BIC CAMERA's store uniforms feature a red vest, the newly designed, black-and-white, simple uniform symbolizes the unity between UNIQLO and BIC CAMERA , and represents all that is BICQLO.

Music Played Inside Store
The music played inside the store, as well as in-store announcements, are all BICQLO originals. Floor signs, shopping carts, shopping bags, receipts and stickers are all specially designed for BICQLO.

BICQLO Mannequins
BICQLO Mannequins, located in shop windows and in various areas across the store, are new and unique to the BICQLO store. For example, customers will find mannequins including those holding a camera ready to take a photo, or those using a vacuum cleaner, or similar home appliance. A total of 80 mannequins (40 in UNIQLO, 40 in BIC CAMERA) in 9 types, in both sexes, are featured in the store with various types of home electronics and gear. The highly coordinated and stylized mannequins featuring both fashion apparel and home electronics represent the essence that is BICQLO.

TV Commercial and Newspaper Advertising
A TV commercial featuring will be aired by BIC CAMERA from September 12 through the 30th. A UNIQLO version will also be aired in mass quantity. Eye-catching advertisements will be placed in daily newspapers.
Ad Jingle
Copywriter Tomomi Maeda penned brand new lyrics to the all-too-famous BIC CAMERA ad jingle, resulting in a brand-new, original BICQLO ad jingle. DJ Tomoyuki Tanaka of Fantastic Plastic Machine produced the tune. The legendary anime-tune singer Ichiro Mizuki will handle the lead vocals.
Radio
Radio advertisements featuring the new ad jingle will be aired from September 12 through October 31st. 
Trains
The Yamanote Line that runs in downtown Tokyo will feature train cars with wrap-around BICQLO advertisements. Ads will also be featured prominently inside the trains, as well as throughout Shinjuku Station, certified by The Guiness Book of World Records as the station with the most number of passengers.

Street banners
With the cooperation of various shopping avenues, the streets of Shinjuku will be filled with banners hanging from streetlamps. A total of 392 banners are being planned.
Facade of BIC CAMERA and BICQLO Store Window
Advertisements will appear on the BIC CAMERA store facade, to create great impact. In addition, advertisements will cover all the way from the front of the BICQLO store to the back.
■ BICQLO Will Greet Customers With Many Surprises
BICQLO VADER
BICQLO VADER is UNIQLO's very first social shooting game, created by world-renowned web creator Yugo Nakamura. The game is available via both the Internet and smartphones. Players who achieve a high score can win prizes and coupons to be used in online stores. Items only available for UNIQLO mobile members and via in-store check-ins will be distributed.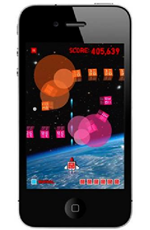 BICQLO Monitor
The BIQLO interactive TV monitors have also been created by web creator Yugo Nakamura. Customers who stand in front of the monitor will appear on-screen, thanks to motion-activated sensors. No matter how hard you try, you will not be able to shake off the BICQLO logo that comes zooming towards you! Make sure to try it out when you visit BICQLO!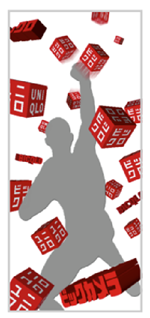 Special Collaboration UTs with Home Electronics Manufacturers
To celebrate the opening of BICQLO, special collaboration UTs (UNIQLO T-Shirts) with home electronics makers will be available at the new BICQLO Store, the Ginza Store as well as online. Collaboration UTs with nine home electronics manufacturers will be available in 13 different colors and patterns.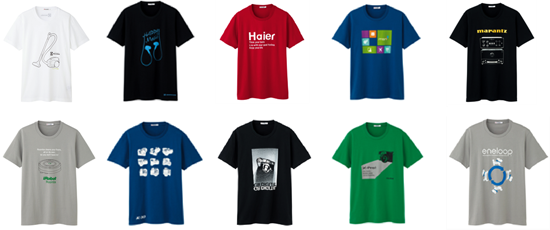 UNIQLO Capsule Game
Customers with a purchase of over 7,000 yen between September 27 and September 30 will receive a BICQLO medal. Customers have a chance to win big prizes and special BICQLO items by inserting this medal in the UNIQLO Capsule Game.
【Prizes】
• Prize A: Mirror-less single reflex camera, Ultrabook laptop
• Prize B: Automatic vacuum cleaner, down comforter
• Prize C: Home planetarium system
• Prize D: BICQLO original BICQLOCK
• Prize E: Special collaboration UTs with home electronics manufacturers
• Prize F: BICQLO original items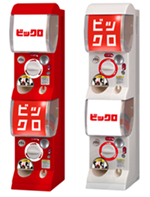 BICQLOCK
A commemorative alarm clock specially designed by Kashiwa Sato will be another prize that can be won by playing the UNIQLO Capsule Game. The clock prominently features the BICQLO logo and plays the BICQLO jingle as an alarm.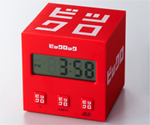 ■ Store Information
| | | |
| --- | --- | --- |
| Name | : | UNIQLO Shinjuku East Exit Store |
| Opening Date | : | Thursday, September 27, 2012 at 10:00 |
| Store Hours | : | 11:00-22:00 |
| Address | : | 3-29-1 Shinjuku Shinjuku-ku, Tokyo |
| Floor Space | : | Approximately 4,000 square meters (UNIQLO occupies floors 1-3) |
| Store Manager | : | Toshiaki Kasahara |
| Staff | : | 480 staff (including around 100 international staff) |
| Languages | : | Japanese, English, Chinese, Korean (Total 4 languages) |
■ About UNIQLO and Fast Retailing
UNIQLO is a brand of Fast Retailing Co. (FR), a leading global Japanese retail holding company that designs, manufactures and sells clothing under five brands: Comptoir des Cotonniers, g.u., Princesse tam.tam, Theory, Helmut Lang and UNIQLO. With global sales of 820 billion yen for the 2011 fiscal year ending August 31, 2011, FR is the world's fourth largest apparel retail company and UNIQLO is Japan's leading specialty retailer.
Today UNIQLO has more than 1,100 stores in 13 markets worldwide, namely in Japan, the U.S., U.K. France, Russia, China, Hong Kong, Taiwan, Singapore, Malaysia, Thailand, the Philippines and Korea. UNIQLO continues to open large-scale stores in some of the world's most important cities and locations, as part of its ongoing efforts to solidify its status as a truly global brand. UNIQLO operates an integrated business model under which it designs, manufactures, markets and sells high-quality, casual apparel in line with its 'Made for All' philosophy.
With a corporate statement committed to changing clothes, changing conventional wisdom and change the world, FR is dedicated to creating great clothing with new and unique value to enrich the lives of people everywhere. For more information about UNIQLO and other FR group companies, please visit www.uniqlo.com or www.fastretailing.com

Top of page