Last Updated: 2012.04.04
UNIQLO Unifies Spring/Summer Innerwear Sarafine and Silky Dry Lines Under New 'AIRism' Product Brand
AIRism Spring/Summer Product Brand is Alongside HEATTECH for Fall/ Winter
UNIQLO CO., LTD.
to Japanese
April 4, 2012, Tokyo, Japan - UNIQLO today announces plans to unify its successful Spring/Summer innerwear lines in 2012 under the new 'AIRism' global product brand. After generating worldwide sales of 54 million units of 'Sarafine' and 'Silky Dry' innerwear since 2007, UNIQLO has identified innerwear for the spring and summer seasons as a strategic product line.
With AIRism, UNIQLO creates a signature brand for Spring/Summer innerwear to match its popular HEATTECH innerwear product brand for Fall/Winter.
■ AIRism innerwear delivers cool comfort, and is light as air

AIRism is a new concept in functional innerwear created by UNIQLO for the spring and summer seasons. Made from ultra-fine fibers that regulate the circulation of air, AIRism innerwear feels so light and soft to the skin that you will forget you have it on.
With AIRism innerwear complementing the HEATTECH innerwear line for fall and winter, UNIQLO offers year-round comfort to customers around the world.
■ Wearing more than one layer enhances comfort even in spring and summer
As temperatures and humidity rise in spring and summer, many people choose to skip putting on innerwear in an attempt to keep cool. However, this style of dress does not relieve people from the discomfort caused by perspiration and the moisture that is trapped inside clothes. By contrast, wearing just one functional innerwear item underneath outerwear can reduce excess moisture inside clothes, keeping you comfortable even on hot and humid summer days.
■ Continual evolution of Sarafine and Silky Dry lines
UNIQLO has continuously evolved its Sarafine and Silky Dry lines over the years. This year the company has enhanced functionality and expanded product offerings for their debut under the AIRism name in Spring/Summer 2012. Please see below for product highlights.
■ Sarafine (for Women)
The Sarafine range offers women functionality as if it were a 'wearable air conditioner'--innerwear that quickly absorbs and removes excess moisture, keeping wearers dry and comfortable. UNIQLO has made cupro yarn used in the fabric 30% finer, which reduces any friction with the skin and delivers a gentler texture that is even smoother to the touch. The company has added a new range of shorts designed to stay dry and reduce the buildup of moisture for optimal comfort. At the same time UNIQLO has increased the range of designs available for some items by adding floral prints alongside stripes and dot patterns.
■ Silky Dry (for Men)
The Silky Dry innerwear range for men feels so smooth on the skin and comfortable that it is easy to forget that you are wearing them. This season's product lines are made from finer fibers, minimizing friction between the fabric and skin, for an even softer feel. Employing finer material has improved the breathability of Silky Dry innerwear by 180% and their Dry function by 120%.
■ Product Lineup
AIRism for Women
Item Name
Colors
Sizes
Price incl. Tax
(Japan)
Availability
(Japan)
W's AIRism UV CUT Crew T(L)Dot
3
S, M, L, XL
¥1,500
Now
W's AIRism UV CUT Crew Neck T(L)
3
S, M, L, XL
¥1,500
Now
W's AIRism UV CUT Crew T(L)(Stripe)
3
S, M, L, XL
¥1,500
Now
W's AIRism U-NECK T(S)
10
S, M, L, XL
¥990
Now
W's AIRism U-NECK T(S)(Dot)
3
S, M, L, XL
¥990
Now
W's AIRism U-NECK T(S) (Floral)
3
S, M, L, XL
¥990
Now
W's AIRism U-NECK T(S) (Stripe)
3
S, M, L, XL
¥990
Now
W's AIRism U-NECK T(S) Multi Stripe
3
S, M, L, XL
¥990
Early April
W's AIRism Padded U-NECK T(S)
4
S, M, L, XL
¥1,500
Now
W's AIRism Padded Camisole
4
S, M, L, XL
¥1,500
Now
W's AIRism Padded Bra Camisole
5
S, M, L, XL
¥1,990
End-May
W's AIRism Camisole
10
S, M, L, XL
¥990
Now
W's AIRism Camisole (Dot)
3
S, M, L, XL
¥990
Now
W's AIRism Camisole (Floral)
3
S, M, L, XL
¥990
Now
W's AIRism Camisole (Stripe)
3
S, M, L, XL
¥990
Now
W's AIRism Camisole (Multi Stripe)
3
S, M, L, XL
¥990
Early April
W's AIRism Tank Top+ *Large stores only
10
S, M, L, XL
¥990
Now
W's AIRism Bra Camisole (Stripe)
3
S, M, L, XL
¥1,990
Now
W's AIRism Bra Camisole (Multi Dot)
3
S, M, L, XL
¥1,990
Mid-May
W's AIRism Bra Camisole
10
S, M, L, XL
¥1,990
Now
W's AIRism Bra Camisole (Dot)
3
S, M, L, XL
¥1,990
Now
W's AIRism Bra Tank Top (Stripe)
3
S, M, L, XL
¥1,990
Now
W's AIRism Bra Tank Top (Multi Dot)
3
S, M, L, XL
¥1,990
Late April
W's AIRism Bra Tank Top (Multi Stripe)
3
S, M, L, XL
¥1,990
End-May
W's AIRism Bra Tank Top
10
S, M, L, XL
¥1,990
Now
W's AIRism Shorts (HH) NEW
6
M, L
¥790
Now
W's AIRism Shorts (HH) (Stripe) NEW
3
M, L
¥790
Now
W's AIRism Shorts (JW's ) NEW
9
M, L
¥790
Now
W's AIRism Shorts (JW's ) (Dot) NEW
3
M, L
¥790
Now
W's AIRism Shorts (JW's ) (Floral) NEW
3
M, L
¥790
Now
AIRism for Men
Item Name
Colors
Sizes
Price incl. Tax
(Japan)
Availability
(Japan)
AIRism Steteco (long pants) A NEW
3
M, L, XL
¥1,500
Now
AIRism Steteco (long pants) B NEW
2
M, L, XL
¥1,500
Now
AIRism Steteco (long pants) C NEW
2
M, L, XL
¥1,500
Now
AIRism V-Neck T(N)
3
S, M, L, XL
¥990
Now
AIRism V-Neck T(S)
4
S, M, L, XL
¥990
Now
AIRism V-Neck T(S) (Drop Needle)
3
S, M, L, XL
¥990
Now
AIRism Crew Neck T(S)
3
S, M, L, XL
¥990
Now
AIRism Tank Top
2
S, M, L, XL
¥990
Mid-June
AIRism Stripe Tank Top
2
S, M, L, XL
¥990
Mid-June
AIRism Boxer Briefs
6
M, L, XL
¥990
Now
AIRism Boxer Briefs (LR)
5
M, L, XL
¥990
Now
AIRism Boxer Briefs (LR)A
2
M, L, XL
¥990
Now
AIRism Boxer Briefs (LR)B
2
M, L, XL
¥990
Now
AIRism Boxer Briefs A
2
M, L, XL
¥990
Now
AIRism Boxer Briefs B
2
M, L, XL
¥990
Now
AIRism Boxer Briefs C
2
M, L, XL
¥990
End June
AIRism Long Boxer Briefs + *Large stores only
2
M, L, XL
¥990
Now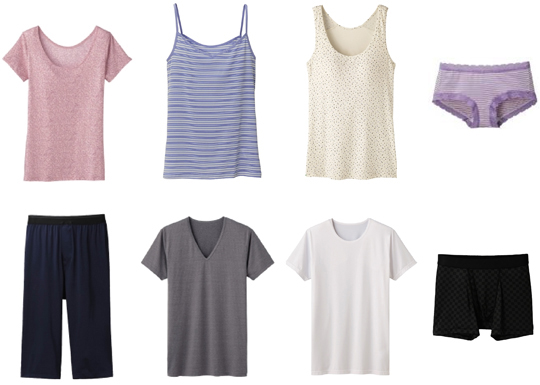 Top of page