Last Updated: 2012.02.20
UNIQLO Offers Color Skinny Fit Ankle Jeans for Women; New Focus on Color for Spring/Summer 2012
UNIQLO CO., LTD.
to Japanese
February 20, 2012, Tokyo, Japan - UNIQLO today announces a new line of Color Skinny Fit Ankle Jeans for spring/summer 2012 exclusively on sale at UNIQLO stores in 12 markets. Available in eight of this season's trendiest colors, UNIQLO Skinny Fit Ankle Jeans offer women a great way to brighten up their wardrobes this spring. Immaculately designed and affordably priced, this versatile new line fits any style and brings a fun, fresh feel back to women's fashion.
■ "Color is Back!"
Spring/summer 2012 is all about color, with pastel colors dominating the runways of fashion shows around the world. Starting with the Color Parka, UNIQLO has rolled out a range of new lines offering women all of ages colorful new options for their wardrobes this season.
■ Color Skinny Fit Ankle Jeans - This Season's Must-have Item
Part of UNIQLO's new lineup for spring/summer 2012, Color Skinny Fit Ankle Jeans for women are available in a range of eight colors. Mindful of the challenge of mixing and matching colored pants with other garments, UNIQLO Color Skinny Fit Ankle Jeans are specially designed to make it easy for customers to color coordinate them.
1. Color Selection
The eight colors included in this new line were selected after a meticulous testing process to ensure they complement a wide range of hair colors and skin tones. Similar to the color schemes used in cosmetics, the line features natural hues that can match any look and style.
2. Versatile Design
The skinny fit design and just-above-ankle length beautifully accentuate the line of the leg and offer a slimmer look. The length of the UNIQLO Color Skinny Fit Ankle Jeans is slightly shorter than conventional jeans, a design feature that makes it easier for women to create a balanced, color-coordinated look that flatters rather than overpowers.
3. Matching Lines Planned
This spring, UNIQLO plans to offer new lines of T-shirts, cardigans, scarves, belts and accessories designed to perfectly compliment colored pants.
■ Color Campaign
To celebrate this focus on color, UNIQLO has launched a new TV and online campaign calling on women of all ages to "lead colorful lives!"
Product lineup:
Product Name
Colors
Sizes
Price (Tax incl.)
Release
Color Skinny Fit
Ankle Jeans
Light gray, beige, light blue, orange, red, green, black, white
22 - 28 in.
2,990 yen
(Japan)
Late January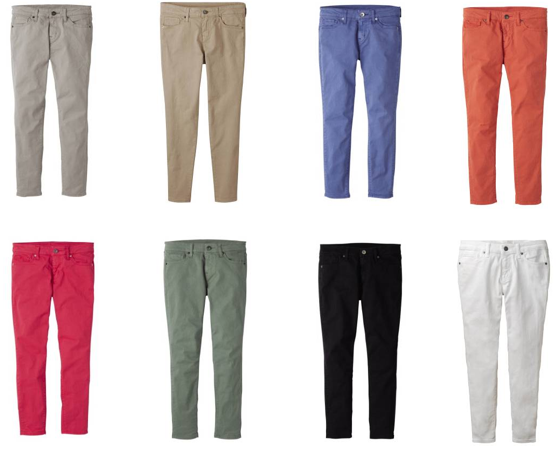 Top of page