Last Updated: 2012.02.13
UNIQLO Plans Japan Launch of New Tennis Line. Modeled on Kit Created for Top Men's Pro Kei Nishikori
UNIQLO CO., LTD.
to Japanese
February 13, 2012, Tokyo, Japan - UNIQLO, today announces plans for a new line of tennis apparel modeled on match wear created for Kei Nishikori, Japan's top-ranked male professional tennis player. The limited-run line for sale in Japan will closely resemble the look and feel of the actual kit worn by Mr. Nishikori at the 2012 Australian Open, where he became the first Japanese man to reach the quarterfinals of a Grand Slam tournament in 80 years.
UNIQLO, the proud sponsor and creator of match wear for Mr. Nishikori since 2011, will launch sales of 12 new items ranging from shirts and shorts to accessories on Monday, April 2. This limited-run range will go on sale exclusively at the new UNIQLO Ginza Store in Tokyo, (opening March 16) and via the UNIQLO online store at http://store.uniqlo.com
Match Shirts
The top request from Mr. Nishikori was that his match shirts offer protection from the heat. DRY-EX is UNIQLO's solution, a high-quality fabric developed with Toray Industries Inc. that absorbs perspiration and dries quickly. DRY-EX is thin, light and breathes, keeping players feeling dry even in high summer. Designed to ensure player comfort even in extreme match conditions, the shirts are precisely cut to reflect the player's body measurements and use patterning aligned to muscle movement. With flat seam stitching, UNIQLO's Kei Nishikori Match Shirts feel soft on the skin.
Match shirts with be available in two formats: T-shirt and zip-up Polo Shirt.
(1) DRY-EX T-shirt (S)+
Price:
3,990 yen
Color:
Three
Size:
S - XL
(2) DRY-EX Polo Shirt (S)+
Price:
3,990 yen
Color:
Three
Size:
S - XL
Shorts
Shorts have gathers around the waist which can be uncomfortably constrictive and a distraction during match play. UNIQLO Kei Nishikori Tennis Shorts solve this challenge by adding a wide band combining flat rubber strips and flat strings in the waist. This design means that the area the gathers are in contact with the body covers a broad band rather than a narrow strip, enhancing player comfort. The pockets are lined with Pile fabric enabling players to easily wipe perspiration off their palms and securely hold second serve balls. Worn in combination with either the DRY-EX T-shirt or Polo Shirt, UNIQLO Kei Nishikori Tennis Shorts complete the perfect ensemble for matches on hot summer days.
(3) DRY-EX Shorts+
Price:
3,990 yen
Color:
Three
Size:
S - XL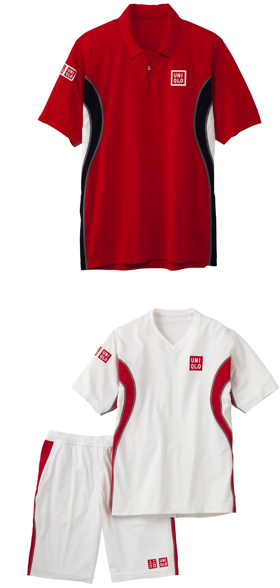 Track Jacket and Pants
The UNIQLO Kei Nishikori Track Jacket is perfect for a wide range of sports. The focus is on lightness, comfort and stylish design, ideal for travel. The striking red design is carefully coordinated with the match shirts. The fitted design makes for a handsome profile. The collar, sleeves and other openings are made of thin material for a snug fit and sharp, clean lines compared with conventional ribbing which can bulk and sag. Other features include an easy-open zipper and an anti-bacterial deodorant agent that wicks away perspiration.
The track pants are perfect not only for tennis and sport but also jogging and walking. They are slim fit and have a smart, clean cut that avoids overt tapering to the hems. The drawstring in the waist is simple to tie and untie, making the track pants easy to pull on and off. Meeting the tough demands of modern professional athletes, the attention to detail in the finishing extends right down to the ends of the drawstring which are pouched and sewn instead of plastic tipped, leaving them softer on the skin.
(4) Track Jacket (L)+
Price:
4,990 yen
Color:
Two
Size:
S - XL
(5) Track Pants+
Price:
3,990 yen
Color:
Two
Size:
S - XL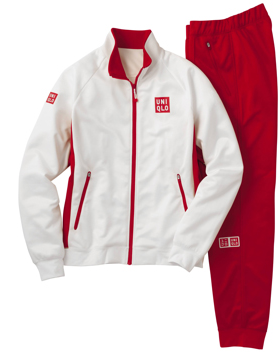 Warm-Up Jacket and Pants
Ideal for warming up on court or for simply staying warm before a match, the UNIQLO Kei Nishikori Warm-Up Jacket and Pants share the same design features as the Match Shirts. With a durable, water-repellent finish, they are extremely light and comfortable and leave players feeling dry during match play. The jacket cuffs are rubber lined offering a snug fit and making it easy for players to pull them on and off. The waist drawstring is designed so it can be discreetly tucked inside the pockets. The zippers on the hems of the pants are specially designed not to flap around however long the rally, while the extra-long fasteners allow players to take them on and off with ease with their shoes still on.
(6) Warm-Up Jacket (L)+
Price:
6,990 yen
Color:
Two
Size:
S - XL
(7) Warm-Up Pants+
Price:
4,990 yen
Color:
Two
Size:
S - XL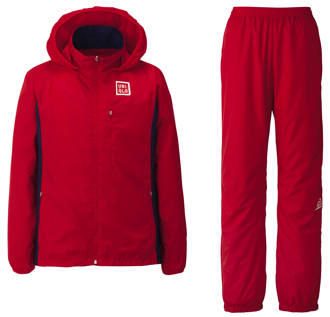 Accessories
A full range of accessories are also available:
Tennis Cap
The Australian Open was held in January during the height of the southern hemisphere summer. A pure white baseball cap shielded Mr. Nishikori from the harsh sunlight. The UNIQLO Kei Nishikori Tennis Cap is made of a jersey material featuring UNIQLO's DRY technology that absorbs perspiration, dries quickly, and breathes. Elastic materials were sewn onto the periphery, over the inner stitching. The front section incorporates a spongy, shock absorbent material and the insides are lined with Pile. The adjuster consists of ultra-thin Velcro strips and silicon sections. All these features mean the caps will have exactly the same feel as the ones worn by top professionals.
(8) Tennis Cap
Price:
1,990 yen
Color:
One (white)
Size:
One size (M size)
Headband
Made from DRY-EX fabric, the UNIQLO Kei Nishikori Headband absorbs perspiration and dries quickly. The elastic material ensures a snug fit over the forehead and stops perspiration from running into the eyes. The headband may be the perfect accessory for players looking to fire themselves up during crucial stretches of match play.
(9) Headband
Price:
790 yen
Color:
One (white)
Size:
One size
Tennis Socks
White with wine-red accents, UNIQLO held several test fittings with Mr. Nishikori to develop these signature tennis socks. They are made from a thick, spongy material that cushions impact when players step into shots.
(10) Tennis Socks
Price:
790 yen
Color:
One (white)
Size:
One size (25 - 27 cm)
Wristbands
The UNIQLO Kei Nishikori Wristbands offer a snug and comfortable fit. They come in sets of two, enabling players to switch mid game to a fresh headband.
(11) Wristbands
Price:
790 yen
Color:
Two (white and red)
Size:
One size
Tennis Bag
This striking Tennis Bag makes a statement with its vivid red logo on a white background. The bag features a polyurethane finish making it easy to clean, a detachable shoulder-strap and seven pockets (one outside and six inside) for stowing kit. The inner pockets have easy-to-spot red trimming. Other features include a key ring and shoulder pads made from a leather-like fabric to prevent slippage.
(12) Tennis Bag
Price:
5,990 yen
Color:
One (white)
Size:
One size

Top of page