Last Updated: 2012.01.10
g.u. to Launch Flagship Store in Tokyo. New Location to Open in Ginza District on March 30, 2012
G.U. Co., Ltd.
to Japanese
January 10, 2012, Tokyo, Japan - The g.u. casual clothing brand today announces the March 30, 2012 opening of one of its largest flagship stores in Japan, in Tokyo's Ginza district, with three of its five floors dedicated to the latest in women's fashion. This new store is set to open in a 1,500-sq.-meter retail location that is currently occupied by g.u.'s sister brand, UNIQLO, whose basic, casual clothing is distinct from g.u.'s trendier, more affordable offerings. The new g.u. Ginza Store will offer fashionable items at low prices, including a kids' clothing line, in the heart of one of the world's premier fashion hubs.
The g.u. brand is ramping up its large-scale store launches as part of its efforts to operate 200 locations in Japan and generate 50 billion yen in sales in the fiscal year ending August 31, 2013. The g.u. flagship store that opened in Shinsaibashi, Osaka in 2010 and another flagship that opened in Ikebukuro, Tokyo in 2011 have significantly raised g.u.'s brand recognition while steadily increasing its customer base, especially among younger Japanese consumers.
The g.u. Ginza Store, the brand's third flagship, will offer high-quality products, superb customer service and cutting-edge visual merchandising to showcase the best of g.u. in one of its largest sales spaces in Japan. The Ginza district's widespread appeal to both Japanese and non-Japanese shoppers will also provide g.u. with greater global exposure than ever before, setting the stage for the brand's future international expansion, just as the same retail location in Ginza has already done for the UNIQLO brand.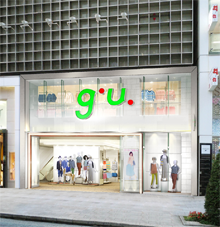 g.u. Ginza Store
| | | |
| --- | --- | --- |
| Opening | : | March 30, 2012 |
| Address | : | 5-7-7 Ginza, Chuo-ku, Tokyo, Japan |
| Business Hours | : | 11:00 - 21:00 |
| Sales Floor | : | Approx. 1,500 sq. meters |
| First Floor | : | Women's fashion |
| Second Floor | : | Women's fashion |
| Third Floor | : | Women's loungewear and lingerie, kids fashion |
| Fourth Floor | : | Men's and women's sports |
| Fifth Floor | : | Men's fashion |

Top of page