Last Updated: 2011.12.07
UNIQLO to Launch Brand's Largest Global Flagship Store New Location to Open in Ginza, Tokyo on March 16, 2012
UNIQLO CO., LTD.
to Japanese
UNIQLO is pleased to announce the opening of its 9th global flagship store along the main street of Tokyo's Ginza district on March 16, 2012. This new location will offer all the latest UNIQLO clothing in a sales area spanning approximately 5,000 square meters across 12 floors. The new UNIQLO Ginza Store is set to share the latest of UNIQLO with people all over the world.
UNIQLO opened the fall 2006 launch of its first global flagship store in New York City's SoHo district followed by London, Paris, Shanghai, Osaka, Taipei and Seoul. The brand has opened eight global flagship stores in seven major world cities over the past five years, including a second flagship location in New York 5th avenue, while consistently raising product, store and customer service standards. By drawing on the experience gained through these high-profile store launches, the brand aims to further raise the bar with the debut of the UNIQLO Ginza Store on March 16, 2012.
Large-scale store format is one of UNIQLO's growth engine as it can show the very best that the brand offers. Global flagship stores in particular have been a key element in communicating the UNIQLO brand message to the world. These retail locations creatively highlight the brand's extensive product range and cutting-edge approach to visual merchandising, store operations and customer service in the world's most stylish destinations. Now, UNIQLO is gearing up to showcase all its latest apparel in Ginza, Tokyo - one of the world's premier fashion centers.
As the ninth global flagship location, the UNIQLO Ginza Store will feature the brand's largest retail sales space in the world, with a total floor area of approximately 5,000 square meters. The store will carry an extensive range of high-quality UNIQLO apparel for women, men, kids and baby - in addition to the brand's popular UT line of graphic T-shirts - so customers can enjoy the best of the brand in a truly unique retail setting.
UNIQLO will continue to launch more large-scale stores in the world's most important cities as part of its ongoing efforts to solidify its status as a truly global brand, so more people throughout the world can share the joy of wearing truly great clothing.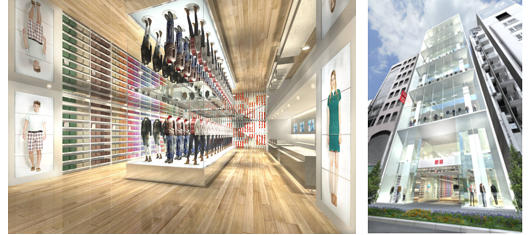 UNIQLO Ginza Store
| | |
| --- | --- |
| Launch : | March 16, 2012 |
| Address : | East Wing, Ginza Komatsu Building, 6-9-5 Ginza, Chuo-ku, Tokyo, Japan |
| Sales Floor : | Approx. 5,000 sq. meters across 12 floors |
| Business Hours : | 11:00 - 21:00 |

Top of page