Last Updated: 2011.08.25
HEATTECH Continues to Make A Difference in Customers' Everyday Life
UNIQLO CO., LTD.
to Japanese
Since the strategic partnership was formed in 2006, UNIQLO Co., Ltd. (represented by President, Chairman and CEO Tadashi Yanai) and Toray Industries, Inc. (represented by President Akihiro Nikkaku) have jointly developed a number of outstanding products, including the functional winter HEATTECH clothing line. Since its initial release in 2003, the HEATTECH lineup has constantly evolved each year based on feedback from customers. With these constant improvements, HEATTECH continues to open up new possibilities in customers' daily lives in a number of ways, such as freeing them from bulky winter wear, encouraging them to go out on cold days and offering comfort even if it is chilly indoors.
Both UNIQLO and Toray Industries are committed to enhancing HEATTECH further to continue bringing more comfort to daily life, and aspire to develop clothing that transcend the limits of a fabric manufacturer and a specialty store retailer of private-label apparel (SPA).
■ How HEATTECH has changed everyday life
HEATTECH has sold nearly 200 million items in total since and continued to deliver warmth to winters across the globe since its 2003 launch. Seeking to develop a line that better meets the everyday needs of customers, UNIQLO conducted a nationwide consumer survey. From this survey, we found that HEATTECH has brought some unexpected changes.
The survey showed that 80.8% of wearers have experienced a real change in how they spend their winters. These changes included external changes such as "freedom from bulky winter clothing," as well as a change in attitude like becoming "more positive about going outdoors even on cold days." In addition, 91.5% of respondents indicated that the frequency they wear HEATTECH will most likely increase compared to the previous year, while 52.8% were showed concern about a possible energy crunch in the coming winter. These results suggest that this year's market demand for heat-retaining innerwear is on the rise due to a winter energy crunch. In anticipation of adverse, winter weather conditions, UNIQLO will be preparing approximately 100 million HEATTECH items for its customers.
Main survey findings
■ The HEATTECH brand is recognized by 96.3%.
■ HEATTECH items are owned by 55.3%.
■ Each respondent owns 4.4 HEATTECH units on average.
■ The HEATTECH satisfies 94.3%.
■ Use of HEATTECH products has given change to life of 80.8%.
■ 81.3% will purchase HEATTECH items this year.
■ Wearing HEATTECH to reduce energy consumption
Since there is a great interest in the HEATTECH's effectiveness in reducing energy consumption, UNIQLO calculated how much energy the 80 million items sold last year would have saved, assuming that one household has four members and that each family member own two HEATTECH items. Based on this assumption that each household has eight HEATTECH items, this equates to approximately 10 million households owning HEATTECH items.
If each household wear HEATTECH and lowers the temperature setting of thermostats by one degree Celsius from wearing HEATTECH, this means that energy consumption is reduced by 58 W. Applying this calculation to 10 million households, gives a grand total of 580, 000kW. This is equivalent to about 50% of the potential 1,130,000 kW electricity shortage against the electricity demand at the peak in Japan this winter. HEATTECH is sure to keep you warm this winter, even if through an energy crunch.

■ HEATTECH Features

The HEATTECH has multifarious functions, including its mainstay heat generation and retention functions while gently wrapping your skin. This year, the HEATTECH has added an odor function to men's items to reduce unpleasant odors. Women's items boast a smooth feel based on finer threads and an enhanced moisturizing feature achieved by introducing technology unprecedented in the world of clothing, namely blending whey into fibers.
| | |
| --- | --- |
| Heat Generation : | The fabric absorbs moisture from the body and generates heat. |
| Heat Retention: | Air pockets woven into the threads retain heat. |
| Absorb perspiration, Quick Dry : | Perspiration evaporates immediately to produce a feeling of dryness. (Men's only) |
| Stretchable : | Stretchable fabric offers a light, comfortable fit. |
| Anti-Static : | The fiber reduces discomfort from static electricity at the time of putting on and taking off. |
| Dimensional stability : | Unique knit prevents the fabric from wrinkling or losing its shape after washing. |
| Moisturizing : | A soft feel is achieved by blending whey containing natural amino acid into fibers. (Women's only) UPDATE ! |
| Antimicrobial : | Special antimicrobial processing keeps potentially unpleasant odors in check. |
| Odor Control : | Specially processed fabric absorbs and neutralizes sweat and other odor fabrics to eliminate odor. (Men's only) NEW ! |
(Reference) 2011 HEATTECH Lineup
For Men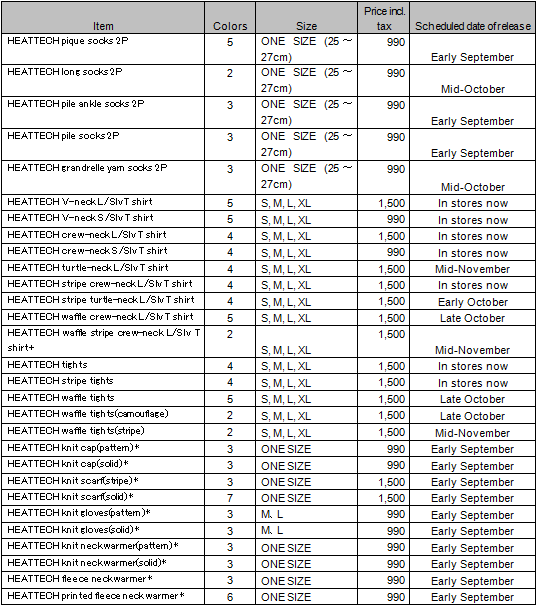 The items marked with asterisks (*) are unisex items.
For Women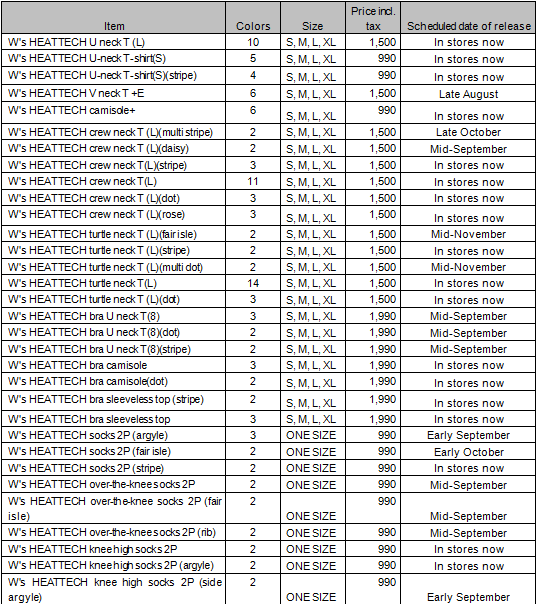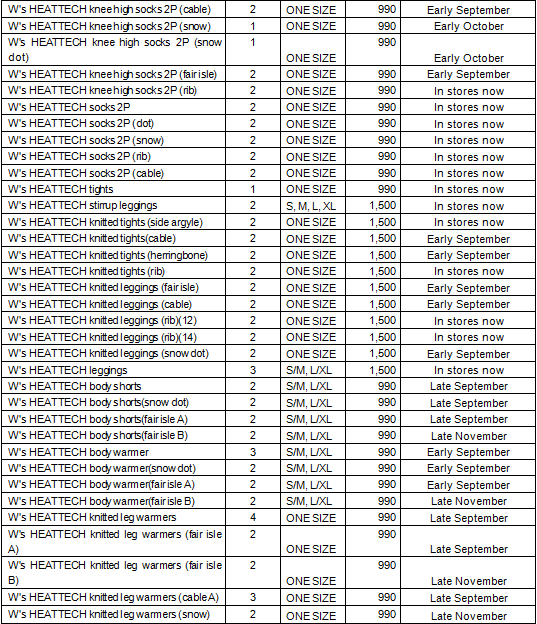 For Kids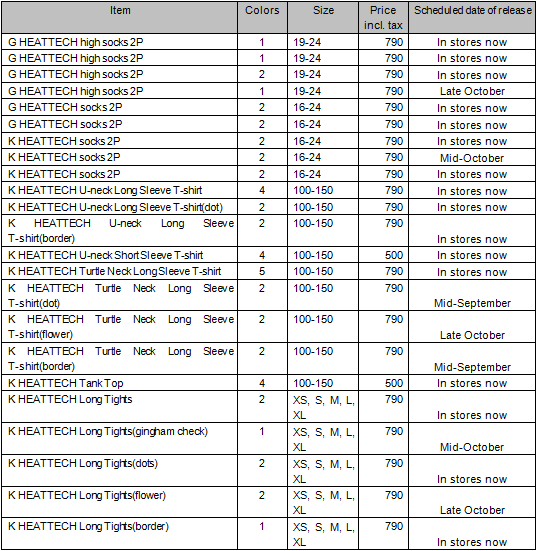 Top of page