Last Updated: 2011.08.10
UNIQLO TO LAUNCH FINAL +J FALL/WINTER COLLECTION ON SEPTEMBER 9th, 2011
UNIQLO CO., LTD.
to Japanese
Uniqlo will launch the fifth and final

Fall/Winter 2011 collection on September 9th, 2011.
The

line has been received with great excitement and enthusiasm around the world from the moment it made its initial appearance in October 2009. The critically-acclaimed, iconic line has been truly loved and admired by its fans.
The

Fall/Winter Collection 2011 will paint the world in misty clouds of colour - hues of global uniform: black, dark brown, mud, claret, Prussian blue and Russian green - that matches the slightly rounded, organic shapes beautifully. The avantgarde blend of poetic, ethereal and aerial forms with enriched, contemporary cotton and precious woolen fibres bring to life the elegant, formal, and tailored universe of

, infused with the know-how of casual wear. Elegantly shaped down-jackets that express a strong couture spirit are smart yet cozy, perfect for a winter cocktail. Dresses are straight cut, space-age style with visible 3-D seams. Edgy skirts feature cubic outlines. Cool knitwear adds a splash of vitamin colors. Men's suits created in soft flannel, with special, light-weight tailoring, represent fine craftsmanship and design.

: the essence is purity. "A passport through time and space: sculptured lines, fluid grace, modern sophistication for everyone." Consisting of approximately 165 elements, the

Fall/Winter 2011 Collection offers many possibilities to create an individual style: a personal uniform.
Further announcements will be made detailing the exact launch date and store availability.
UNIQLO

2011 Fall/Winter Collection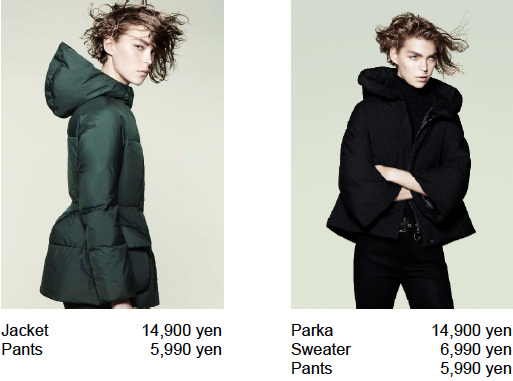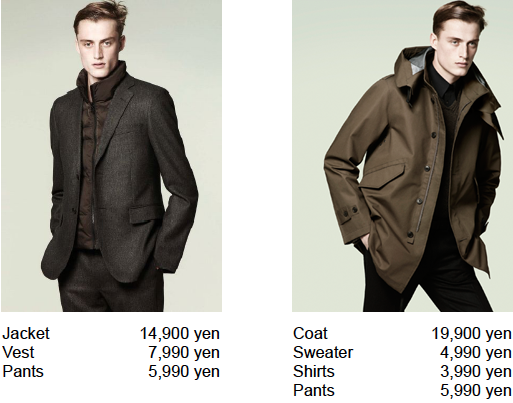 Top of page