Last Updated: 2011.08.09
The biggest UNIQLO store in Tokyo will open on Sep. 16 in Ikebukuro Tobu Store
UNIQLO CO., LTD.
to Japanese
The UNIQLO store in the Ikebukuro Tobu Department Store is set to open as a large-scale location on Friday, September 16, following full-scale renovations. The store is moving from the department store's seventh floor to its 9th and 10th floors. Now that the store will span two levels, the sales floor will occupy a significantly larger area of about 3,300 square meters. This location will surpass the Setagaya-chitosedai Store in size to become the largest UNIQLO store in Tokyo. All aspects of the interior are being changed, from the product selection to the floor layout and décor, to create an utterly different atmosphere. The renovations will dramatically transform the Ikebukuro Tobu Store into a new source of ideas and information for UNIQLO in Tokyo and Japan.
UNIQLO opened in the Ikebukuro Tobu Department Store back in September 2005. The store was remarkable for being UNIQLO's first foray as a tenant in a major department store. The Tobu Department Store was and still is one of Japan's biggest, and is directly connected to Ikebukuro Station. The station is a terminus and junction for several train lines that mainly serve Tokyo and Saitama, with an average of 2.7 million passengers per day. The UNIQLO store has been popular with shoppers since its opening and has benefited from being in this prime location. As a result, it has steadily contributed to an increase in UNIQLO customers.
Six years later, the store is set to reopen in September 2011. UNIQLO has forged a stronger partnership with the Tobu Department Store to create a completely new location, in line with the expectations of UNIQLO customers. The store will be reborn as a large-scale location. All aspects of the store are being changed, from the product selection to the floor layout and décor. Product display fixtures and wall displays that use monitors--similar to the ones to be featured at the Fifth Avenue global flagship store in New York--are set to show off the latest items that UNIQLO has to offer. Mannequins displaying the latest styles, as well as displays of the entire UNIQLO lineup and the final +J collection, will be placed throughout the expanded floor space. The opening will also feature special cashmere products with wider colors variation.
UNIQLO's completely renovated Ikebukuro Tobu Department Store location will offer the extensive product selection that large-scale stores are known for, as well as a whole new shopping experience. This new store is set to satisfy even the most discerning Tobu department store patrons, who are well acquainted with quality and excellence.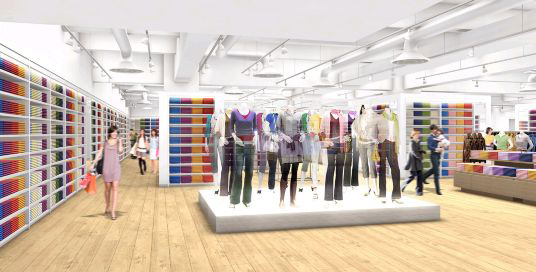 Conceptual rendering of the storeStore image
Current
New
Sales floor area
Approx. 742 m2
Approx. 3,300 m2
Floor
7th
9th and 10th
Product mix
Men's
Women's

Men's
Women's
Kids' and babies'

■ Store information
| | |
| --- | --- |
| Store Name : | UNIQLO Ikebukuro Tobu Store |
| Date : | Friday, September 16, 2011 |
| Business Hours : | 10:00 - 21:00 |
| Address : | 1-1-25 Nishi-Ikebukuro, Toshima-ku, Tokyo |
| Sales Floor : | 9th and 10th floors of the main building |

Top of page