Last Updated: 2011.06.02
UNIQLO to Launch Global Flagship Store and Multiple Stores in Taipei this Fall
UNIQLO CO., LTD.
to Japanese
UNIQLO will launch several new stores in Taiwan this fall, culminating in the opening of a new Taipei global flagship store with a sales floor area exceeding 3,300 square meters. This flurry of openings is a direct response to the market's enthusiastic response to the first UNIQLO Taiwan location, the Uni-Hankyu Department store in Taipei, which opened for business on October 7, 2010.
With multiple new stores in Taipei, customers will be able to choose from several convenient locations to purchase UNIQLO products.
■ Taipei global flagship store
September, UNIQLO will open its sixth global flagship store--following locations in New York, London, Paris, Shanghai and Osaka--in Taipei. Global flagship stores serve as showcases that broadcast to the world the best of UNIQLO. With more than 3,300 square meters of retail space, the Taipei global flagship store will do likewise. The store will have on offer the newest, in-style UNIQLO products, visual merchandising, store operations and services.
The launch of a global flagship store in Taipei marks a big step forward for UNIQLO as the brand accelerates openings of global flagship stores in major cities around the world to bring the fun of UNIQLO to people everywhere.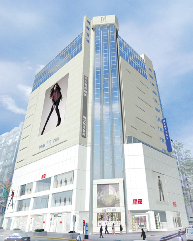 Taipei global flagship store information
Launch date
September , 2011
Address
No.200, Sec. 4,
Zhongxiao E. Rd., Taipei City, Taiwan
Mingyao department store1~3F
Sales floor
Approximately 3,300 square meters
Products
Men's, women's and kids wear
Multiple store openings information
Launch period
Fall 2011
Location
Central Taipei
Sales floor
Approximately 825 to 1,485
square meters

Top of page