Last Updated: 2011.03.08
First Tokyo g.u. Flagship Store to Open April 29 at Ikebukuro East Entrance Store
GOV Retailing Co., Ltd.
to Japanese
Location to Complement Adjacent UNIQLO Sister Brand Store
Low-cost clothing brand g.u. will launch its first flagship store in Tokyo on April 29. The g.u. Ikebukuro East Entrance Store will be the brand's largest presence in the city, with a retail floor space of nearly 1,000 square meters. The store will offer a varied range of seasonal fashion apparel in a shopper-friendly retail space--and all at amazingly low prices. In addition, g.u's newest location is positioned in a way to complement the wide range of quality clothing available next door at its sister brand UNIQLO's store.
The g.u. brand has lofty aims, seeking to achieve 50 billion yen in sales across a network of 200 stores in the fiscal year to August 2013. Currently, g.u. is forging ahead with plans to accelerate openings of more spacious locations such as the Ikebukuro East Entrance Store. When the store opens on April 29 as the brand's inaugural Tokyo flagship location, with the most retail floor space of any Tokyo g.u. store, it will feature a particularly wide array of women's fashions. Located adjacent to its sister brand UNIQLO Ikebukuro East Entrance Store, which offers a broad range of basic casual wear, the g.u. flagship store will provide a different yet complementary shopping experience while seeking to bring to an increasing number of customers the latest fashions at amazingly low prices.
■ Fashion at Amazingly Low Prices in a Convenient Location
The g.u. Ikebukuro East Entrance Store will offer customers a convenient and enjoyable shopping experience in a location that is perfect for families and couples alike. The store will feature an extensive selection of women's clothing on its main floor. The second floor, meanwhile, will feature a range of affordable women's products that can be enjoyed at the amazingly low prices that have made g.u. famous. The first basement floor will be devoted to women's innerwear, while the third and fourth floors will feature a range of men's apparel.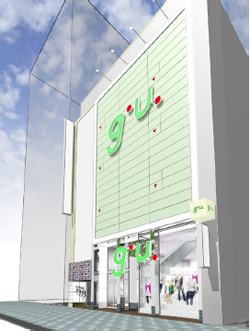 Store information
Store name
g.u. Ikebukuro East Entrance Store
Launch date
April 29, 2011
Business hours
11:00 to 21:00
Sales floor
Approximately 1,000 sq. meters
Address
1-26-8 Minami Ikebukuro,
Toshima Ward, Tokyo

Top of page