Last Updated: 2011.02.18
UNIQLO Daimaru Umeda Store to Open March 16
UNIQLO CO., LTD.
to Japanese
This March UNIQLO will launch a new store in the heart of Umeda, one of Osaka's major shopping hubs and the busiest commercial district in western Japan. Representative of UNIQLO's renewed focus on urban markets, the new store will boost UNIQLO's stature in Umeda, where it already operates three stores.
The UNIQLO Daimaru Umeda Store will be located in the Daimaru Umeda department store, a premium location that is directly connected to Umeda Station and JR Osaka Station. The new store's polished shopping environment will be a magnet for families, as it is on the same floor as the Osaka Pokémon Center, the largest store of its kind in Japan, as well as a Tomica Shop toy store.
The new Umeda store highlights UNIQLO's renewed emphasis on store openings in urban areas, shopping malls and high streets. While this will be UNIQLO's fourth store in Umeda, it will be the company's first location on the area's south side. The store, which will also be UNIQLO's first outlet in a department store in Osaka, will be located on the renovated 13th floor of Daimaru Umeda, which is being renovated to coincide with the major overhaul and refurbishment of JR Osaka Station and the square on the station's south side.
UNIQLO's new Umeda location, with 1,450 square meters of retail space, will feature regularly updated displays coordinated with a seasonal selection of UNIQLO products. In addition, the store will also feature kid's wear and +J collection items to effectively cater to the demands of department store shoppers and families.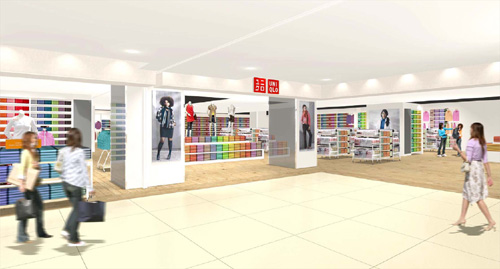 Store image
■ Store information
Store name
UNIQLO Daimaru Umeda Store
Launch date
March 16, 2011
Business hours
10:00 to 20:00
Sales floor
Approximately 1,450 sq. meters
Address
Daimaru Umeda 13F
3-1-1 Umeda Kita Ward
Osaka, Japan
Telephone
+81-(0)6-4796-7250

Top of page